Fake Rove Cartridges: How To Avoid Counterfeits
Rove vape carts are now subjected to being faked. Fake cartridges have been a problem in the cannabis industry and now Rove is no exception. The good thing about Rove is it's also one of the easiest to tell if it is real since it is only available in two states: California and Nevada. We will explain how to spot potential fakes and how to make sure you are getting the real thing.
Rove lists the THC percentages on their packaging for their California carts. In Nevada, you always will receive information as well, either in the form of being on the packaging or in the form of a sticker, showing the complete cannabinoid profile of the cartridge.
Basically, if you don't see a THC percentage with your cart, it's fake. Take a look below at a legitimate California Rove brand cart.

Now take a look below at the fake cart and notice there is no sticker on it.
It's not to say they might make fake stickers later as well, but for now, this is the easiest deterrent to determine whether a Rove Brand cartridge is real or not. In Nevada, you will have a sticker attached to the information as well. In general, if you are outside of CA or NV, it is more likely you will see an either real CA Rove cart or a fake than a Nevada version. NV prices are high and there are 10x more people in CA, so it's less likely someone would be distributing NV versions in illegal states.
Below are some more real Rove carts that came in white boxes.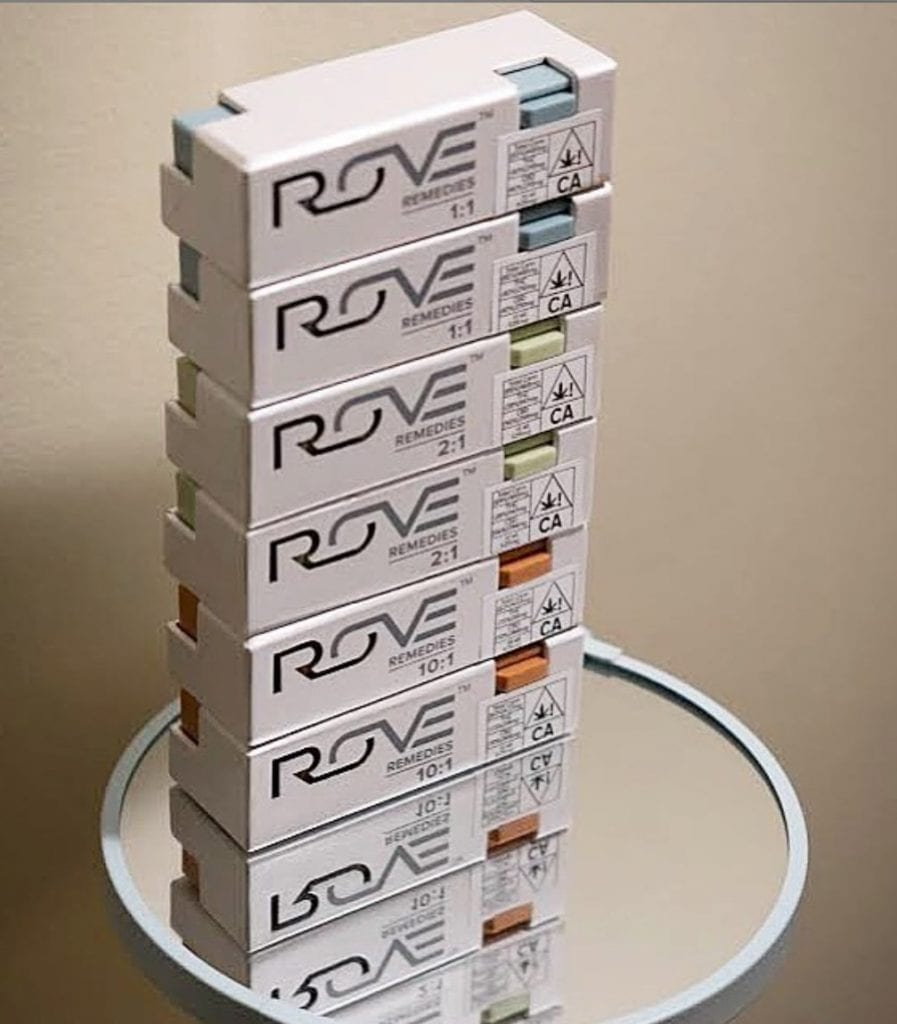 Now take a look below at a fake Rove cartridge in its box. Notice there is no sticker at all indicated any cannabinoid content.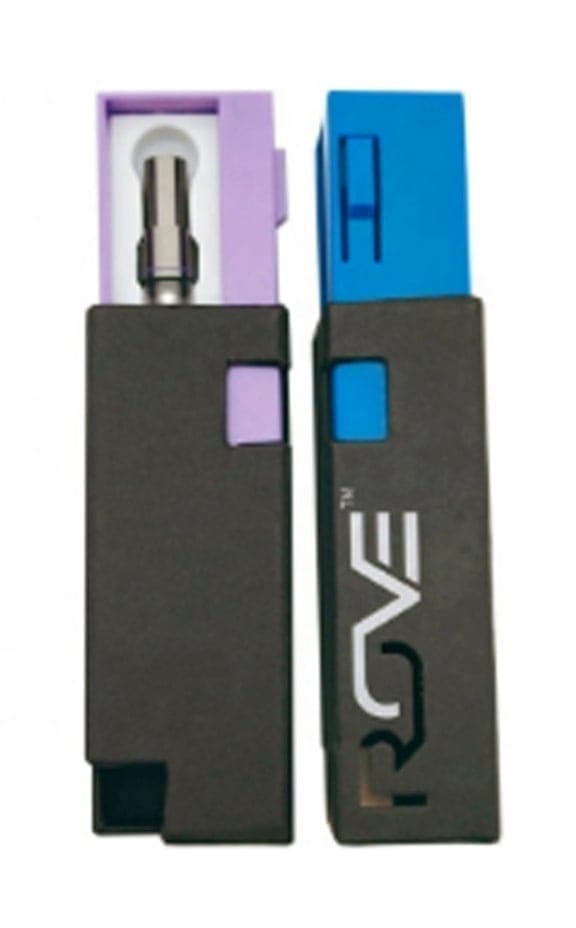 Notice there is no sticker? That's an obvious fake.
Many fake Rove Brand carts also have CA! stickers
The sticker is not enough but is one deterrent. Many of the fakes out there now have stickers too, although they contain made-up figures on the oil since the oil is not even in the cartridge yet and no one knows what oil will be put in it. See below a picture of a fake Rove cartridge with CA! stickers.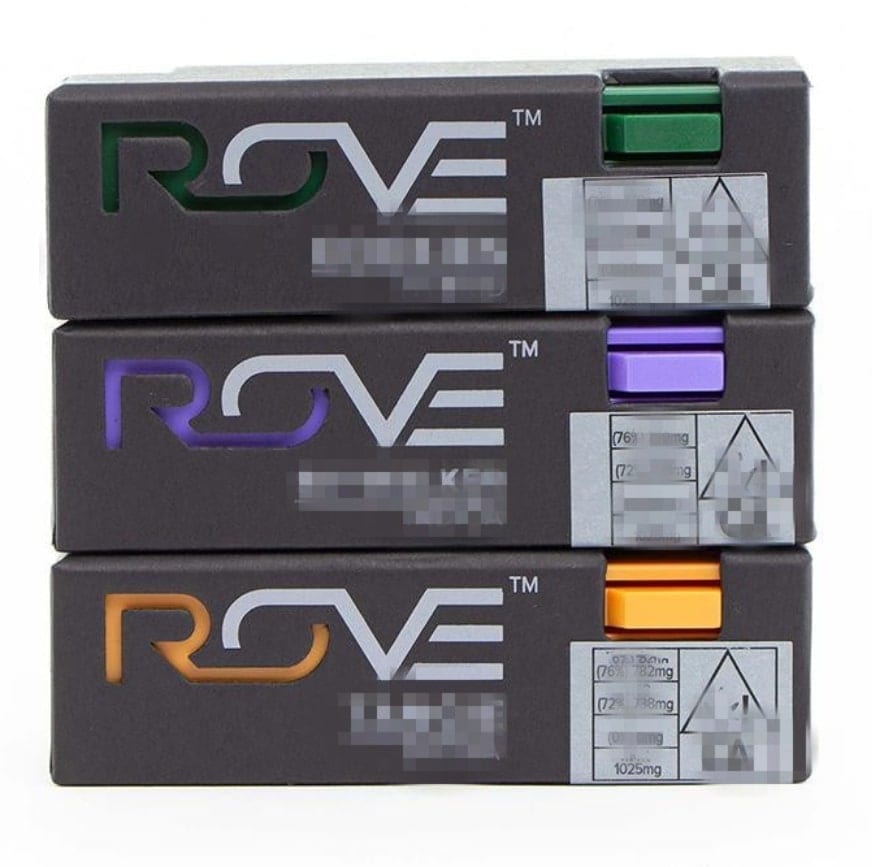 The only way to really know it's really is to buy from a legit store, and how to do that is explained below.
How to find real Rove cartridges
The easiest way to find real Rove carts is to use their store locator. If the store you got it from is not in there, it might not be a legitimate store. When you get them on the street in other states, make sure to check out the sticker situation explained above. If there's no sticker you can be sure it is fake and not legitimate.
UPDATE 8/31/19: Rove is now using QR code stickers on all their products!
It's an in-house verification system tied in with their phone app Rove Rewards. They explain Rove Rewards on dual posts to their Reddit and Instagram channels. Briefly, it works similar to the CannVerify system we just blogged the other day. You take your Rove product and scan the sticker on the box with the Rove Rewards app. their phone app Rove Rewards.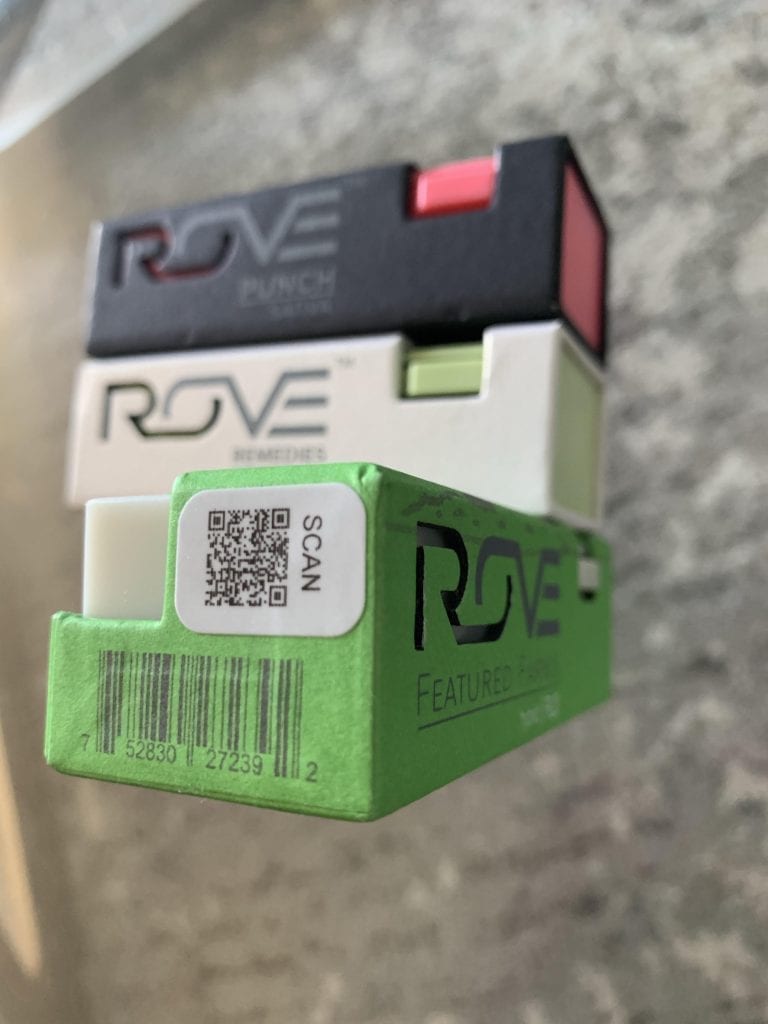 If the data matches, the server will send back a message that it is a genuine product.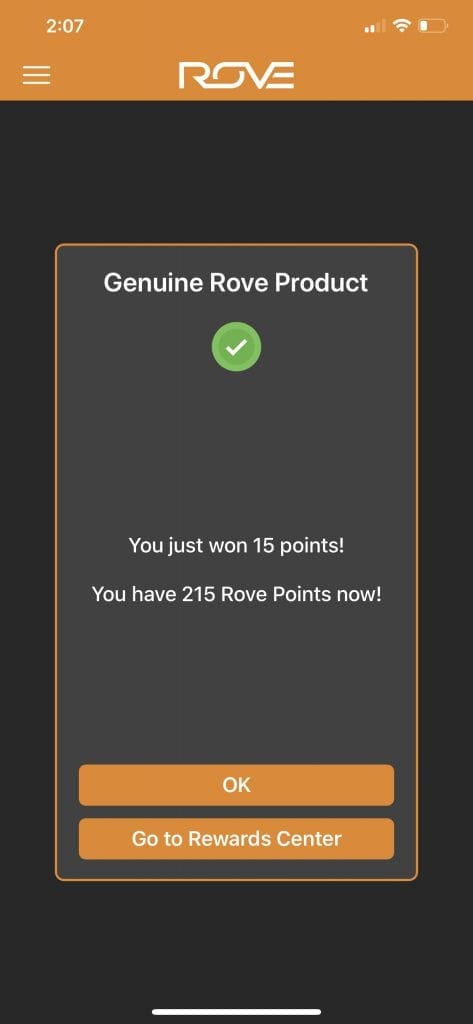 If the same user scans the same QR code again, the server will send back a message that the QR code is genuine, but has already been validated.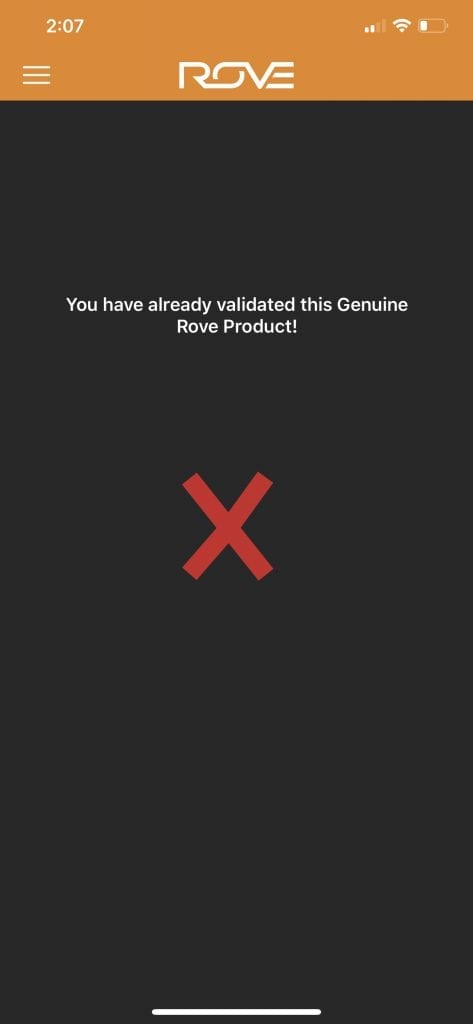 If a user scans a genuine QR code that has already been validated by another user the server will send back a message that the QR code has been validated by another user.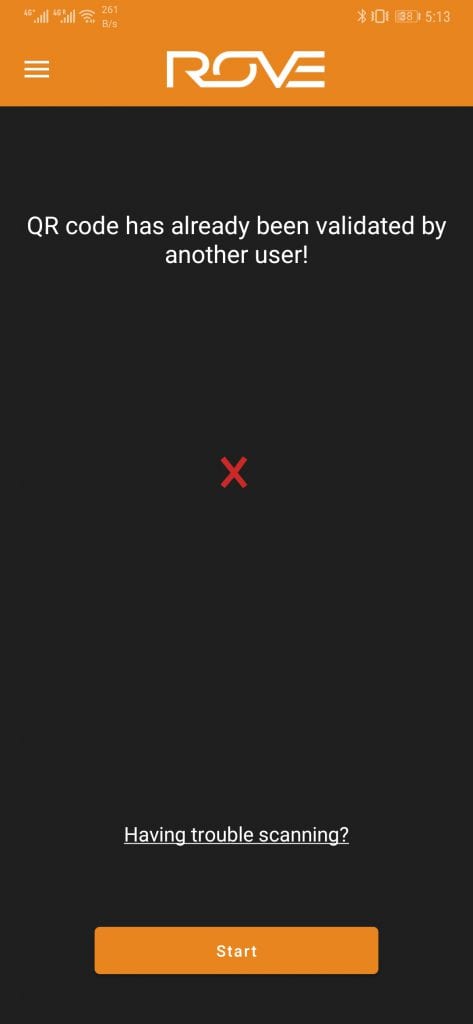 If a user scans a QR code that is not in our system the server will send back a message that the QR code is invalid.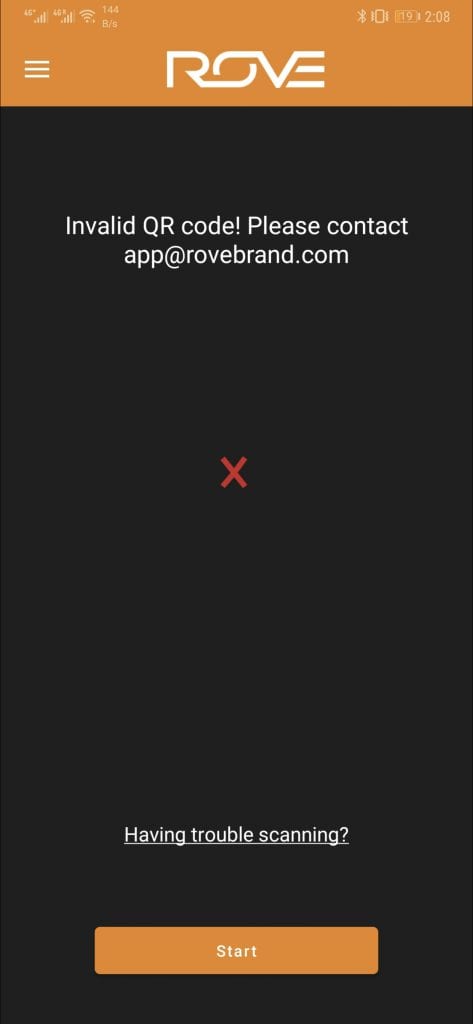 So there you go! Our thanks to Rove products for being proactive in protecting the safety of their customers. We're certain that most cartridge companies are following suit, as we've seen here and there.
UPDATE 11/11/19 From CartBusta
We've got a few new sightings of latest box designs + counterfeit counterparts for Rove's "Featured Farms" products.
OOPS: Real Rove cartridges actually do sometimes have a "TM" after the brand name on the box. You can see this in the product box shot on Rove's own website.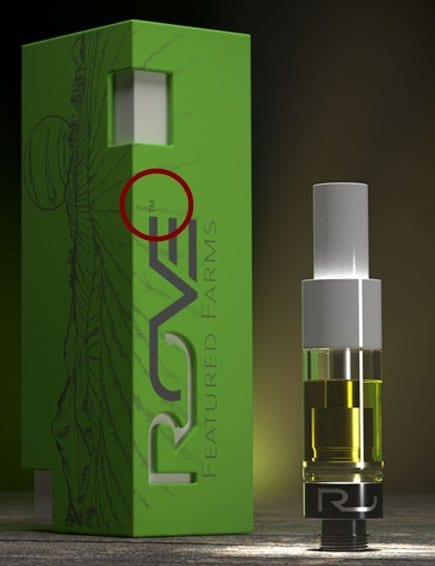 Despite that fault, the rest of the info seems to be a good supplemental guide to determining real from fake. Rove fakes are just blowing up all over the Internet now, so expect to see more variations on the theme adding to the confusion.
Fake cartridge does no always mean bunk oil
Some vendors might just be using the hardware and putting good oil in it. More likely than not, fake carts are going to be junk, but there are some oil makers out there just using the hardware. They would be better off just using CCELL carts than a fake brand, but a fake branded cart does not always mean the oil sucks too. However, on fake carts there is no quality control, so who knows if there is a safe level of pesticides and residual solvents in the carts.
See our other posts on fake cartridges
If you are concerned about fakes in your town see other posts on the following fake vape carts: Dank Vapes, Cereal Carts, Brass Knuckles, Eureka Vapor, Cookies, and Space Vape. Fake hardware is an issue to and you can also determine carts are fake if they use fake CCELL hardware. If you are looking for the best carts, check out our best carts lists for California and Nevada.
Sours: https://dabconnection.com/culture/fake-rove/
Empty 1 Gram / 0.8 Gram Rove Carts Packaging Bulk Wholesale
Empty 1 Gram / 0.8 Gram Rove Carts Packaging Bulk Wholesale.
We supply 0.8 gram and 1 gram Cartridge size.
all the cartridge device we produce are use top class Ceramic coil, and able to adjust cartridge parameter for fit for different kind of Oil, Like THC Oil Delta 8 Oil.
Our Cartridge able help you get your oil been great atomization effect and flavor vape taste.
Fast shipping and High quality cartridge. We accept small order bulk wholesale and provide spares.
Come on press the button of "SEND INQUIRY NOW" to Start get your great Rove extract vape Cartridge packaging.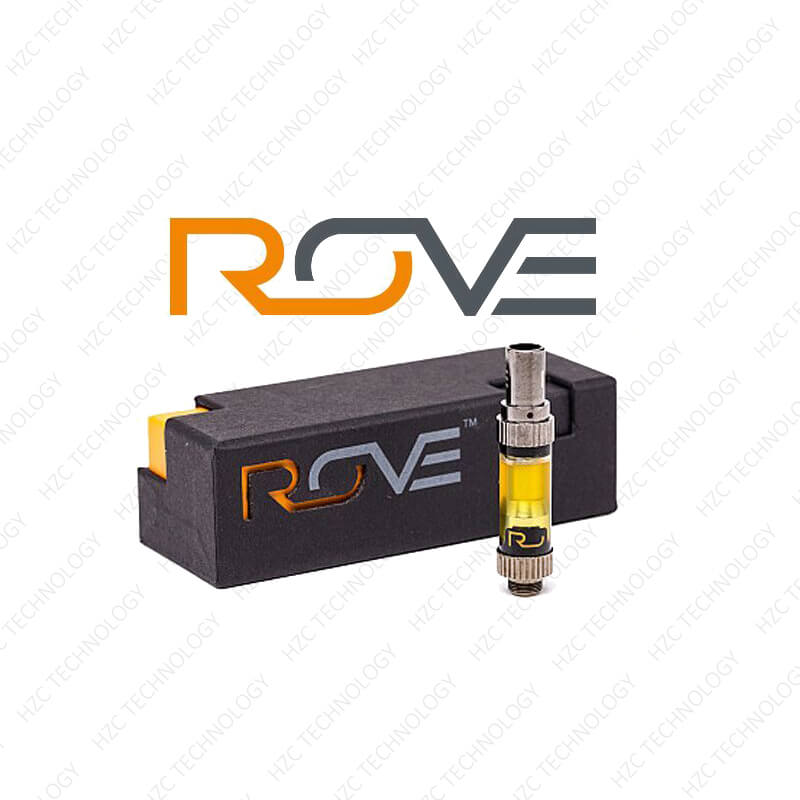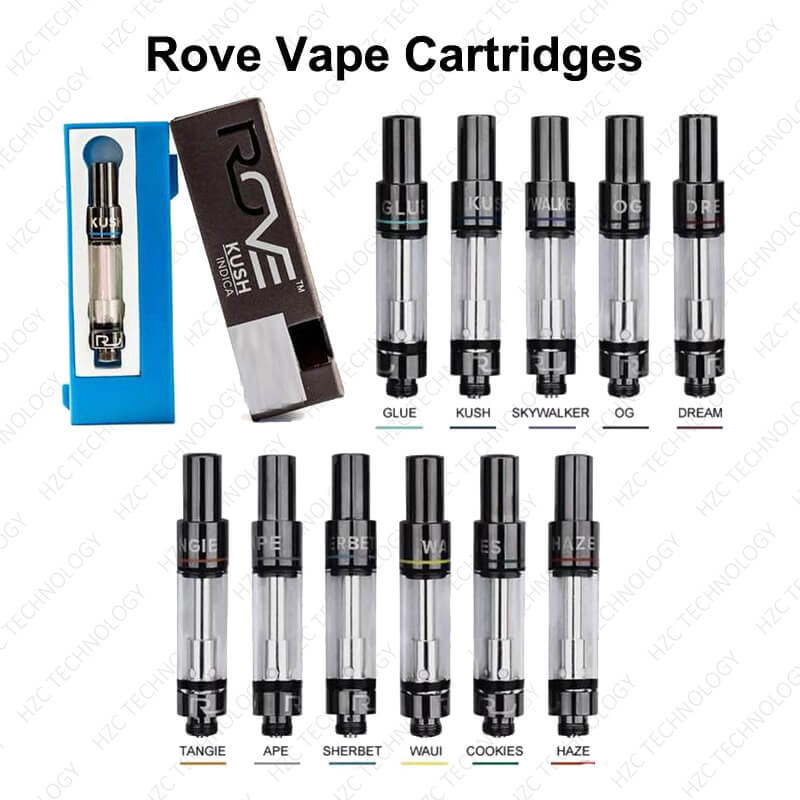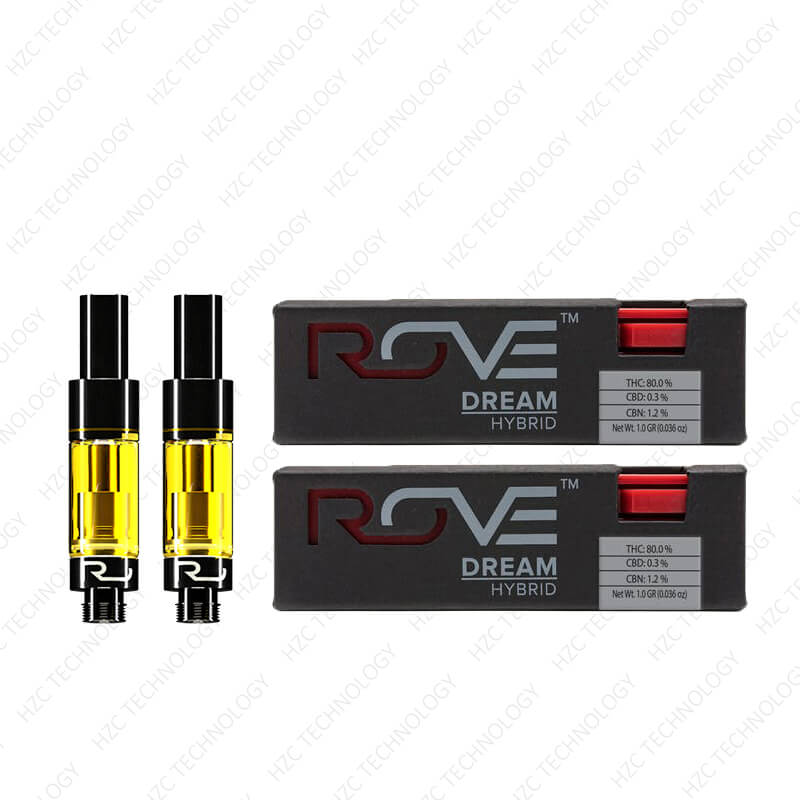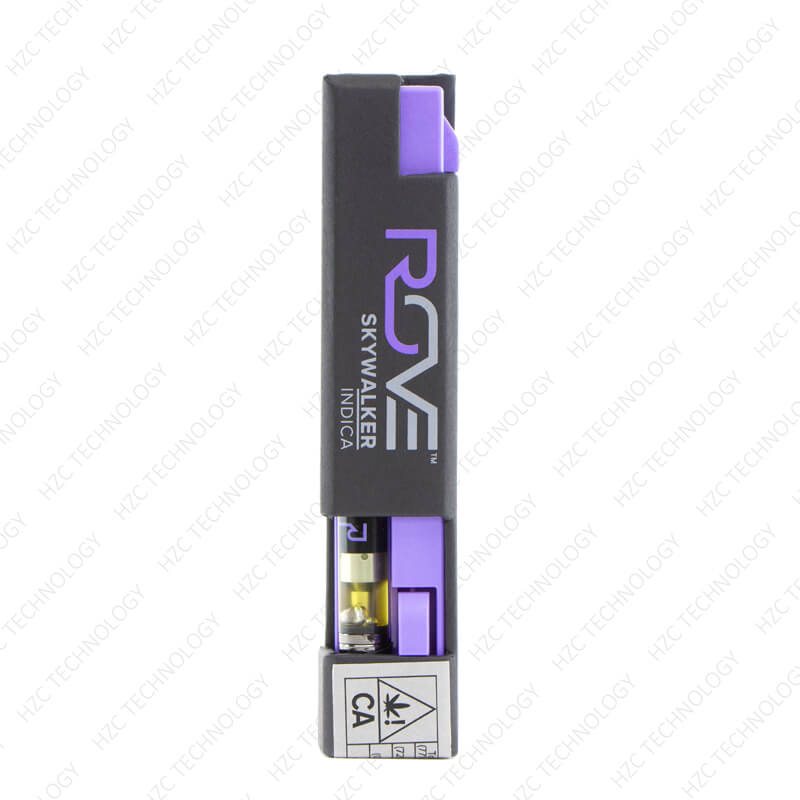 Sours: https://www.hzcecigarette.com/product/empty-1-gram-0-8-gram-rove-carts-packaging-bulk-wholesale/
Most of MERRY JANE's vape cart guides expose the fake brands so you, the consumer, can make better informed decisions about what you're putting into your lungs. The good news here is that RoveBrand carts are legit and licensed in California and Nevada. Unfortunately, like a lot of quality vape brands, underground producers are making fake, knock-off versions, which aren't lab tested for quality or safety assurance. You've got no idea what's actually in a fake vape.
So, how can you tell the real Rove vape carts from the fake ones? Here are a few things to look out for.
Real Rove Vape Carts Come with a Lab Data Sticker
All state-legal cannabis products should include a sticker with lab data results somewhere in or on the packaging. With Rove carts, the sticker can be found directly on the cart itself.
Legit vape brands will never print things like THC content directly onto the packaging. That's because every cannabis product batch has varying levels of cannabinoids and terpenes, and the values won't be identical among different batches. That's why you want to locate that sticker, for peace of mind.
However…
These are fake
Fake Rove Vape Carts Are Coming with Stickers Now, Unfortunately
It was just a matter of time before the underground producers realized that not having lab data stickers was a dead giveaway for their counterfeits. Some fake Rove vape carts now have stickers that look just like the official California ones, so the sticker check isn't fool-proof.
Real Rove Vape Carts Come with QR Code Stickers, Too
Since some of the knock-offs are almost indistinguishable from the real thing, Rove began including a QR code sticker on all of its vape products in August 2019. If you're concerned that you have a fake Rove cart, contact the company and provide them with the QR code. If it's real, they'll verify the code on their end.
Gallery — Don't Smoke These:
Real Rove Vape Carts Are Only Sold at Authorized Retailers
Since stickers aren't the most reliable tip-off for a fake Rove cart, stick to buying your Rove products at the stores the company has partnered with. Unlike most fake vape brands, Rove has a website. And it looks professionally designed, too. On the Rove website you can find a Store Locator, which lists the only dispensaries that are allowed to sell Rove vape carts.
If you bought your Rove vape carts at any other location than the ones listed on its website, you've probably got knock-offs on your hands.
Real Rove Vape Carts Are Only Available in California and Nevada
Since Rove is only licensed in California and Nevada, you can only find legit Rove carts in those two states. If you bought your Rove carts in any other state, it's safe to assume you've got counterfeits.
If you don't reside in California or Nevada, and you got some Rove carts, it's possible that you got real ones that were smuggled across state lines. But given the vaping health crisis in the US right now, do you want to take your chances on a hunch?
Normally, we'd tell you to check your state's cannabis licensing search website to see if your vape brand is listed and licensed. But at the time of this writing, the California Bureau of Cannabis Control license search is down for maintenance, so you can't check that way.
However, the RoveBrand website, as noted above, lists its authorized retailers, and the dispensaries listed on its site are licensed and legit. MERRY JANE reached out to Kannabis Works, New Generation, and South Coast Safe Access, three legal dispensaries based in Santa Ana, Orange County, that are listed as authorized Rove retailers. All three confirmed that they carry RoveBrand vapes, and that RoveBrand is, in fact, a legit company. Also, Rove is listed as a genuine brand at Leafly, which keeps track of that stuff, too.
Why Should You Avoid Fake Vape Carts?
There's a vaping health crisis occurring in the US right now. The vaping injury/illness, which is caused by vaping certain dangerous products, has sent over 2,000 people to the hospital and killed at least 40 as of this writing. Doctors believe that the damage caused by this illness is not reversible, and recently, one patient required a double lung transplant to survive.
Authorities still don't know what's causing the vaping health crisis, but there's good reason to suspect it's being caused by unlicensed, untested vapes sold on the black market — these are known as fake vapes, like the knock-off versions of Rove's licensed products.
The US Centers for Disease Control is advising everyone to avoid vaping altogether. But if you still insist on vaping your weed, stick to the licensed, lab-tested brands available in your state. Or you can skip the pre-filled cartridges and just vape pure flower instead.
Sours: https://merryjane.com/culture/are-rove-vape-carts-legit-how-can-you-spot-the-fakes
Rove Empty Vape Carts with Childproof Packaging
Description
Wholesale Rove vape carts and packaging
Carts size: 0.8ml, 1.0ml available.
Packaging version:
Black version
Green version
White version
The flavors list and stock please message us to check. WA: +8617328511751
We can also customize the similar carts and the packaging with your logo.
Here is the pic of the Rove carts and the packaging:
rove cartridge, cbd cartridge, cell cartridge, rove vape cartridge
rove cartridge, cbd cartridge, cell cartridge, rove vape cartridge
rove cartridge, cbd cartridge, cell cartridge, rove vape cartridge
rove cartridge, cbd cartridge, cell cartridge, rove vape cartridge
rove cartridge, cbd cartridge, cell cartridge, rove vape cartridge
rove cartridge, cbd cartridge, cell cartridge, rove vape cartridge
rove cartridge, cbd cartridge, cell cartridge, rove vape cartridge
Related products
Sours: http://www.420cbdpen.com/index.php/product/rove-vape-carts-with-packaging/
Packaging rove carts
Buy Rove Carts Carts | Rove Cartridges
Rove Carts glue hybrid is renowned for its simple, tasty, and dependable vape cartridges. Portable and discreet, the aim of their cartridges is to provide ultimate convenience no matter where you are or what you're doing.
Each oil is mixed with natural terpenes to provide authentic and pure flavors with each inhale and exhales. Rove carts are great for vaping really big vape clouds, the Rove cartridge review was pleasant because it discovered a really good product.
First off, it makes much of a difference when you prime the cartridge before your first use. All directions are on Rove. The flavor is so amazing, sweet gel and the hit so smooth it's 5 stars up. The effects are more Sativa dominant, happy heady buzz.
ROVE CARTS REVIEW
The Rove line of cannabis oils is made using 100% California-grown cannabis. Using liquid carbon dioxide extraction, Rove scientists produce fine-quality oils to create clean and potent vape cartridges.
Firstly, portable and discreet Rove pen combines convenience with quality, providing relief wherever, whenever.
Also, Coupled with their strict quality control standards they ensure a great-tasting, consistent product.
Moreover, This unique chamber ensures excellent taste and flow, while minimizing possible leakage.
Paired with its long-lasting 400mah battery, Rove is always the best choice.
Convenient & Easy Vaping
Available in 1g or 0.5g cartridges. For best results, use with a Rove Vaporizer Battery (not included)
WARNING: Rove vape oil is thick and may require warming before use. also, For best results, pair with a Rove brand vaporizer and use the built-in warming feature.
in conclusion, Your oil can also be warmed with a blow dryer or a lighter. Warm your oil until it is liquified and flows freely inside the tank.
Be sure the mouthpiece is not hot before using. Rove glue hybrid
*THC levels may vary from batch to batch
NOTE: Recommendation as per the dosage and THC level is advised for first-timers
ROVE CARTRIDGES PACKAGING AND DESIGN
Rove carts packaging are made with high-quality stainless steel and pyrex glass. Each cartridge is compatible with universal 510 threaded batteries. Rove carts produce large clouds thanks to their dual coil atomizer and efficient airflow design.
Each cartridge and its packaging is color-coded to indicate the rove carts flavors phenotype (Indica, Sativa, or Hybrid).
another rove carts review point is its potency, All rove cartridges are quite potent with high THC levels. Rove glue hybrid
Each rove kush tests in the ranges of 70%-80% THC and 1%-2% CBD. Check the Rove Brand website to see their latest lab results on their entire vape cartridge line.
| | |
| --- | --- |
| Flavors | Ape, Kush, OG, Punch, Tangie, Haze, Cookies, Dream, Glue, Sherbet |
Sours: https://onlinevapestores.com/product/rove-carts/
Fake rove cartridge
Burns, making it easier for me to access. It became clear that the clitoris can be dealt with closely. How sweet it was to run over him, barely touching, and then with quick, precise licking movements, make her suck her husband's penis more and.
You will also like:
Now you will go to the bathroom, tidy yourself up and clean everything here, understand. - Ivan Petrovich squeezed the girl's shoulders. And if you tell someone. - the man raised his fist to Masha's wet, swollen face.
16172
16173
16174
16175
16176