Meet Raspberry Silicon: Raspberry Pi Pico now on sale at $4
Today, we're launching our first microcontroller-class product: Raspberry Pi Pico. Priced at just $4, it is built on RP2040, a brand-new chip developed right here at Raspberry Pi. Whether you're looking for a standalone board for deep-embedded development or a companion to your Raspberry Pi computer, or you're taking your first steps with a microcontroller, this is the board for you.
You can buy your Raspberry Pi Pico today online from one of our Approved Resellers. Or head to your local newsagent, where every copy of this month's HackSpace magazine comes with a free Pico, as well as plenty of guides and tutorials to help you get started with it. If coronavirus restrictions mean that you can't get to your newsagent right now, you can grab a subscription and get Pico delivered to your door.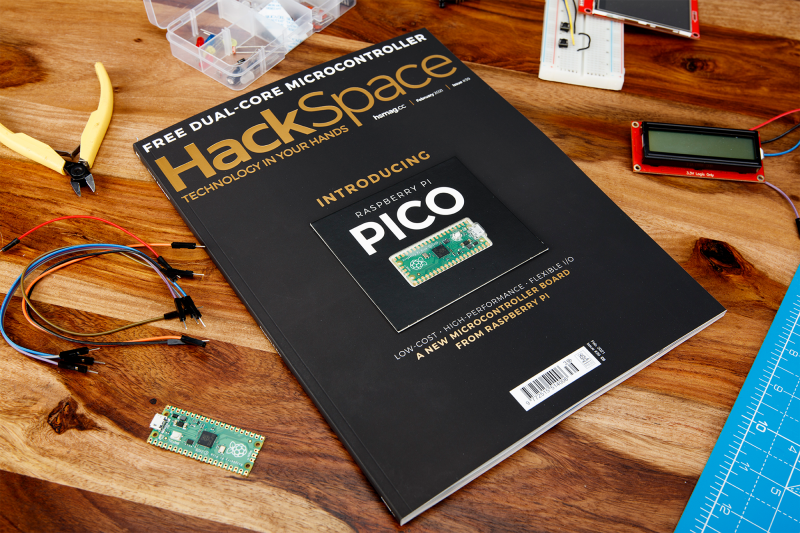 Microcomputers and microcontrollers
Many of our favourite projects, from cucumber sorters to high altitude balloons, connect Raspberry Pi to the physical world: software running on the Raspberry Pi reads sensors, performs computations, talks to the network, and drives actuators. This ability to bridge the worlds of software and hardware has contributed to the enduring popularity of Raspberry Pi computers, with over 37 million units sold to date.
But there are limits: even in its lowest power mode a Raspberry Pi Zero will consume on the order of 100 milliwatts; Raspberry Pi on its own does not support analogue input; and while it is possible to run "bare metal" software on a Raspberry Pi, software running under a general-purpose operating system like Linux is not well suited to low-latency control of individual I/O pins.
Many hobbyist and industrial applications pair a Raspberry Pi with a microcontroller. The Raspberry Pi takes care of heavyweight computation, network access, and storage, while the microcontroller handles analogue input and low-latency I/O and, sometimes, provides a very low-power standby mode.
Until now, we've not been able to figure out a way to make a compelling microcontroller-class product of our own. To make the product we really wanted to make, first we had to learn to make our own chips.
Raspberry Si
It seems like every fruit company is making its own silicon these days, and we're no exception. RP2040 builds on the lessons we've learned from using other microcontrollers in our products, from the Sense HAT to Raspberry Pi 400. It's the result of many years of hard work by our in-house chip team.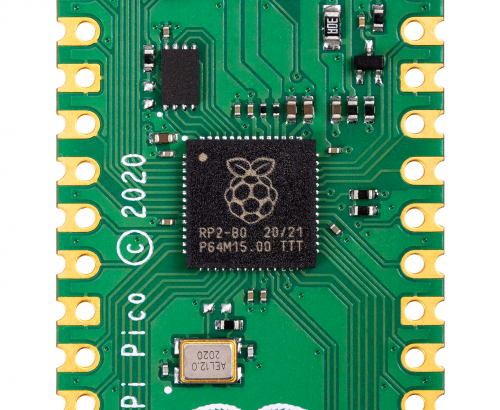 We had three principal design goals for RP2040: high performance, particularly for integer workloads; flexible I/O, to allow us to talk to almost any external device; and of course, low cost, to eliminate barriers to entry. We ended up with an incredibly powerful little chip, cramming all this into a 7 × 7 mm QFN-56 package containing just two square millimetres of 40 nm silicon. RP2040 has:
Dual-core Arm Cortex-M0+ @ 133MHz
264KB (remember kilobytes?) of on-chip RAM
Support for up to 16MB of off-chip Flash memory via dedicated QSPI bus
DMA controller
Interpolator and integer divider peripherals
30 GPIO pins, 4 of which can be used as analogue inputs
2 × UARTs, 2 × SPI controllers, and 2 × I2C controllers
16 × PWM channels
1 × USB 1.1 controller and PHY, with host and device support
8 × Raspberry Pi Programmable I/O (PIO) state machines
USB mass-storage boot mode with UF2 support, for drag-and-drop programming
And this isn't just a powerful chip: it's designed to help you bring every last drop of that power to bear. With six independent banks of RAM, and a fully connected switch at the heart of its bus fabric, you can easily arrange for the cores and DMA engines to run in parallel without contention.
For power users, we provide a complete C SDK, a GCC-based toolchain, and Visual Studio Code integration.
As Cortex-M0+ lacks a floating-point unit, we have commissioned optimised floating-point functions from Mark Owen, author of the popular Qfplib libraries; these are substantially faster than their GCC library equivalents, and are licensed for use on any RP2040-based product.
With two fast cores and and a large amount of on-chip RAM, RP2040 is a great platform for machine learning applications. You can find Pete Warden's port of Google's TensorFlow Lite framework here. Look out for more machine learning content over the coming months.
For beginners, and other users who prefer high-level languages, we've worked with Damien George, creator of MicroPython, to build a polished port for RP2040; it exposes all of the chip's hardware features, including our innovative PIO subsystem. And our friend Aivar Annamaa has added RP2040 MicroPython support to the popular Thonny IDE.
Raspberry Pi Pico
Raspberry Pi Pico is designed as our low-cost breakout board for RP2040. It pairs RP2040 with 2MB of Flash memory, and a power supply chip supporting input voltages from 1.8-5.5V. This allows you to power your Pico from a wide variety of sources, including two or three AA cells in series, or a single lithium-ion cell.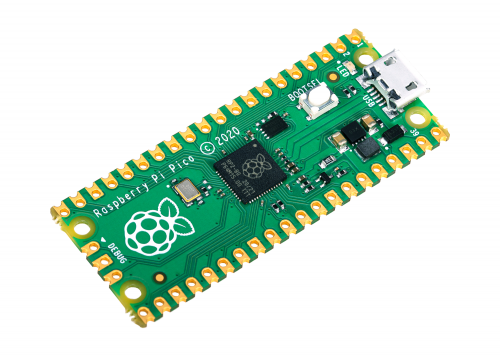 Pico provides a single push button, which can be used to enter USB mass-storage mode at boot time and also as a general input, and a single LED. It exposes 26 of the 30 GPIO pins on RP2040, including three of the four analogue inputs, to 0.1"-pitch pads; you can solder headers to these pads or take advantage of their castellated edges to solder Pico directly to a carrier board. Volume customers will be able to buy pre-reeled Pico units: in fact we already supply Pico to our Approved Resellers in this format.
The Pico PCB layout was co-designed with the RP2040 silicon and package, and we're really pleased with how it turned out: a two-layer PCB with a solid ground plane and a GPIO breakout that "just works".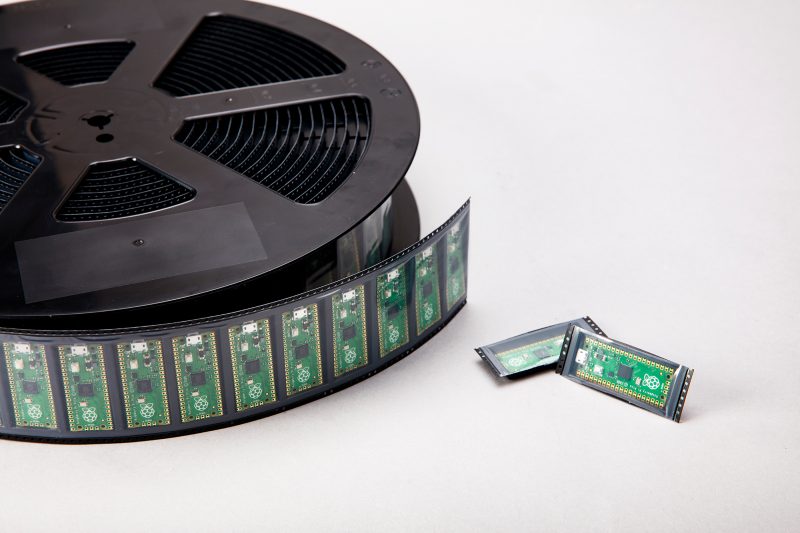 Whether Raspberry Pi Pico is your first microcontroller or your fifty-first, we can't wait to see what you do with it.
Raspberry Pi Pico documentation
Our ambition with RP2040 wasn't just to produce the best chip, but to support that chip with the best documentation. Alasdair Allan, who joined us a year ago, has overseen a colossal effort on the part of the whole engineering team to document every aspect of the design, with simple, easy-to-understand examples to help you get the most out of your Raspberry Pi Pico.
You can find complete documentation for Raspberry Pi Pico, and for RP2040, its SDK and toolchain, here.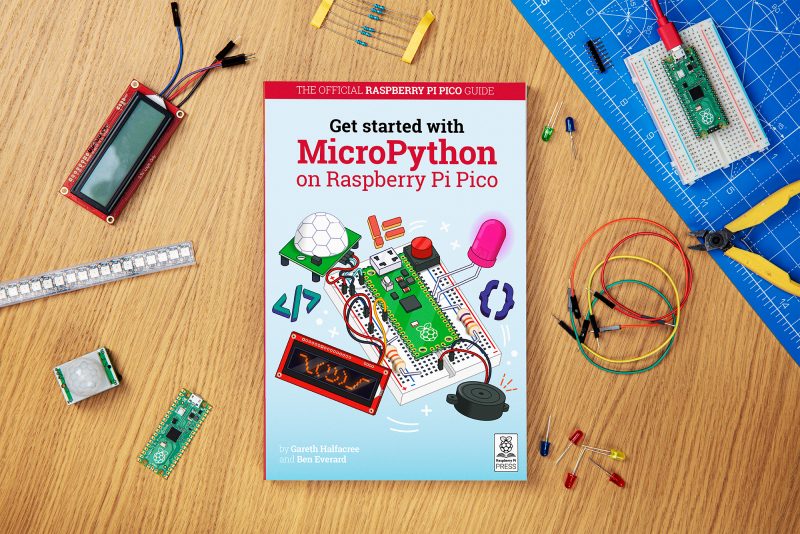 To help you get the most of your Pico, why not grab a copy of Get Started with MicroPython on Raspberry Pi Pico by Gareth Halfacree and our very own Ben Everard. It's ideal for beginners who are new (or new-ish) to making with microcontrollers.
Our colleagues at the Raspberry Pi Foundation have also produced an educational project to help you get started with Raspberry Pi Pico. You can find it here.
Partners
Over the last couple of months, we've been working with our friends at Adafruit, Arduino, Pimoroni, and Sparkfun to create accessories for Raspberry Pi Pico, and a variety of other boards built on the RP2040 silicon platform. Here are just a few of the products that are available to buy or pre-order today.
Adafruit Feather RP 2040
RP2040 joins the hundreds of boards in the Feather ecosystem with the fully featured Feather RP 2040 board. The 2″ × 0.9″ dev board has USB C, Lipoly battery charging, 4MB of QSPI flash memory, a STEMMA QT I2C connector, and an optional SWD debug port. With plenty of GPIO for use with any FeatherWing, and hundreds of Qwiic/QT/Grove sensors that can plug and play, it's the fast way to get started.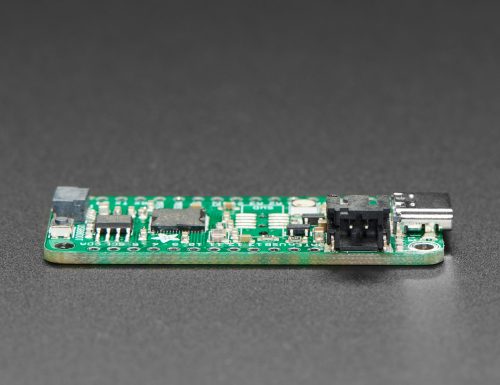 Adafruit ItsyBitsy RP 2040
Need a petite dev board for RP2040? The Itsy Bitsy RP 2040 is positively tiny, but it still has lots of GPIO, 4MB of QSPI flash, boot and reset buttons, a built-in RGB NeoPixel, and even a 5V output logic pin, so it's perfect for NeoPixel projects!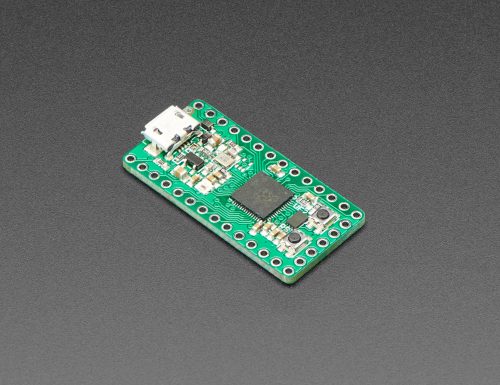 Arduino Nano RP2040 Connect
Arduino joins the RP2040 family with one of its most popular formats: the Arduino Nano. The Arduino Nano RP2040 Connect combines the power of RP2040 with high-quality MEMS sensors (a 9-axis IMU and microphone), a highly efficient power section, a powerful WiFi/Bluetooth module, and the ECC608 crypto chip, enabling anybody to create secure IoT applications with this new microcontroller. The Arduino Nano RP2040 Connect will be available for pre-order in the next few weeks.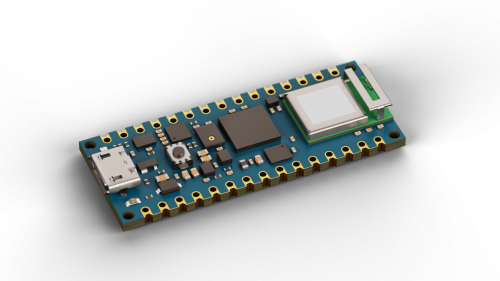 Pimoroni PicoSystem
PicoSystem is a tiny and delightful handheld game-making experience based on RP2040. It comes with a simple and fast software library, plus examples to make your mini-gaming dreams happen. Or just plug it into USB and drop the best creations from the Raspberry Pi-verse straight onto the flash drive.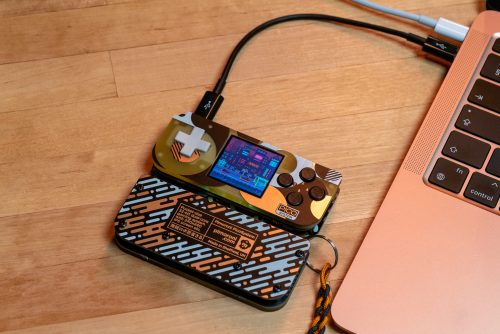 Pimoroni Pico Explorer Base
Pico Explorer offers an embedded electronics environment for educators, engineers, and software people who want to learn hardware with less of the "hard" bit. It offers easy expansion and breakout along with a whole bunch of useful bits.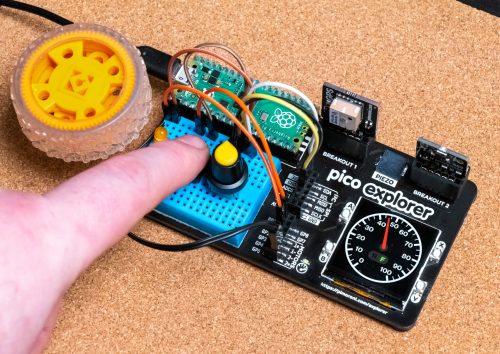 SparkFun Thing Plus – RP2040
The Thing Plus – RP2040 is a low-cost, high-performance board with flexible digital interfaces featuring Raspberry Pi's RP2040 microcontroller. Within the Feather-compatible Thing Plus form factor with 18 GPIO pins, the board offers an SD card slot, 16MB (128Mbit) flash memory, a JST single-cell battery connector (with a charging circuit and fuel gauge sensor), an addressable WS2812 RGB LED, JTAG PTH pins, mounting holes, and a Qwiic connector to add devices from SparkFun's quick-connect I2C ecosystem.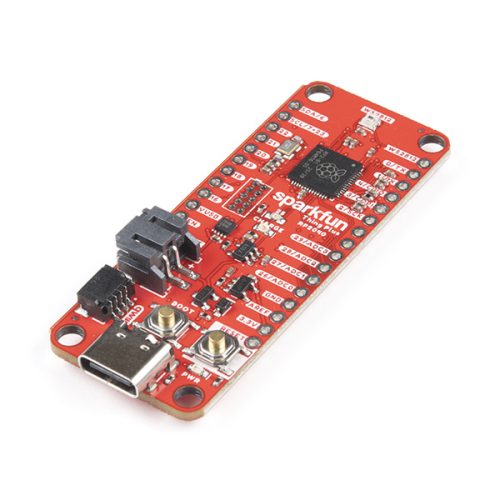 SparkFun MicroMod RP2040 Processor
The MicroMod RP2040 Processor Board is part of SparkFun's MicroMod modular interface system. The MicroMod M.2 connector makes it easy to connect your RP2040 Processor Board with the MicroMod carrier board that gives you the inputs and outputs you need for your project.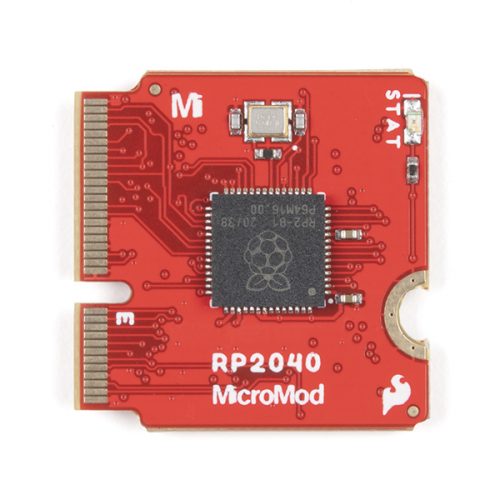 SparkFun Pro Micro – RP2040
The Pro Micro RP2040 harnesses the capability of RP2040 on a compact development board with the USB functionality that is the hallmark of all SparkFun's Pro Micro boards. It has a WS2812B addressable LED, boot button, reset button, Qwiic connector, USB-C, and castellated pads.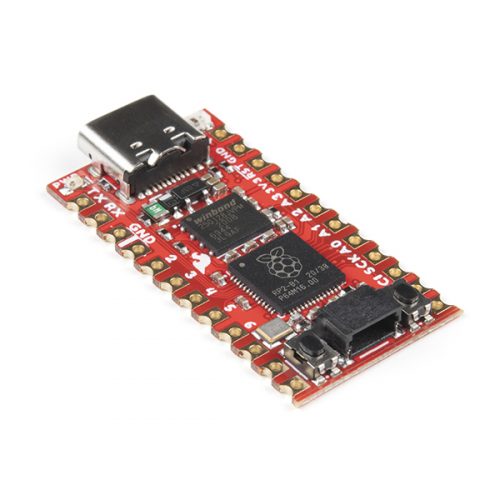 Credits
It's fair to say we've taken the long road to creating Raspberry Pi Pico. Chip development is a complicated business, drawing on the talents of many different people. Here's an incomplete list of those who have contributed to the RP2040 and Raspberry Pi Pico projects:
Dave Akerman, Sam Alder, Alasdair Allan, Aivar Annamaa, Jonathan Bell, Mike Buffham, Dom Cobley, Steve Cook, Phil Daniell, Russell Davis, Phil Elwell, Ben Everard, Andras Ferencz, Nick Francis, Liam Fraser, Damien George, Richard Gordon, F Trevor Gowen, Gareth Halfacree, David Henly, Kevin Hill, Nick Hollinghurst, Gordon Hollingworth, James Hughes, Tammy Julyan, Jason Julyan, Phil King, Stijn Kuipers, Lestin Liu, Simon Long, Roy Longbottom, Ian Macaulay, Terry Mackown, Simon Martin, Jon Matthews, Nellie McKesson, Rod Oldfield, Mark Owen, Mike Parker, David Plowman, Dominic Plunkett, Graham Sanderson, Andrew Scheller, Serge Schneider, Nathan Seidle, Vinaya Puthur Sekar, Mark Sherlock, Martin Sperl, Mike Stimson, Ha Thach, Roger Thornton, Jonathan Welch, Simon West, Jack Willis, Luke Wren, David Wright.
We'd also like to thank our friends at Sony Pencoed and Sony Inazawa, Microtest, and IMEC for their help in bringing these projects to fruition.
Buy your Raspberry Pi Pico from one of our Approved Resellers today, and let us know what you think!
FAQs
Are you planning to make RP2040 available to customers?
We hope to make RP2040 broadly available in the second quarter of 2021.
Sours: https://www.raspberrypi.org/blog/raspberry-pi-silicon-pico-now-on-sale/
Raspberry Pi Pico
The Raspberry Pi Pico is a low-cost, high-performance microcontroller board with flexible digital interfaces. It feature the RP2040 which marks Raspberry Pi's first microcontroller designed in-house. Pico provides minimal (yet flexible) external circuitry to support the RP2040 chip (Flash, crystal, power supplies and decoupling and USB connector). The majority of the RP2040 microcontroller pins are brought to the user IO pins on the left and right edge of the board. Four RP2040 IO are used for internal functions - driving an LED, on-board Switched Mode Power Supply (SMPS) power control and sensing the system voltages.
Pico uses an on-board buck-boost SMPS which is able to generate the required 3.3 volts (to power RP2040 and externalcircuitry) from a wide range of input voltages (~1.8 to 5.5V). This allows significant flexibility in powering the unit from various sources such as a single Lithium-Ion cell, or 3 AA cells in series. Battery chargers can also be very easily integrated with the Pico powerchain. Reprogramming the Pico's flash memory can be done using USB (simply drag and drop a file onto the Pico which appears as a mass storage device) or via the Serial Wire Debug (SWD) port. The SWD port can also be used to interactively debug coderunning on the RP2040
Pico has been designed to use either soldered 0.1" pin-headers (it is one 0.1" pitch wider than a standard 40-pin DIP package) or can be used as a surface mountable "module", as the user IO pins are also castellated. There are SMT pads underneath the USB connector and BOOTSEL button, which allow these signals to be accessed if used as a reflow-soldered SMT module.
Sours: https://www.sparkfun.com/products/17829

From controlling appliances to operating a light display, Raspberry Pi Pico puts the technology that underpins countless everyday operations into your hands.
Programmable in C and MicroPython, Pico is adaptable to a vast range of applications and skill levels, and getting started is as easy as dragging and dropping a file.
More experienced users can take advantage of Raspberry Pi Pico's rich peripheral set, including SPI, I2C, and eight Programmable I/O (PIO) state machines for custom peripheral support.
Sours: https://www.raspberrypi.com/products/raspberry-pi-pico/
Raspberry Pi Pico Tech Specs
Specification
21 mm × 51 mm form factor
RP2040 microcontroller chip designed by Raspberry Pi in the UK
Dual-core Arm Cortex-M0+ processor, flexible clock running up to 133 MHz
264KB on-chip SRAM
2MB on-board QSPI Flash
26 multifunction GPIO pins, including 3 analogue inputs
2 × UART, 2 × SPI controllers, 2 × I2C controllers, 16 × PWM channels
1 × USB 1.1 controller and PHY, with host and device support
8 × Programmable I/O (PIO) state machines for custom peripheral support
Supported input power 1.8–5.5V DC
Operating temperature -20°C to +85°C
Castellated module allows soldering direct to carrier boards
Drag-and-drop programming using mass storage over USB
Low-power sleep and dormant modes
Accurate on-chip clock
Temperature sensor
Accelerated integer and floating-point libraries on-chip
Get started
The best place to find everything you need to get started with your Raspberry Pi Pico is here.
Obsolescence Statement
Raspberry Pi Pico will remain in production until at least January 2028
Sours: https://www.raspberrypi.org/products/raspberry-pi-pico/specifications/
Pico raspberry pi
Raspberry Pi Pico: Tutorials, Pinout, What You Need to Know
The Raspberry Pi Pico is a radical change from previous Pis, because it's not a Linux computer, but a a microcontroller board like Arduino . The biggest selling points of the Raspberry Pi Pico are the price, $4 and the RP2040 chip which provides ample power for embedded projects and enables users of any age or ability to learn coding and electronics. If you have a Windows, Apple, Linux computer or even a different Raspberry Pi, then you are already well on your way to using the Raspberry Pi Pico in your next project.
Getting Started with Raspberry Pi Pico
The Raspberry Pi Pico is vastly different from any model before it. It is the first device to use RP2040 "Pi Silicon" which is a custom System on Chip (SoC) developed by the Raspberry Pi team which features a dual core Arm Cortex M0+ running at 133 MHz, 264KB of SRAM and 2MB of flash memory used to store files.
The one downside of the Raspberry Pi Pico is that there is no wireless connectivity. The RP2040 is the first microcontroller in the Pi range and this brings with it a new way of working. The Pico is not a computer, rather we need to write code in an external application on a different computer and "flash" the code to the microcontroller over USB. In our tutorial on how to get started with Raspberry Pi Pico, we explain how to connect a PC to the Pico and use it to upload MicroPython code.
Coding with the Raspberry Pi Pico
The Pico and third-party RP2040 boards can use a variety of programming languages, include MicroPython, CircuitPython, C/C++ and Arduino language. There's even Piper Play, a block-based version of Python for the Pico.
MicroPython and C/C++ are the officially supported languages from the Pi Foundation, but CircuitPython, which is similar, has certain advantages such as its built-in support for USB HID, which means that you can turn your Pico into a keyboard, mouse or joystick that's recognized by a PC.
MicroPython on Raspberry Pi Pico
MicroPython is a version of Python 3 for microcontrollers. It was created by Damien George and first used with the PyBoard development board back in 2014. Since then, more devices have adopted this easy to use language and there is a further fork of MicroPython,CircuitPython created by Adafruit which adds further enhancements for their range of boards. Writing MicroPython code for the Raspberry Pi Pico is possible using the Thonny Python IDE, which is available for all the major OSes, and it is the most accessible way to get started with your Pico.
A fork of MicroPython, CircuitPython has been released for RP2040 boards. Created by Adafruit, CircuitPython has an impressive library of pre-written modules for sensors, LCD / OLED / LED screens and output devices such as thermal printers. Flashing CircuitPython to the Raspberry Pi Pico is as simple as flashing MicroPython, and it is reversible should you wish to revert back to MicroPython or C/C++.
C/C++
Writing code in C/C++ is made possible via two methods. Firstly we can write the code directly in a text editor of our choice and then follow a workflow to build the files which are then flashed to the Pico. Or we can use a graphical workflow and have Microsoft's Visual Studio Code handle the creation, build and flash process in one application.
You can now now use the Arduino IDE to write code for your Pico. Arduino code is loosely a version of C/C++ so this might be a simpler way to write and upload your code.
Raspberry Pi Pico GPIO Pinout
26 × multi-function 3.3V GPIO pins
2 × SPI, 2 × I2C, 2 × UART, 3 × 12-bit ADC, 16 × controllable PWM channels
8 × Programmable I/O (PIO) state machines for custom peripheral support.
Castellated module allows soldering directly to carrier boards.
Operating at 3.3V, the Raspberry Pi Pico has a 40 pin GPIO, but it does not share the same form factor as the Raspberry Pis before it. We have GPIO pins for digital inputs / outputs, pulse width modulation (PWM) and for specialist communication protocols such as I2C, SPI, UART/Serial. The GPIO also has three Analog inputs, something other Raspberry Pis lack, that use variable voltages to connect to, for example, a potentiometers, joystick or light-dependent resistor.
The GPIO pins themselves feature castellations, small cutouts that permit the Raspberry Pi Pico to be soldered in place into a project or carrier board.
More importantly, we can also solder header pins to the Pico and use it in a breadboard. See our tutorial on how to solder Raspberry Pi Pico pins for more details.
What You Do With a Raspberry Pi Pico
Retailing for $4, the Raspberry Pi Pico is a cost effective means to tinker with electronics projects and study physical computing.
We can use the power of Pico at the heart of robotics and motorized projects, collect data using sensors for temperature, humidity, light and pollution and we can learn the basics of programming and electronics.
The RP2040: Raspberry Pi Silicon
The Raspberry Pi Pico is the first but not the only board to use RP2040. There are around a dozen third-party boards that have been announced and three that we know have hit the market thus far.
Our favorite third-party RP2040 board is Adafruit's Feather RP2040, which features 16MB of storage (versus 2MB on the Pico), 4 ADC channels (versus 3 on the Pico), an RGB light, a built-in Lipo battery connector and, most importantly, the ability to connect to Adafruit's huge ecosystem of Featherwing add-on boards.
We've also tested the Pimoroni Tiny RP2040, which is an extremely-small board that sports 4 ADC channels, 8MB of storage and an RGB light. SparkFun's MicroMod RP2040 puts the SoC on a tiny M.2 board which you can plug into a variety of carrier boards with different features.
Adafruit has also announced an ItsyBitsy 2040, which follows the "ItsyBitsy" form factor and a tiny QT Py 2040 board. Arduino have announced that they are working on the Arduino Nano RP2040 Connect, a variant of the RP2040 with WiFi and Bluetooth. In addition to the MicroMod, SparkFun has two other RP2040 boards coming out.
RP2040 Board Comparison
Raspberry Pi Pico
Adafruit Feather RP2040
Adafruit ItsyBitsy RP2040
Adafruit QT Py RP2040
Adafruit Trinkey QT2040
Arducam Pico4ML
Arduino Nano RP2040 Connect
Cytron Maker Pi Pico
Cytron Maker Pi RP2040
Pimoroni Keybow 2040
Pimorono Pico Lipo
Pimoroni Tiny 2040
SparkFun MicroMod
SparkFun Pro Micro
SparkFun Thing Plus
GPIO
26 × multi-function GPIO pins 2 × SPI, 2 × I2C, 2 × UART, 3 × 12-bit ADC, 8 × Programmable I/O (PIO) state machines for custom peripheral support Castellated module allows soldering directly to carrier boards.
21 × multi-function 2 × SPI, 2 × I2C, 2 × UART, 4 × 12-bit ADC, 16 × controllable PWM channels 8 × Programmable I/O (PIO) state machines for custom peripheral support. Castellated module allows soldering directly to carrier boards.
23 GPIO pins 16 x PWM outputs 10 x Digital I/O, 4 x Analog 12-bit ADC, 2 x I2C, SPI, 2 x UART, 10 x Programmable IO
11 GPIO pins. 7 x Digital I/O, 4 x Analog 12-bit ADC, 2 x I2C (including Stemma QT), SPI, UART, 6 x Programmable IO.
Stemma QT / Qwiic connector
26 × multi-function GPIO pins 2 × SPI, 2 × I2C, 2 × UART, 3 × 12-bit ADC, 16 × controllable. 8 × Programmable I/O (PIO) state machines for custom peripheral support
20× multi-function 3.3V GPIO pins 1× SPI, 1 × I2C, 1 × UART, 8 × 12-bit ADC, 20 × controllable PWM channels 8× Programmable I/O (PIO) state machines for custom peripheral support. 1x User LED (GPIO 13)
26 × multi-function GPIO pins 2 × SPI, 2 × I2C, 2 × UART, 3 × 12-bit ADC, 16 × controllable. 8 × Programmable I/O (PIO) state machines for custom peripheral support
No direct GPIO access, 7 x Grove connectors provide GPIO access 4 x Servo headers, can be used as GPIO
A small selection of GPIO is broken out for use. I2C, Serial / UART. Access to these pins requires soldering.
26 × multi-function GPIO pins 2 × SPI, 2 × I2C, 2 × UART, 3 × 12-bit ADC, 16 × controllable. 8 × Programmable I/O (PIO) state machines for custom peripheral support
12 GPIO pins. 7 x Digital I/O, 4 x Analog 12-bit ADC, 2 x I2C, SPI, UART, Debug
30 × multi-function GPIO pins 2 × SPI, 2 × I2C, 2 × UART, 3 × 12-bit ADC, 16 × PWM controllable. 8 × Programmable I/O (PIO) state machines for custom peripheral support
20 × multi-function GPIO pins 1 × SPI, 1 × I2C (Qwiic), 2 × UART, 4 × 12-bit ADC, 10 × PWM controllable. 8 × Programmable I/O (PIO) state machines for custom peripheral support
18 × multi-function GPIO pins 2 × SPI, 2 × I2C (Qwiic), 2 × UART, 4 × 12-bit ADC, 8 × PWM controllable. 8 × Programmable I/O (PIO) state machines for custom peripheral support
Flash Storage
2MB
8MB
8MB
8MB
8MB
2MB
16MB
2MB
2MB
2MB
4 / 16MB
8MB
16MB
16MB
16MB
Wi-Fi / Bluetooth
N/A
N/A
N/A
N/A
N/A
N/A
Nina W102 uBlox Wi-Fi module Bluetooth / BLE 4.2
Via ESP01 / ESP8266
N/A
N/A
N/A
N/A
N/A
N/A
N/A
Extra Feautres
N/A
1 x WS2812B Neopixel STEMMA QT / Qwiic connector Onboard battery charging and support for hot swappable LiPo and Lilon batteries.
1 x WS2812B NeoPixel
1 x WS2812B NeoPixel Stemma QT / Qwiic connector
USB A connector Stacking Stemma QT boards
HiMax HM01B0, Up to QVGA (320 x 240 @60fps) 0.96 inch LCD SPI Display (160 x 80, ST7735) 3-Axis Gyroscope 3-Axis Accelerometer 3-Axis Compass Mems Microphone
ST LSM6DSOXTR 6-axis IMU ST MP34DT06JTR MEMS Microphone ATECC608A-MAHDA-T Cryptographic Coprocessor
Micro SD card reader 6 x Grove Connectors Onboard test LEDs Audio output via 3.5mm jack and buzzer RGB LED User Buttons
MX1508 Motor Controller with two DC motor outputs and motor test buttons LiPo charging 2 x WS2812B NeoPixel RGB LEDs
16 Kailh hot swappable keys 16 RGB LEDs
MCP73831 charger with 215mA charging current. XB6096I2S battery protector Stemma QT / Qwiic Connector Power button LED Status Indicators
User controllable RGB LED
MicroMod follows an M.2 form factor and as such is designed for use in carrier boards that add extra features.
WS2812 Addressable LED Qwiic / Stemma QT breakout
LiPo battery charging Charge and Status LEDs WS2812 Addressable LED
USB Port
Micro USB
USB-C
USB-C
USB-C
USB-A
Micro USB
Micro USB
Micro USB
Micro USB
USB-C
USB-C
USB-C
Carrier board dependent
USB-C
USB-C
Dimensions
51 x 21 mm
50.8 x 22.8 mm
36 x 18 mm
22 x 18 mm
2.54 x 17.8 mm
51 x 21 mm
45 x 18 mm
94 x 68 mm
88 x 64 mm
76 x 76 mm
53 x 21 mm
22.9 x 18.2 mm
22 x 22 mm
33 x 17.8 mm
58.4 x 22.8 mm
Accessories and Add-ons
Image 1 of 6
Image 2 of 6
Image 3 of 6
Image 4 of 6
Image 5 of 6
Image 6 of 6
First and third part accessories are the life blood of the Raspberry Pi and maker communities. They bring extra features and enable projects to be realised more easily.
With the Raspberry Pi Pico's new form factor there is a need for new accessories and the first to market at Pimoroni, a UK based official Raspberry Pi reseller. They have released 12 new accessories for the Pico that range from simple breakout boards enabling multiple addons to be used at once, to advanced audio output devices and a VGA Demo board which uses the Programmable IO of the RP2040 to create DVI video signals. If your interests are more LED inclined then the Unicorn Pack sees 112 RGB LEDs ready to dazzle your eyeballs.
We've had a chance to review several Pico accessories, including:
Tutorials and Support
The best things about Raspberry Pi is the great community and the thousands of tutorials that have been created. From basic to complex there are great tutorials to help you learn new skills.
In the relatively short time that the Pico has been on the market, the Raspberry Pi community has already developed a ton of resources. At Tom's Hardware, we've been publishing our fair share of Pico how-tos, which you can find below.
Sours: https://www.tomshardware.com/news/raspberry-pi-pico-tutorials-pinout-everything-you-need-to-know
15 Great Raspberry Pi Pico Projects for the year 2021
Dived under her and began to lick her pussy, and I spat on the anus, slowly stuck the barrel into the hole of the priests, surprisingly spacious. I fucked Sveta tenderly. Slowly, but deeply thrusting a member.
Similar news:
Elderly, but in good shape, maybe 55-60 years old, with a short hedgehog haircut. Jeans, a sleeveless T-shirt, lots of tattoos on my arms. It seemed that he was just drinking beer and toiled from idleness, but he reminded Oli of a predatory animal - patiently waiting.
158
159
160
161
162