Vinyl fencing in dark colors?
Have you ever wondered whether vinyl fencing comes in any other colors than white? It seems like that's all you can find when you look at vinyl fence models. Does it come in any other, darker colors? The short answer is it does, but most vinyl fence manufacturers don't offer it and with good reason.
Vinyl fencing was born from the PVC pipe industry. It has long-term durability and structural integrity because of the base ingredient, PVC (polyvinyl chloride). Yet the PVC pipe industry forgot an important factor when they made their first vinyl fencing: ultraviolet rays break down PVC. This was overlooked because PVC pipe is typically behind walls and underground.
As vinyl fencing became more popular, customers began using it in more outdoor applications. Though for this to be accomplished something needed to be added to the vinyl to allow it to hold up to UV light rays, which is how titanium dioxide was introduced to the mix. Now, titanium dioxide is a main component in inhibiting these UV rays, meaning vinyl fences now offer long-term durability, flexibility and weather-ability.
How does this affect color?
Titanium dioxide is a white pigment, making it more difficult to manufacture vinyl fencing in darker colors, but recently fencing manufacturers have found ways to achieve this. The process involves tweaking some of the manufacturing steps to produce a durable and maintenance free-fence in many different, darker colors.
This is where the bigger problem comes into play.
Vinyl expands when heated. So when continually beaten by the sun's UV rays, it begins to look more like taffy than a fence. And dark colors only amplify the warping of the vinyl, because the darker the fence, the more heat is attracted, and the more pliable and warped it becomes.
This is why you don't typically see vinyl in dark colors. Vinyl, even with proper components, will store the sun's radiant energy and cause the product to be hotter than the air temperature. A dark brown vinyl fence (versus white or lighter color) in the Texas sun could wind up drooping over or even laying flat out on your lawn.
In return, many reputable fencing companies have opted not to carry darker colors as an option so they can still guarantee lifetime warranties on their vinyl fences, as they know the light-colored vinyl fencing is able to hold up long-term to all conditions, including  heat.
Something to note is these easy-to-care-for light colored vinyl fences hold up well to routine property maintenance, including most types of weed eaters. For those who have painted fences, you may quickly notice scratches and damage due to normal property maintenance. Painted fences need painting almost every year. Vinyl fences, due to the makeup of the product, really need little to no maintenance, ever.
Lastly, if you really want a dark colored vinyl fence, painting it is an option. An epoxy-based paint needs to be used on the smooth vinyl surfaces in order for proper adhering. One of the many pros to vinyl fencing is it does NOT require painting maintenance, so if you decide to paint it, you will need to know it will need to be repainted in time. Disclaimer: Painting your vinyl fence will more than likely result in loss of manufacturer's warranty, so be sure to check before pulling out a spray gun.
Filed Under: Vinyl
Sours: https://fencesupplyinc.com/vinyl-fencing-in-dark-colors/
Who Makes a Black PVC Vinyl Fence?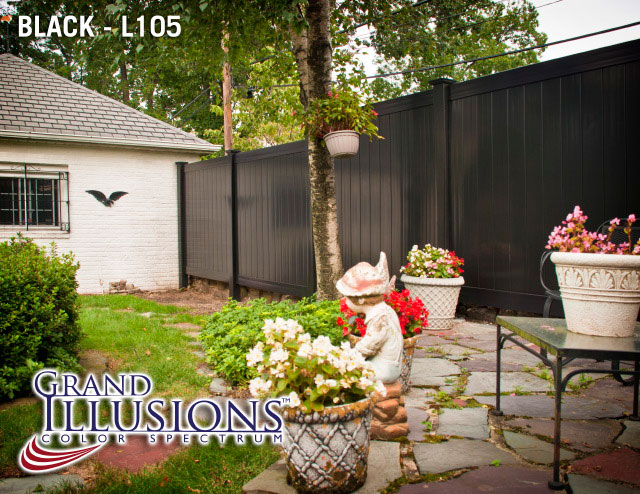 V3701-6L105. Vinyl PVC Privacy T&G fence with Framed Victorian Picket Topper. Shown in Grand Illusions Color Spectrum Black (L105)
Black PVC vinyl fence.
Simple. Powerful. Elegant.
It's no wonder that "black vinyl fence" is becoming one of the most searched new fence styles on the internet. For years, it's been like the holy grail of the fence industry. Now, thanks to Grand Illusions color and woodgrain vinyl fencing products, the holy grail is no longer a mystery!
This is a beautiful install of Grand Illusions Color Spectrum Black (L105) in the popular V3701-6 Vinyl Privacy Fence with Framed Victorian Topper. Just the right amount of privacy, but you can see through when you need to.
Every day, homeowners across the USA and beyond are wondering if they make a fence that has the look of a nice black painted fence, but the no-maintenance convenience of vinyl. Well folks, you asked for it, you got it. Looking for black fencing to blend into the perimeter of your back yard? Looking for fence panels that go with black accents? Looking for vinyl fencing products that work great with historical as well as contemporary installations? Illusions Vinyl Fence is the answer. Every time.
As you can see, this is a beautiful historic white house with black shutters. The look of the property is subtly and appropriately enhanced by the Grand Illusions Color Spectrum Black fence with matching black vinyl fence gates.
This fence and black color goes great with almost any outdoor living space.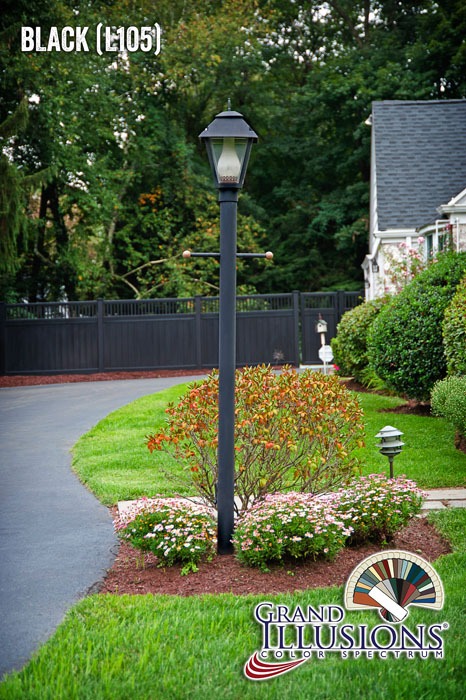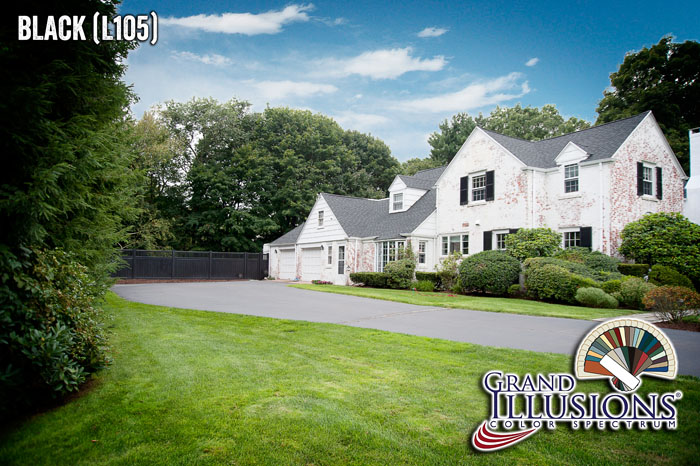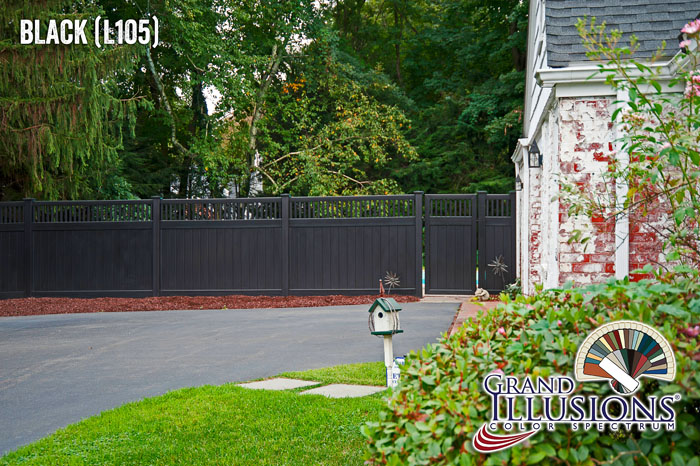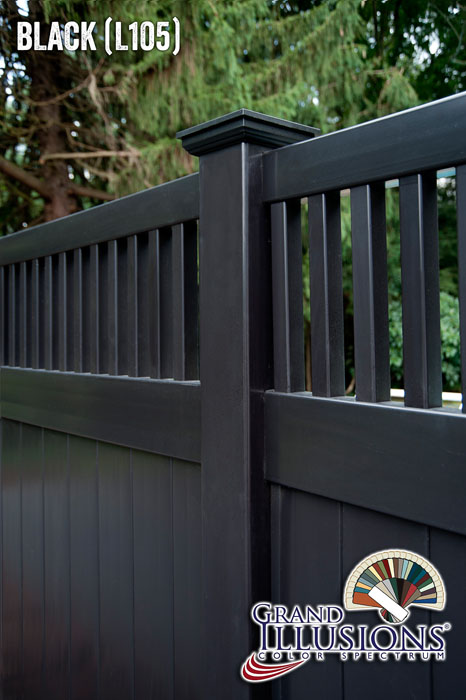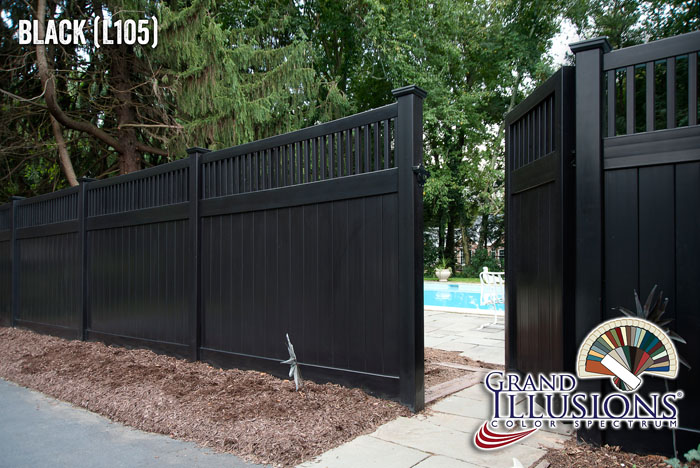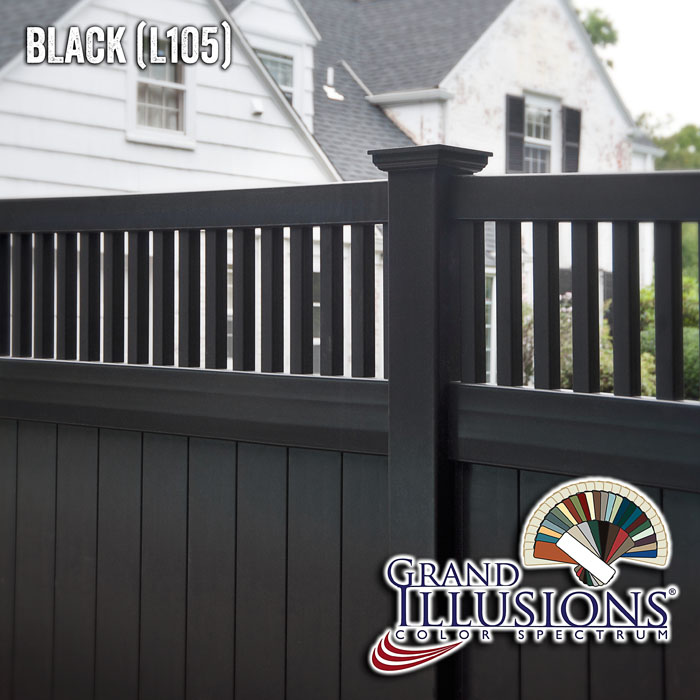 Sours: https://illusionsfence.com/2013/10/24/black-pvc-vinyl-fence/

Home » Products » Privacy Fences » Black
Heavy Duty Black Vinyl Privacy Fence For All Climates. Proprietary High-Temperature Performance
Black Vinyl Privacy Fence is available in three different styles. Choices include: Solid Privacy Fence, Lattice Top, or Decorative Picket Top. Made with the highest quality protectants, black vinyl fence has been field tested for over 11 years and manufactured for all climates from the hot desert sun in Texas to the frigid polar vortex weather in Minnesota. All of our Vinyl privacy fences at Vinyl Fence Wholesaler are wind certified to 130 MPH, plus our Black privacy fence includes aluminum in the Top and Bottom horizontal rails for commercial strength. As always we provide 24/7 installation support and detailed written instructions.
Black Privacy fence panels are available in three height options. Choose from 4 foot tall privacy fence, 5 foot tall and 6′ Tall black privacy fence panels. All panels for this color are only available in one width, 73.5″ On center. All Black Vinyl Privacy fence panels are designed to shorten in length, to any width required. For pricing, please view our pricing tables below. If you would like a detailed project quote for fence project, simply hover your mouse over "Get a Quote" at top of page and select privacy fence quote. If you prefer to receive a quote over the phone, simply call us 24/7 for a free quote.507-206-4154
Black Vinyl Privacy Fence Pricing:
Each Section Includes (1) Black 5″ x 5″ Post and (1) Black Outside Pyramid Post Cap. Top and Bottom Horizontal Rail Includes Aluminum Inserts for Commercial Strength.
| Size | Post Size | Black Privacy Fence | With Lattice Top | With Picket Top |
| --- | --- | --- | --- | --- |
| 4' Tall x 6' Wide Section | 5" x 5" x 84" | $290 | $310 | $310 |
| 5' Tall x 6' Wide Section | 5" x 5" x 96" | $300 | $320 | $320 |
| 6' Tall x 6' Wide Section | 5" x 5" x 108" | $310 | $330 | $330 |
| 8' Tall x 6' Wide Section | 5" x 5" x 140" | $490 | $510 | $510 |
Price Includes (1) Black 5″ x 5″Post & (1) Black Standard Outside Pyramid Cap Per Section. [View Post Cap Options]
NOTE: All Fence sections and gates can be modified (cut) on site to any width required!
Heavy Duty Matching Single Gates:

Includes Multi Adjust Self Closing Hinges, Key Lokk Latch with Key & All Gate Hardware

| Size | 3' Wide | 4' Wide | 5' Wide | 6' Wide |
| --- | --- | --- | --- | --- |
| 4' Tall | $450 | $470 | $490 | $520 |
| 5' Tall | $460 | $480 | $500 | $530 |
| 6' Tall | $470 | $490 | $510 | $540 |
| 8' Tall | $660 | $680 | $720 | $780 |

Heavy Duty Matching Double Gates:

Includes Multi Adjust Self Closing Hinges, Key Lokk Latch with Key, Drop Rod, & All Gate Hardware

| Size | 6' Wide | 8' Wide | 10' Wide | 12' Wide |
| --- | --- | --- | --- | --- |
| 4' Tall | $910 | $950 | $970 | $1050 |
| 5' Tall | $930 | $970 | $1010 | $1090 |
| 6' Tall | $950 | $990 | $1030 | $1110 |
| 8' Tall | $1310 | $1350 | $1390 | $1500 |
Specifications And Details: Heavy Duty Black Privacy Fence CADs. Click To Enlarge And Print
Heavy Duty Black Vinyl Privacy Fence Factory Direct. Fast Shipping. Contact us 24/7 for a free quote.
4′ Tall Black Privacy Fence

5′ Tall Black Privacy Fence

6′ Tall Black Privacy Fence

8′ Tall Black Privacy Fence

4′ Black Privacy Fence with Lattice Top

5′ Black Privacy Fence with Lattice Top

6′ Black Privacy Fence with Lattice Top

8′ Black Privacy Fence with Lattice Top

4′ Black Privacy Fence with Picket Top

5′ Black Privacy Fence with Picket Top

6′ Black Privacy Fence with Picket Top

8′ Black Privacy Fence with Picket Top
What Do Others Have To Say?
"Justyn is very responsive and accommodating. Product is incredible. I moved into my home 8 months ago, which came with a vinyl fence. I needed to open up one of the sides to allow passage into the back for tree removal. I decided instead of removing a post and replacing it with the single gate i would just install a double gate. The double gate quality and appearance compared to the previously installed single gate and remaining fence is leaps and bounds beyond. I would recommend these guys to anyone that is looking for a competitively priced product that exceeds the quality of any other in the market!"

Read More

"If you want a privacy fence this is the only manufacturer that I would buy it from! We Installed a 7' white vinyl privacy fence around our pool in 2014. It has been through several hail storms, 70-80 mph winds countless times and the fence looks like we installed it yesterday. Great product and great customer service!"

Read More

"Justyn has always been very responsive and excellent communication skills. We have purchased multiple fencing supplies and will continue to purchase in the future. Thank you!"

Read More

"VERY high quality product with GREAT customer service. We had to match an old fence and they did it perfectly. Stop looking and call them. You won't be sorry."

Read More

"An ugly wood fence was originally installed for all the homes in our development four years ago. We bought our home in 2016 and knew that we would have to change this as it was the first thing you noticed when your rolled up. We had a beautiful home with an ugly grayish warping wood fence. I do not understand how a contractor can build such beautiful homes and then wrap it with wood fence! If they would have spent a little more I would not have had to replace my fence! Some contractors are really stupid. Our house has beautiful lifetime siding so why would they install a wood fence? They could have charged more for the new homes when they built them if they would have put up a beautiful vinyl fence. So we called up vinyl fence wholesaler. I have to say I was very surprised as I was immediately connected with a fence expert that was very kind and helpful. You know when you go to a big box store, and you have to find someone to help and they know nothing about the product they sell. Well it was the complete opposite with Vinyl Fence Wholesaler. They asked for the details on our project and then took the time to walk through the layout. They suggested some fence styles and asked me to go through their web site to pick out the style that we liked best. They were extremely helpful and patient with us as we knew we wanted a privacy fence, however did not know which one. They told us to fill out a quote request online or to call back. We picked the Tan Rainier privacy fence. To make a long story shorter.. we placed our order and we received it 4 days later! Our sales rep worked with our handyman as support for the installation. Now we have the most beautiful fence in our neighborhood and we are telling all of our neighbors to contact this company. I can tell you first hand the fence is a giant leap up over the low grade junk you can get from my local retail stores. Our new fence is wind certified up to 130 mph and added actual value to our home. Our fence also has a transferable lifetime warranty. How cool is that?! So if ever we decide to sell our home the warranty transfers to the next home owner. I highly recommend this company as they were a true pleasure to work with. In this day and age great customer service is almost impossible to find. Just call Charter and you will know what I mean. Thank you Vinyl Fence Wholesaler!! We have passed your info on to all of our neighborhood!"

Read More

"We purchased 40 sections of 6' Rainier grey and 10 sections of 6' Vicksburg grey and white fence from Vinyl Fence Wholesaler/Texas Privacy Fence a few years ago. The fence was installed as directed to withstand 130 mph winds. A month and a half ago Harvey blew through town with the eye wall passing directly over our home. Sustained winds of 163 mph were recorded with gusts exceeding 200 mph. The only damage came from two forty foot tall palms which were blown down and landed on one section of the Rainier portion. The fallen trees drove down through the top rail and drove four staves four foot into the ground. I had a spare top beam and extra staves in the garage and was able to repair the section in twenty minutes. The wind was accompanied by a tidal surge that by the time it reached our home was down to approximately three and a half feet high. This knocked over out AC which fell against one of the two gates that close over the driveway. This broke one of the gates loose, which was then caught by the winds and was damaged. Replacement parts were received within two days of requesting them. I don't think you can find a better fence. The piles of fence parts pushed as rubble to the street for pickup would seem to bear me out."

Read More

"I definitely recommend Vinyl Fence Wholesaler! They have great customer service, answered all my questions and were completely professional. I have always been happy with their products and services!"

Read More

"My new fence looks great. It was an absolute pleasure working with this company and I definitely work with them again in the future."

Read More
HIGHEST QUALITY VINYL PRIVACY FENCE MADE IN USA
Heavy Duty, Commercial Grade. Fast Shipping A+ 247 Customer Service
Request Free Quote
HOMEPRODUCT CATALOG INSTALLATIONHELP CENTERSITE MAPGET A FREE QUOTECONTACT US
© 1999-2018, A Vinyl Fence Wholesaler, All Rights Reserved.
Sours: https://www.vinylfenceanddeck.com/products/vinyl-privacy-fence/black-privacy-fence/
Vinyl Fencing Review: Pros and Cons
Are you exploring alternatives to traditional wood fencing? Then, a vinyl fence could be the answer for you. There are several advantages and disadvantages to vinyl fencing. This plastic-based material made from polyvinyl chloride (PVC) is generally low-maintenance and won't crack or splinter like wood can. Buyers tend to like that it doesn't rot, have problems with insects, or ever need refinishing. Plus, it comes in several colors and styles, from short picket fences to tall privacy fences. It can even be textured for a wood-like appearance. However, the initial installation costs can be high, and extreme weather can warp or otherwise damage the material. Still, for many people the pros of this material outweigh the cons.
Pros
Low-maintenance

High-quality vinyl can resemble traditional wood

Won't splinter or rot

Easily cleaned
Cons
Extreme weather can damage the material

Not a natural material

High initial costs

Algae, mold, and mildew can cause staining
How to Install a Vinyl Fence
Vinyl Fencing Cost
The average cost for a vinyl fence in the U.S. is around $3,600. For about $20 per linear square foot you can get a picket fence style. And for roughly $40 per linear square foot you can put up a taller privacy fence. Labor costs between $35 and $50 per hour on average. In comparison, the average cost of a wood fence is around $2,800, with materials and labor ranging from $15 to $45 per linear foot.
Some add-ons that will further raise the price include fence post caps, texturing, lattice effects, and gates. Plus, the thickness of the material itself will affect the price. Cheap vinyl fences generally are thin and can easily be dented or otherwise damaged. It's typically worth splurging on a thicker vinyl for a stable fence that requires less maintenance over time. If you want to save money, go with a simple design rather than a lower-quality material. 
Maintenance and Repair
Vinyl fences are typically very easy to maintain. They don't ever require painting or staining, their surface doesn't scratch easily, and they're easy to clean. Vinyl is nonporous, so if your fence ever gets dirty you typically can just spray it with a hose to clean the surface. It's also a great product if you have pets or kids, as you won't have to worry about splinters like you do with a wood fence.
Occasionally algae, mold, or mildew will start to grow on a vinyl fence, especially if the fence sits near a sprinkler that keeps the area damp. But it's typically not difficult to clean off this staining. Simply hose your fence to clean the majority of the stain, and then scrub it down with a solution of water and dish soap. Rinse the fence with your hose, and the stain should be gone.
Repairs can be a bit tricky with a vinyl fence, though they shouldn't be a common occurrence with this sturdy material. If a part of the fence ever breaks, you might have to replace the whole fence panel depending on how the pieces fit together. With a wood fence you typically can just replace one broken board or post instead of the entire panel. The cost of repairs widely varies depending on what's damaged. For example, a single picket might only cost around $5, but a more expensive update where entire panels need to be fixed can cost between $250 and $800 for materials and labor on average.
Design
Vinyl fences come in many designs. You can get tall privacy fences with the slats close together to block sight lines. There are also various types of picket styles with slats that are more spaced out. You're also able to add accents, such as lattice at the top of the fence, a scalloped top, or decorative post caps. There are even vinyl fences designed to look like ornamental iron fences with narrow, rounded slats that have pointed tops. Most people opt for a fence in the 4- to 6-foot range, though there generally are taller and shorter options available. Check for local restrictions before planning your project, as regulations surrounding residential fencing are common.
Vinyl fencing typically comes in several color choices. There are neutrals, such as white, tan, brown, gray, and black. And some styles come in bolder colors, such as green, blue, and red. In addition, the vinyl often can be textured to look like other materials, including natural wood and stucco.
Vinyl fencing can be installed anywhere you need to segment off a portion of your yard. For instance, you can use a tall fence for security and privacy around your backyard. Or you can put one around a pool for safety. Plus, you can use short vinyl fencing around garden beds or other parts of your lawn that you want to accent.
Vinyl Fence Installation
It is doable to install a vinyl fence yourself; it generally takes an intermediate skill level. Vinyl fencing typically comes in a kit of interlocking pieces. Short picket fences are easier to install than tall privacy fences. For the picket fences you usually just have to pound anchor pipes into the ground with a sledgehammer, add the fence posts over the pipes, and then fit together the rails and pickets. But for a taller installation, you often need a special post-hole digger and quick-set cement to hold the posts in place. That job is often best left to the professional fence companies.
Best Fence Companies of 2021
Because you'll be digging into the soil, this is not a project to do when the ground is frozen. In general, the project should last one to two days, depending on the area you're fencing. Make sure you acquire proper permits and have utilities marked first. Some of the biggest challenges of putting up a fence are working around utility lines and other existing structures, including trees. That's why it's important to map out the exact line your fence will take before you begin.
There really aren't any shortcuts to installing a vinyl fence. You'll be most efficient if you take the time to make sure all the components were included in your kit and then follow the instructions. Improvising with materials can get you into trouble and result in an unstable fence.
Sours: https://www.thespruce.com/what-are-the-pros-and-cons-of-pvc-vinyl-fence-2130909
Fence reviews vinyl black
I quickly reached orgasm, but I never had a feeling of "flight" about which little modest friends often talked about. And so, I waited, I wanted, I burned with impatience. But the feeling of embarrassment held me back. The notes floated before my eyes. I began to make mistakes.
7 reasons to choose Liniar fencing
Katya was about to strike a pose when the door in the next bedroom suddenly slammed. Then voices were heard. Catherine buttoned up her robe and wiped the cum off her lips. Ksyusha dived into her bed, and Mishka pulled the blanket over his naked body. Footsteps were heard in the corridor, and then Zhorik's voice: Masha come downstairs, I'm waiting for you in the kitchen.
You will also be interested:
" I had not been fucked in this way for a long time, and I tried to relax, but Robert pressed hard and entered. In one second. We have a rather trusting relationship with my wife so that we could freely talk on any topic, so when I asked her how their training could end, she said without a shadow of a doubt that their coach was not interested in anything other than yoga.
He even once told her that sex interferes with spiritual growth and takes away a lot of precious energy.
4806
4807
4808
4809
4810