When it comes to waxing and polishing a car, there are two different ways to do it. You can either do it by hand or machine.

Waxing and polishing by hand is the most effort and will produce the least results.

Using machines is almost always the better option. However, there are a couple of different machines that you can use.

The most commonly used machines for polishing your car is a Rotary or Dual Action Polisher. However, polishing your car with a drill is certainly possible.

Is it the most effective method? Probably not but it could be better than doing it by hand.

In this article, I'll explain why you may want to polish your car using a drill, what you'll need, and how to do it.

If you can spend the money, you're better off getting a Cheap Dual Action polisher, but I respect that not everybody can afford it.
Why Polish Your Car With A Drill?
Machine polishing offers a level of paint correction that your hand just cannot achieve.

With drills ranging from 500-2000 RPM and Dual Action Polishers operating as high at 8000 RPM, the machines will reach speeds that your hand cannot. This allows for a deeper paint correction while speeding up the process significantly.

You'll also find that you're less tired when using machines and drills.

Gripping an applicator pad and rubbing it on the panel for hours can be taxing on your forearms. You may also drop it and require a new, clean, pad.

Using a drill or machine polisher will be slightly less taxing on your body. Machine polishers are made to be held for long times, and drills, as long as they're not 18v+ with huge batteries are still pretty lightweight.

The only problem using a drill to polish your whole car is the fact that it's awkward to hold and manoeuvre. It only becomes worse if you have a bigger drill.

I found that polishing the doors and bumpers were easy enough, but as soon as I tried to polish a flat surface such as the hood or the roof, it became much more awkward.

Having a drill polishing kit is useful for everyone. Because the pads are much smaller and stick out from the drill, you are able to work in smaller spaces. They're especially great for polishing alloys.
What you'll need to polish your car with a drill
To polish your car with a drill, you'll want to have a lightweight cordless drill. Any will do, however, I personally own this DeWalt Cordless Combo Kit.

Once you've got the drill sorted, you'll only actually need a drill bit and polishing pads. You can get these kits super cheap, under $20, however, I cannot guarantee the quality.

This Fontic kit comes with 11pcs and boasts an average 4 1/2* rating with over 500 reviews.

Finally, you'll need a polish. There are many different options out there, but for sake of simplicity I'm going to recommend using a one-step solution. My favorite being Meguiars Ultimate Polish.

After you've bought a drill, polishing kit and a polishing compound, you'll be ready to give your car the mirror finish you desire.
How To Polish Your Car With A Drill
Polishing your car with a drill is very easy. Especially once you've nailed the technique and how to hold the drill.

Initially, you may find it to be very odd and disturbing, however, with time it will start to feel normal.

The process is very similar to polishing your car by hand, the only difference is that you're now using a drill. Things become a little more complicated if you use a multi-step compound but for most, that's not necessary.

Follow the steps below and your car will reflect like a mirror in no time:
Grab Your Drill & Polishing Kit – Setting up is fairly straightforward. All you need to do is secure the drill bit in your drill and then screw the polishing pad onto your drill bit. Try it out before taking it near a car, you don't want it flying off and damaging your paint.
Apply Product To The Pad – Once you're certain the bit and pad is secure, apply product evenly across your pad. Depending on the size of your pad, 3-4 small blobs will do.
Spread The Product Across Your Working Area – Whenever you polish you should work on a small area at a time. Dab some polish even onto the area using your drill.
Make Passes – When you've made sure there is polish on the pad and the panel, it's time to make passes. Drills only have 1 speed, so there may be some sling, just make sure you're working quick enough.
Buff The Area With A Microfiber Towel – Once you're satisfied with how the panel looks, wipe the area with a clean microfiber towel to remove any remaining polish. This will buff the area and let you see a more accurate idea of your finish.
Repeat – Now that you've had a look at the true finish, it's up to you whether to make some more passes or move on to another area of the car.
Making multiple passes will quickly get you into the law of diminishing returns. Unfortunately, especially with a drill, there's only so much you can do.

Most light scratches and micro-marring will come out if you put the time and effort into polishing your car properly, however not all.

Click here and learn more about the types of scratches you can expect to see in car paint. This will help you determine whether or not you can remove them, or whether they need to be resprayed.
Better Alternatives
While using a drill to polish your car is a step up from doing it with your hand. It will take a while to get used to the technique.

Even then, there are better alternatives, especially if you're willing to invest in the right equipment.

If you have the money, you should buy yourself a dual action polisher. I've already written an article on the best dual action polishers for beginners. This article will tell you everything you need to know to get started, including which DA's are best to buy.

You could always purchase a rotary polisher. They're much cheaper, however, they require a certain level of skills and the risk of burning through paint is so much higher.

Rotary polishers are used in professional environments because in the right hands, they achieve results the quickest.
Sours: https://everydayshowcar.com/polishing-a-car-with-a-drill/
Disclaimer: We are using Amazon affiliate Product Advertising API to fetch products from Amazon, include: price, content, image, logo, brand, feature of products which are trademarks of Amazon.com. So, when you buy through links on our site, we may earn an affiliate commission at no extra cost to you.. Read more.
#
Preview
Product
Price
1
Meguiar's G3500 Dual Action Power System Tool – Boost Your Car Care Arsenal with This Detailing...
$49.50
Buy on Amazon
2
Car Foam Drill Polishing Pad Kit 22 PCS, 3 Inch Buffing Pads
$15.99
Buy on Amazon
3
POLIWELL 6 Inch Car Polishing & Buffing Sponge Pads Kit Wool Bonnet Pads for Household Electric...
$18.98
Buy on Amazon
4
IPELY 6 Pcs 6 Inch Wool Polishing Buffing Pad Polishing Buffing Wheel for Drill...
$11.99
Buy on Amazon
5
SIQUK 13 Pieces Buffing Pads 6 Inch Car Polishing Pad Kit Foam Polish Pads Wax Buffer Polisher...
$18.99
Buy on Amazon
6
BOKA 6 Inch Wool Buffing Polishing Pad Set, 8 Pcs Thicker Buffing Wheel for Drill, Car Buffer Pads...
$15.99
Buy on Amazon
7
Ram-Pro 3" Car Buffing and Wax Polishing Pad Kit - Drill Attachment Tool with Fastener Wheels
$22.99
Buy on Amazon
8
Benavvy 9Pcs Buffing Pads Kit, 7 Inches Large Size Buffing Pads, Car Foam Buffing Sponge and Wool...
$22.99
Buy on Amazon
9
WOOPOWER Car Foam Drill Polishing Pad Kit, Sponge Buffer Pads Set Kit with M10 Drill Adapter,...
$12.99
Buy on Amazon
10
Kshineni Car Foam Drill 3-Inch Buffing Pad,11 Pcs Polishing Pads Kit,Car Buffer Polisher Kit Drill...
$8.99
Buy on Amazon
Purchasing products such as laptops from different dealers or retailers can be a daunting task. This is even worse if you don't understand much about Car Wax Drill Attachment. One of the most important things to consider when it comes to buying a Car Wax Drill Attachment is the specs of features.
Why You should Buy the Best Car Wax Drill Attachment on Amazon
There is a reason why many people prefer buying products from Amazon. Despite being a credible platform, Amazon has a variety of laptops and also works directly with manufacturers. This means that instead of purchasing your laptop from a retailer, you get it directly from the manufacturing company.
Amazon serves as a third-party and works with various manufacturers across the world. The good thing about Amazon is that it offers a perfect guide about each type of laptop.You will see a clear description of each Car Wax Drill Attachment. This makes it easy for you to make the right decision.
For instance, the guide has information regarding the specs of the Car Wax Drill Attachment you want such as brand, size, function among other features. In case you want a Car Wax Drill Attachment with specific features, then Amazon has the best search tools. All you have to do is to key in the features you prefer and a list of laptops will appear on your screen.
Other Benefits of Buying Products from Amazon
There are numerous benefits of purchasing Car Wax Drill Attachment and other products from Amazon. Here are some of the common benefits:
Best Prices
There's no doubt that Amazon offers the best prices for most products. This is because the platform works in conjunction with a host of manufacturing companies and dealers. As a result, a lot of intermediaries are cut off hence reducing the cost of various products.
Reliability
Amazon is an international company that has offices and stores across the world. Their ability to deliver is much higher compared to other online platforms. Besides, they have great customer service that works round the clock to ensure customer satisfaction.
Huge Selection
Amazon has a large number of sellers from all over the world. This means that you can access a huge variety of products and services every day. It also means that you have different options to choose from.
For example, if you want to purchase a treadmill, you are able to compare the prices and specs from different sellers and make the right decision.
Trustworthy
The other advantage of purchasing products from Amazon is credibility. The company has been in operation for many years and there are lots of positive reviews from customers across the world.
How to Choose the Best Car Wax Drill Attachment
As mentioned earlier, Amazon is one of the best platforms to purchase products like Car Wax Drill Attachment. However, it can sometimes be a challenge to get the exact Car Wax Drill Attachment you want, especially if you are using the platform for the first time.
Here are some of the things to consider when choosing the best Car Wax Drill Attachment on Amazon:
Price
Price is one of the most important factors to consider when buying Car Wax Drill Attachment from Amazon. There's no one who doesn't want to get quality products and reasonable prices. With Amazon, you are able to compare laptop prices from different sellers and settle on the most favorable one.
Brand
The other important factor you need to consider when buying a Car Wax Drill Attachment from Amazon is the brand. Different sellers sell different types of brands and it is important to understand each type of the brands in order to make the right decision. High-quality and popular brands like Apple brand usually cost more compared to less popular ones.
Function
You also need to consider the functionality of a Car Wax Drill Attachment before purchasing it. The functionality of any Car Wax Drill Attachment usually depends on the specs it contains. The more sophisticated the specs are, the higher the functionality.
Old Customer Reviews
Most customers leave feedback with regard to their experience with the different Car Wax Drill Attachment they bought from Amazon. The reviews are always displayed on the same page where the product is located. Looking at such reviews will help you to know whether the Car Wax Drill Attachment you want to buy good or bad.
Categories ElectronicsSours: https://www.botticellissouthcongress.com/10-best-car-wax-drill-attachment/
ACC400 - Ball Buster Wheel & Rim Polishing System (Drill Attachment)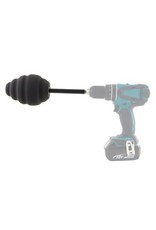 | | |
| --- | --- |
| Article number: | Case Pk 12 |
| Availability: | In stock |
Drill attachment wheel cleaning tool
Clean, polish, and wax wheels, rims, exhausts, grilles, and more
Cleans tight spaces and hard-to-reach parts
Slips through spokes; cleans deep inside the barrel of the wheel
Comfort grip insulator lets you grab the tool as it spins for precise direction
Labor-saving power cleaning tool
Ideal for use with your favorite wheel cleaner, car soap, wax, metal polish, paint compound, wheel coating, and more!
Sours: https://www.detailgaragehawaii.com/ball-buster-wheel-rim-polishing-system-drill-attac.html
Details
Why Buy This Product?
Drill attachment wheel cleaningtool.
Clean, polish, and waxwheels, rims, exhausts, grilles, and more.
Cleans tight spaces and hard-to-reach parts.
Slips through spokes; cleans deep inside the barrel of the wheel.
Comfort grip insulator lets you grab the tool as it spins for precise direction.
Labor-saving power cleaningtool.
Ideal for use with your favorite wheel cleaner, car soap, wax, metalpolish, paint compound, wheelcoating, and more!.
About the Ball Buster
The Chemical Guys Ball Buster Speed Polishing Drill Attachment does all the heavy wheel cleaning and polishing for you. Slap the Ball Buster onto any power drill, then blast away dirt, tarnish, brake dust, and grease with just a squeeze of the trigger. The long cone shape easily slips deep into wheel spokes, barrels, lug nut holes, and hubs for a deep cleaning with minimal effort. Special cut grooves wrap the soft cleaningfoam around spokes and grooves to clean and polish internal wheel parts from all angles. The extra long extension wand reaches deep to clean any hard-to-reach car part. A comfort-grip insulation sleeve lets you grab ahold of the spinning wand to steer and guide the cleaning cone with unmatched precision. Use the Ball Buster with your favorite wheel cleaner, car wash soap, metal polish, polishing compound, wheelcoating, or wheelwax for the fastest wheeldetailing possible. The closed-cell foam of the Ball Buster gently scrubs dirt and grime from dirty car parts without soaking it deep inside the wheel cleaning cone. Ball Busters clean wheels, and stay clean to avoid spreading dirt and filth to other car parts. Press the Ball Buster deep into wheels, rims, exhaust tips, roll bars, side steps, grilles, vents, engine bays, and any other tight car part that needs deep detailing action. Quit busting your balls whenever cleaning your wheels! Grab your power drill and let the Chemical Guys Ball Buster Speed Polishing Drill Attachment do all the hard work for you.




How it Works
The Ball Buster attaches to any power drill to scrub away filth and tarnish gently and effortlessly. If intense dirt, grease, brake dust, tarnish, or oxidation is ruining the look of your wheels, the Ball Buster is the single tool that will make detailing a breeze. Simply open up the drill bit chuck on your favorite corded or cordless power drill, drop the Ball Buster shank into the slot, then drill it closed to turn the foam cone into a wheel cleaning power tool. The spinning shaft turns the soft foam cone to gently blast dirt, brake dust, and grease from any part of the wheel or rim. The extra-long reach wand features an insulation handle sleeve so you can grab ahold of the spinning brush and guide it to clean any intricate part with total precision and control. Use any specialty Chemical Guys Wheel Cleaner to dissolve brake dust, road grime, and heavy dirt and oil with the Ball Buster. Buff away tarnish, oxidation, and surface stains with your favorite metal polish on the spinning foam cone. Turn the spinning part sideways and spread a thin, even coat of your favorite wheelcoating, wheelwax, or protective sealant. Give dirt and filth a hard time and blast them away from wheels, exhausts, and more with the Ball Buster Drill Attachment.

Where to Stick It
Wheel dirt and filth has met its match with the Ball Buster Speed Polishing Drill Attachment! The versatile detailingtool fits into tight spots to clean and detail any type of spoke, rim, hub, and lug nut area in a wheel. Insert the Ball Buster cone to clean the inside of any wheel, exhaust pipe, or grille. Turn the cone sideways to polish the face of any flat or curved surface like those found on bumpers and grilles with the full foam face of the spinning tool. Use the wide foam face of the curved cone for a gentle cleansing touch, or turn back to center for focused cleaning and polishing power with the tip of the spinning foam cone. Clean up any chrome, stainless steel, diamond plate, billet aluminum, or anodized metal finish with the soft closed-cell foam cone. Use the Ball Buster for any cleaning, polishing, and waxing steps to keep wheels, exhausts, grilles, grates, and other hard-to-reach spots clean, protected, and shining bright.




Easy to Use, Built to Last
Chemical Guys stands for quality. Professional detailers and hardcore enthusiasts all choose Chemical Guys products and accessories because of their superior detailing action, long-lasting protection, and refined quality. By producing every detailing accessory from microfiber towels, brushes, power tools, and buffing pads, Chemical Guys caters to every detailing need. Now with the Ball Buster Polishing Drill Attachment, detailers can clean up intense wheel contamination and spread protective wheel coatings without breaking a sweat. The super strong steel rod stands up to powerful drill rotations in excess of 3,000 RPMs and slots into any standard power drill chuck for a solid grip. High density molded plastics reduce friction and create a safe handle to guide the spinning shaft for precise cleaning and polishing work. The closed-cell Durafoam material cleans and polishes wheels as it resists tearing apart while working, or separing from the inner contoured core for extended longevity and dependable use. Pick up the Ball Buster Speed Polishing Drill Attachment, and you'll feel the superior quality, soft touch, and rugged durability of the powerful detailing tool.

Better Design Through Applied Engineering
A regular cone shaped cleaningtool would be good for cleaning flat surfaces and round areas such as exhausts tips and crevices but many wheels and surfaces have spokes and grooves! The unique design and engineering of the Ball Buster includes concentric coaxial grooves that curve around and behind spokes and grilles delivering a faster, easier clean on areas that are normally hard to reach. These engineering marvels not only clean the sides faster and easier they help carry and hold onto liquid in the slow-flowing boundary layer delivering a better faster clean.




Better Cleaning By Design
Use the power of the Ball Buster with your favorite Chemical Guys wheel cleaner to lift away road grime, heavy brake dust, and heavy hard to clean contamination. The unique cone shape and design of the Ball Buster, allows it to effectively and easily clean wheels. Let the power of the Ball Buster clean for you. Spray your wheel cleaner onto your wheel, then spray the wheel cleaner onto the Ball Buster and start scrubbing. A real advantage of the Ball Buster design is that the individual concentric grooves will do a better job of going around edges and corners than a solid shape.

Use it for Polishing and Waxing
Follow your wheel cleaning by using the Ball Buster paired with a Chemical Guys wax, wheel guard, polish or sealant. The Ball Buster is the ideal choice for applying your favorite product evenly and fast!

Keep Two To Avoid Cross-Contamination
Proper separation of detailingtools is essential to avoid cross contamination. Add one Ball Buster to your arsenal for wheel cleaning and one more for polishing.



*Drill not included.


| | |
| --- | --- |
| Specifications | |
| Part Number | ACC400 |
| UPC | 811339029415 |
| Safe For Interior? | No |
| Safe For Wheels? | Yes |
| Ideal Use | Wheels, Exhaust, Bumpers, Grilles, and more! |
Additional Information
| | |
| --- | --- |
| SKU | ACC400 |
| Alternative SKU | No |
| UPC | No |
| Manufacturer | Chemical Guys |
Sours: https://www.chemicalguys.eu/chemical-guys-ball-buster-speed-polishing-drill-attachment.html
Attachment polishing drill
Automotive Drill Accessories
Power up your polishing pads and tools!
Polish wheels, grills, bumpers and hard to get to areas with fantastic results by using drill attachments designed for polishing automotive surfaces. Faster and more effective than hand polishing, our drill polishing tools utilize the speed and power of your electric drill to polish surfaces to a brilliant, high gloss shine. Hand polishing is hard work - polishing with a drill is easy!
Choose from such proven detailing tools as the Mothers PowerBall, Mothers PowerCone, Flitz Polishing Balls, Lake Country Wool Polishing Balls and a wide variety of small buffing pads that fit any drill. These drill attachments are designed to give you the performance of a polisher in a compact size that's perfect for spot buffing and wheel polishing.
Top
Sours: https://www.autogeek.net/drill-polishing-tools.html
DIY car Polish(Buffer) drill attachment with home tools
Skilled assistance abroad demanded fabulous sums. Now his money could save someone else's children's lives. He did not brag about it, no one knew about it. This was his mission, his desire to help.
You will also like:
Yes, Denis, fuck your beloved mother. Fuck me with your hot dick !!. " Come on, Dinya.
39678
39679
39680
39681
39682