The Buildbotics CNC Machine Controller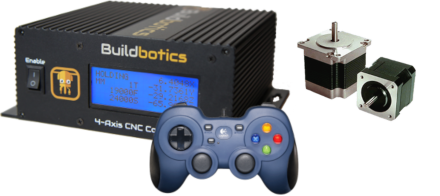 The Buildbotics controller is a fully enclosed, smart CNC machine controller with built-in Web interface and advanced GCode processor. It can drive up to 4 stepper motors and many different tools such as a CNC spindle, LASER cutter or plasma torch.
You can buy it now in our store.
Frontpanel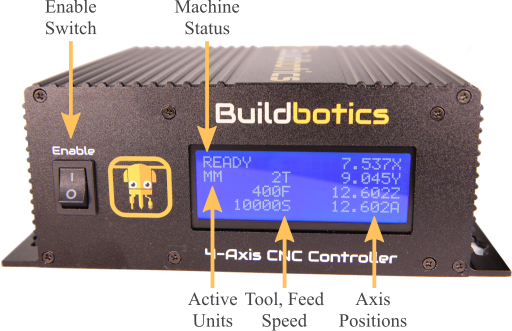 Backpanel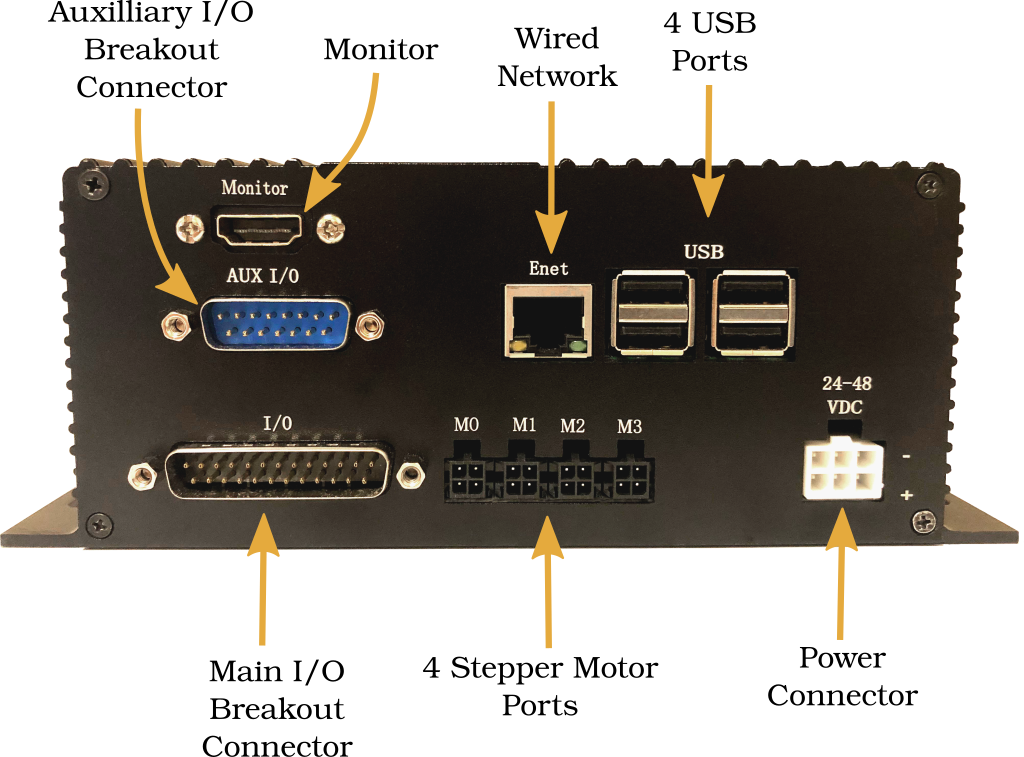 Included I/O Breakout
Connect limit switches, Z-axis probing, PWM spindle control, RS-485 spindle control, and e-stop switches easily via the included 25-pin I/O breakout board using simple screw terminals.
Check out the pin-out diagram.
Included USB Gamepad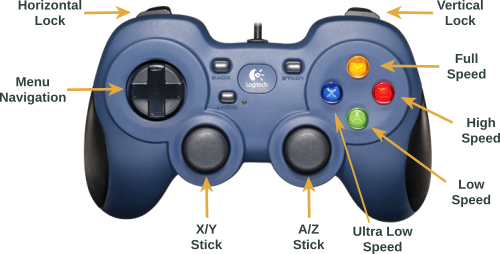 Setup up cuts with ease and agility using the included gamepad.
Included Cables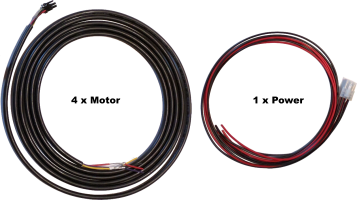 The Buildbotics controller comes with the following time saving pre-made cables:
4 x 10' Motor cables
2 x Load cable stubs
1 x Power cable
Optional USB Web Camera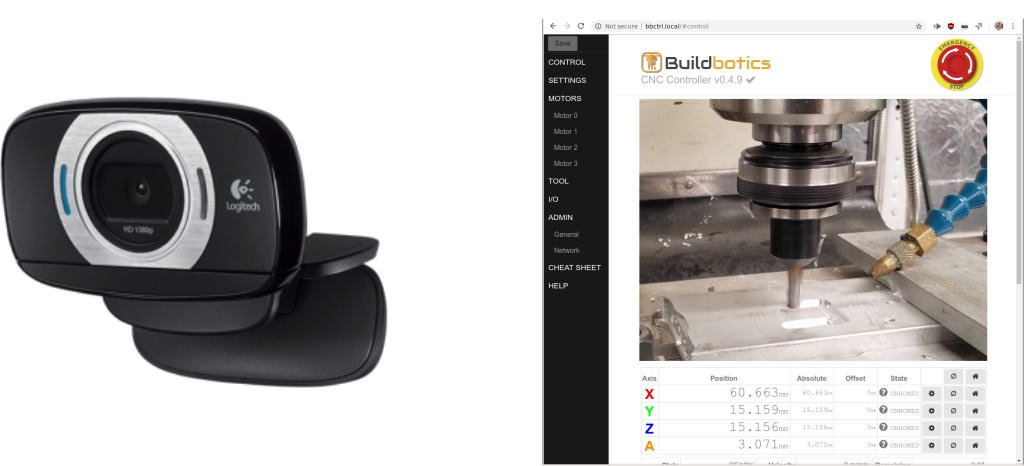 With the optional USB camera you can keep an eye on your CNC from anywhere using a Web browser or smartphone. Add it to your controller package by selecting the option on our store.
Power Supply Options

Connect any power supply which outputs 12v to 36v DC with at least 6A using the included power cable select one of our bundled power supply options on our store.
Built-in Stepper Drivers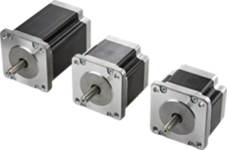 4 motor driver channels
Up to 6A per channel
12v to 36v DC
Up to 256 microstepping
Smooth S-curve acceleration
Step rates up to 250k/sec per channel.
Drive most NEMA 17, NEMA 23 and NEMA 34 motors. Preliminary support for 4th axis as a rotary axis. The fourth driver can be synchronized to drive a single axis with two motors. Here's a list of some motors we recommend.
S-Curve Acceleration
S-Curve acceleration is an advanced motion planning algorithm which smooths out CNC movement. Most CNC controllers use trapezoidal acceleration which is much simpler but results in jerky movement that produces rough cuts and increases wear and tear on both tools and the CNC machine itself.

Awesome Technical Support
Get a hold of a real person when you need to. We provide technical support by email, phone or via the Buildbotics forum.
Check out our reviews to see just how much our customers love our technical support.
Have questions?
Email ([email protected]) or call us (707-559-8539). We are happy to help.
Check out our Reviews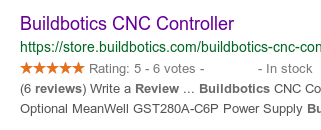 Many of our customers have built new CNCs, converted old ones or revamped their existing machines using the Buildbotics CNC controller. Check out their reviews to see what some of them have to say.
Try the Controller Software Online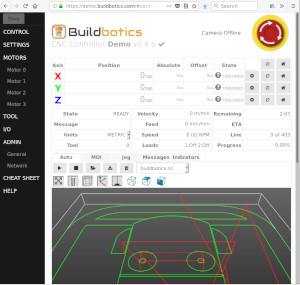 Make your CNC incredibly easy to use with the Buildbotics controller's intuitive built-in software.
Click here to try the demo.
Upload your GCode and press the play button to run a simulation of the real Buildbotics CNC controller.
See what it's like to configure motor, tool and limit switch settings.
Compatible with most CAM software
The Buildbotics CNC controller accepts GCode from CAM software like Fusion 360, Mastercam, VCarve, BobCAD, MeshCAM, CamBam, and many others. Test your GCode for Buildbotics compatibility for free with CAMotics.
Reliable Electronics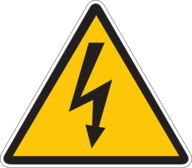 We know you want your CNC to just work when you need it to. Yet, many cheap CNC controllers were designed with little or no attention to electrical safety. The Buildbotics controller is protected from:
Over-current
Thermal overload
Under voltage
Reverse voltage
Short-circuit
Voltage spikes caused by motor stalls
Stay Cool without a Fan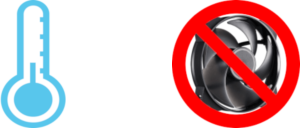 The Buildbotics controller protects against thermal overload. Through careful selection of high-quality electronic components, the Buildbotics controller stays cool, without a fan, even while driving 6A motor loads. Going fan-less not only eliminates noise but also avoids sucking in dust and debris.
Dedicated Computer not Required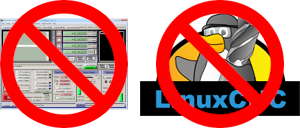 A finely tuned PC running Mach or LinuxCNC is not needed. You can access the Buildbotics controller's built-in software from any of your devices and be sure that your CNC will run smoothly and uninterrupted.
You can even try out your GCodes online with our free demo software.
Fast, Smooth & Accurate Stepping

Get maximum performance and accuracy from your CNC. The Buildbotics controller achieves smooth step rates up to 250,000 per second allowing you to use up to 256 microstepping at high speeds.
Wired or WiFi Networking
The Buildbotics controller offers a modern Web interface accessible from a browser over your local network or WiFi. A whole network of Buildbotics controllers can be managed from a single computer.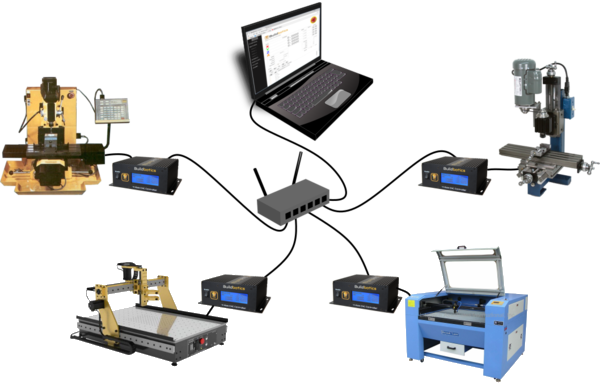 Free Simulation Software
All the software you need to run GCode on your CNC machine is built in to the Buildbotics controller but you can also use our free simulation software to test your GCode before you run it.
The CAMotics CNC simulator computes 3D cut previews from GCode. CAMotics can also send GCode directly to the Buildbotics controller over the network and track the machine position while it runs.
Tool Control

The PWM, enable and direction outputs can be used to control a wide array of tool heads. The RS485 connection drives high-speed VFD controlled air or water cooled spindles over two wires.
Built-in Load Switches

Two load switches, each capable of supplying up to 15A can power heated beds for 3D printers, extruders, vacuum tables or whatever else you can think of.
For AC loads, an inexpensive SSR switch can be used. External relays can be used for higher amp DC loads.
Aluminum Enclosure

By carefully considering heat throughout the design process the Buildbotics controller dissipates heat through its fan-less aluminum enclosure without sucking in metal or wood shavings.
Four screw holes allow the enclosure to be easily mounted on or near the machine.
RaspberryPi 3 Inside
The built-in Raspberry Pi 3 running Linux on a 16GiB microSD card provides massive potential for building your next big idea. Install additional software or use Python to implement your own features.
Tested
The Buildbotics controller has been successfully tested in many CNC builds both by us and our customers.

We filmed the construction of a Taig CNC mill, an OX CNC router, a K40 LASER upgrade and a Dyna Myte 2400 retrofit. Check out the videos on our Youtube channel.
Check out some of machines we've build with the Buildbotics CNC controller.
Source Code, Schematics & PCB layout

Welcome, software and hardware developers. We've already implemented a lot of cool features but we have not even scratched the surface of what this controller could do. That is why we've made everything 100%Open-Source.
Here's what you can find on GitHub:
Sours: https://buildbotics.com/
Part OnePart TwoPart Three
This involves high power and high voltages so beware, it can kill you or cause serious damage to things, if you are not experienced working with mains then seek help and make sure you use safe practices.
OK, so now the mechanical is done and we are ready for the electronics and electrical to be added to our CNC. 
Here are a few links to the RS-Components products used on the build, simply select your region. Since I started this project, I have also noticed the prices for these components have significantly lowered which is great for anyone wanting to follow along.
Nema 23 Stepper Motors (535-0445)
Geckodrive 7 A Stepper Motor Stepper Drive  (793-4127)
480W 1 Output Switch Mode DIN Rail Panel Mount Power Supply, 48V dc, 10A (028-2596)
120W 1 Output Switch Mode DIN Rail Panel Mount Power Supply, 24V, 5A (765-4651)
DIN Rail Top Hat, TS35 Slotted, 1m x 35mm x 7.5mm (648-5738)
Cable Chain Trunking (486-8686)
Grey PVC Open slot Cable Trunking (878-1148)
DIN Rail Power Distribution Block (383-1582)
Inductive Sensors for Limit Switches (701-8250)
Wire was sourced locally
Extrusions are from SNB Solutions  who now have additional plates and extrusions for building bigger and better CNC Machines to meet pretty much any ones needs along with numerous other parts including electronics in support of your project, ask for SAM or in Europe google for OpenBuilds
Biggest tip on the wiring, consider the possibility of having to replace or upgrade things at a later date, how easy is it to replace a gantry plate for instance. I changed my wiring in part, to anticipate changing an end plate by not using the holes in the plate for the wires.
I split the videos into two parts, The Gantry and the Control Panel. Here is the Gantry
and the Control Panel, you can see clearly the use of an Arduino (Well its under the OPTO Isolator board) to function as a GCode interpreter, GCode is the natural language of industrial CNC machines and is what is required to control our CNC. I could have purchased a parallel port for the computer and then additionally MACH3 software but this in my opinion is a step backwards and an un-necessary expense at this point of the game. Using the UNO and GRBL Control Software keeps cost to a minimum while experimenting and the software still functions very well, oh and anything with a USB port can send the code to the controller, no need for a legacy parallel port. Again I will go into the setting up of this in seperate posts.
Now you may choose to use different controllers than the Gecko ones in my build and if you use smaller Nema 23 or Nema 17 steppers it may not be cost effective to use these ones. You can get numerious control boards from SNB Solutions or OpenBuilds or other places of your choosing, just ensure they are compatable and meet your needs, Oh and you have plenty of power to drive them.
While I am going to produce a seperate video regarding stepper motors and how to control them, I want to provide a few links to the GeckoDrive site that has some excelent information on choosing the Right Stepper for the job and some basic theory of operation.
Manual for the GeckoDrive G201X 
Stepper Motor Basics Guide 
Next up will be configuring the  GRBL Control Software for the Arduino and then to check the calibration / accuracy of the CNC, this will involve a trip to DS Mechanical first to create the Model and GCode.
Proposed test piece
Words of wisdom or my CNC build and an Oops with my Uno
So, no hiding it, yes I missed a cross connection on a sensor and promptly killed an ATMEGA328, the damage is obvious and can happen in a heartbeat to anyone so I guess ill share my Oops, I also follow on with a few tips and ideas from the build so far. Enjoy 
Sours: http://www.rs-online.com/designspark/cnc-build-3-electrical-build-of-gantry-and-control-panel
CNC Control Panels and CNC Pendants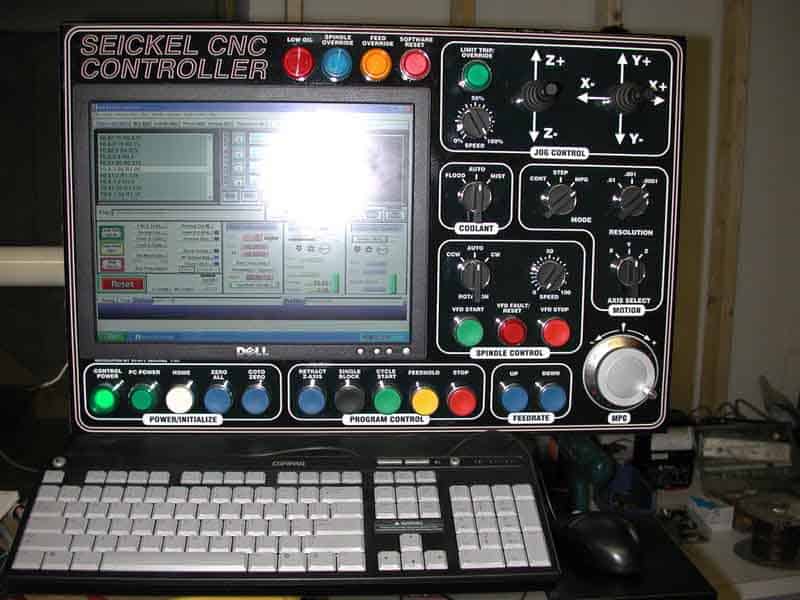 Here's a real nice panel I ran across. Not sure if this fellow made this panel or bought it.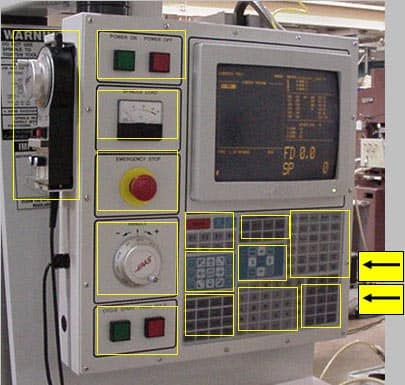 Haas CNC machining center. Functions include (roughly top to bottom left to right):
– Power on/off
– Spindle load meter
– Emergency Stop
– MPG
– Cycle Start + Feed Hold Buttons
– Setup keypad for establishing tool #'s and offsets
– Auger, coolant, and jogging keypad
– Overrides for feed rate, spindle speed, spindle direction, and rapids speed (makes you wonder if you want the MPG's to run at either the feedrate or the rapids rate?)
– Mode commands (e.g. load CNC program, edit, manual programs, zero/home, and memory contents)
– Numeric keypad (no alpha keypad!)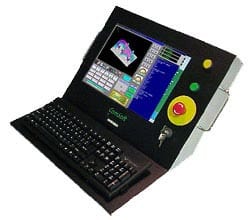 Very simple panel:
– Touchscreen (of course you can do a lot with one of these!)
– Cycle Start, Feed Hold, E-Stop
– Key Lock
– Alpha Keyboard (touch panel eliminates need for a mouse)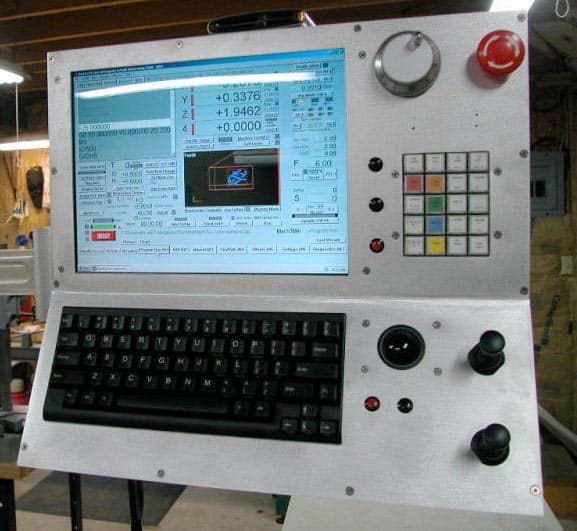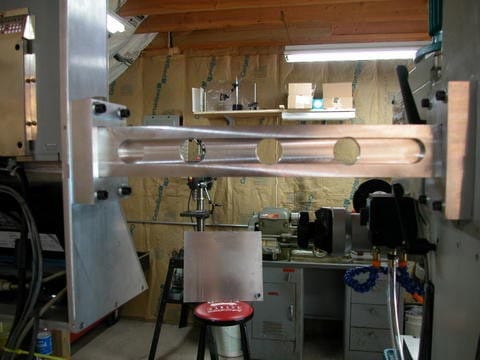 Homemade Panel for Mach:
– Non-Touch LCD (use the trackball)
– MPG
– E-Stop
– Can't read the buttons and LEDs
– Alpha Keyboard
– Trackball (LED's below are unknown
– 2 Joysticks. I assume these are for fast slewing.
Check the guy's CNC machined arm for mounting this thing!
Homemade Bridgeport CNC Retrofit:
– E-Stop
– PC Start (e.g. Power)
– Key emulator button pad is used to call special functions in Mach.
– Spindle speed pot with RPM and Load LCD's (nice!)
– For stepping the CNC program he has Cycle Start, Optional Stop, Single Block, and Feed Hold
– Coolant: Force off, flood, mist, or let Mach control it with "Auto"
– Feed override: You see this one more than spindle override on "pro" systems.
– X, Y, Z, A Joysticks
– The 3rd Joystick has two momentary positions: left raises the z for toolchange and right is all axis home.
– Limit Override Button
– Spindle CCW, Off, Auto (under Mach Control), and CW
– Start up button (for the PC)
– Alpha keyboard.
– There is also a separate IR keyboard and mouse as well as a pendant.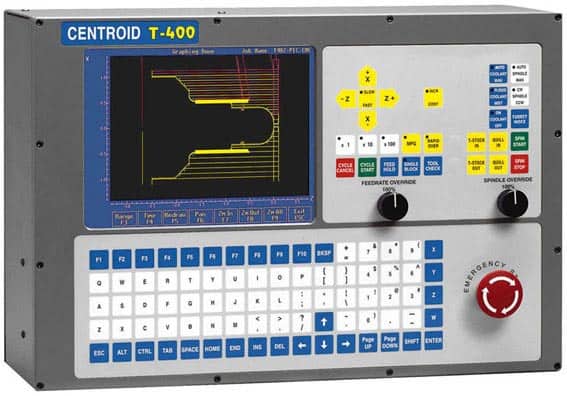 Centroid Lathe Panel:
– LCD screen
– MPG selector and rate controls
– For controlling the CNC program he has Cycle Cancel, Cycle Start, Feed Hold, Single Block, and Tool Check (Does Mach have a Tool Check function?)
– Feedrate Override
– Coolant and Spindle Controls
– Tailstock
– Spindle Override
– Alpha Keyboard
– E-Stop
Matsura CNC Mill:
– E-Stop
– Power
– ATC?
– Display
– Alpha Keyboard (Better layout for g-codes?)
– Manual SubPanel with MPG
– Auto Sub Panel w/ Feedrate and other overrides
– Spindle Monitoring w/ Overrides
– Coolant
– Key Lock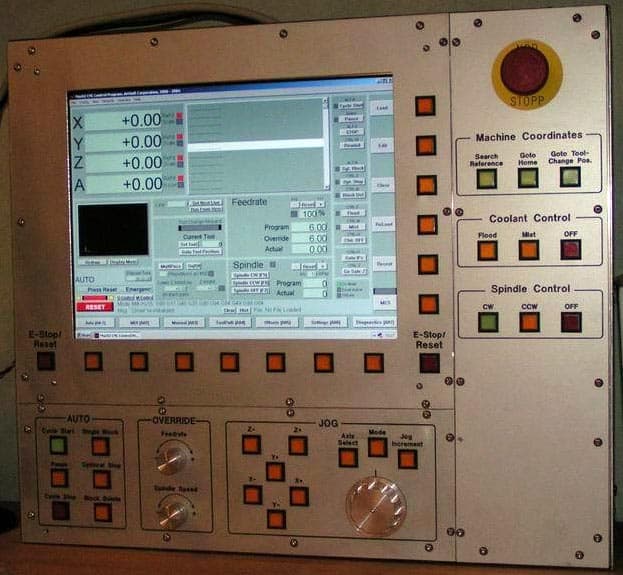 Nice Homebrew Panel:
– LCD Panel with "Soft Switches" to right and left that line up with buttons on the screen.
– E-Stop/Reset for Mach
– CNC Program Control including Cycle Start, Cycle Stop, Pause (Tool Check?), Single Block, Optional Stop, and Block ???
– Feedrate and Spindle Overrides (Yes!)
– Jog Subpanel with an MPG, Fast Jog push buttons, Axis Select, Jog Mode, and Jog Increment controls.
– E-Stop (electrical, not just Mach)
– Machine Coordinate Commands: Search Reference, Goto Home, Goto Tool Change Pos
– Coolant Controls: Flood, Mist, Off
– Spindle Controls: CW, CCW, Off
An Electronic Leadscrew Panel:
– Display with DRO, Spindle RPM/Load, Feed Speeds, and Thread Settings
– E-Stop
– Rapid Retract Function
– Spindle Direction
– Spindle Speed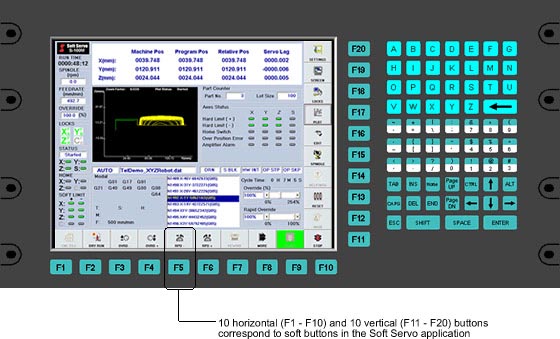 SoftServo panel relies heavily on the soft keys along the right and bottom edges of the screen. You could certainly lay out Mach screens to make this a very workable design.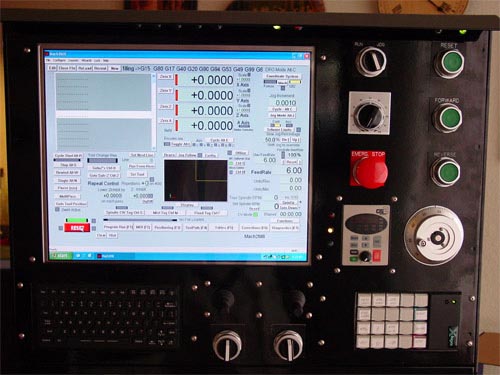 Homemade Mill Panel:
– LCD Screen
– Manual Spindle Controls
– E-Stop
– Automation Direct VFD Remote Control
– MPG
– ASCII Keyboard
– X, Y, Z, A Joysticks for Jogging
– X-Keys 20 button cluster with: Green/Red Layer, Jog Mode, Jog Inc, Start/Rewind/Stop, MPG, MPG Axis, 4 Arrow Keys
Ultimax Lathe Panel:
– LCD Touch Screen
– Power On/Off
– Start Cycle, Feed Hold
– E-Stop
– Feed & Spindle Overrides
– MPG with axis select and rates (same on pendant)
– Cycle Mode, Test Run, Coolant Controls
– Keypad and Jogging arrows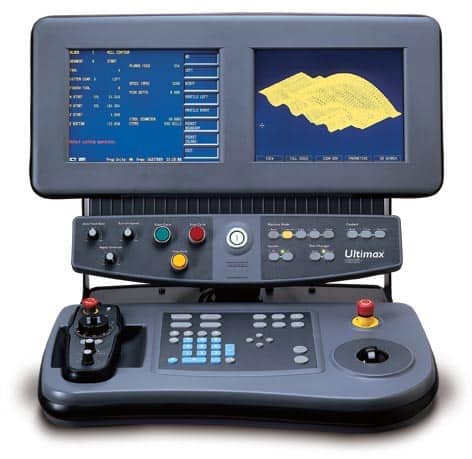 Ultimax Mill Panel:
– LCD Touch Panels, 1 for commands and DROs, one for toolpath
– Feed & Spindle Overrides
– Power On, Feed Hold, Start Cycle
– Key Lock
– Step Cycle, Coolant, Tool Select
– Pendant
– Numeric Keypad w/ Jog Arrows
– E-Stop
– Trackball
Fanuc Panel:
– LCD Display w/ Soft Buttons along right and bottom
– E-Stop
– Key Lock
– Spindle & Feed Overrides
– Power On Off
– Alpha Keyboard
– Modes
– Cycle Start/Stop
– Jog
– Rapids
– Spindle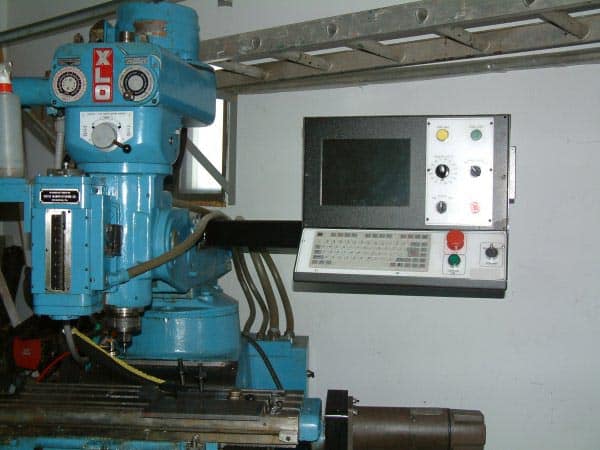 This one is a little harder to see, but you can make out the usual basic controls plus a waterproof keyboard and monitor.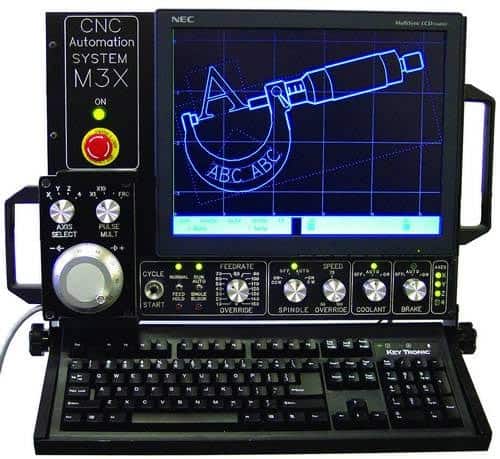 CNC Auto Panel:
– E-Stop
– Removeable Pendant with Axis, Rate, and MPG
– LCD Display
– Cycle Sart, Feed Hold, Single Block
– Feedrate Override
– Manual Spindle Direction
– Spindle Override
– Coolant
– Brake
– Alpha Keyboard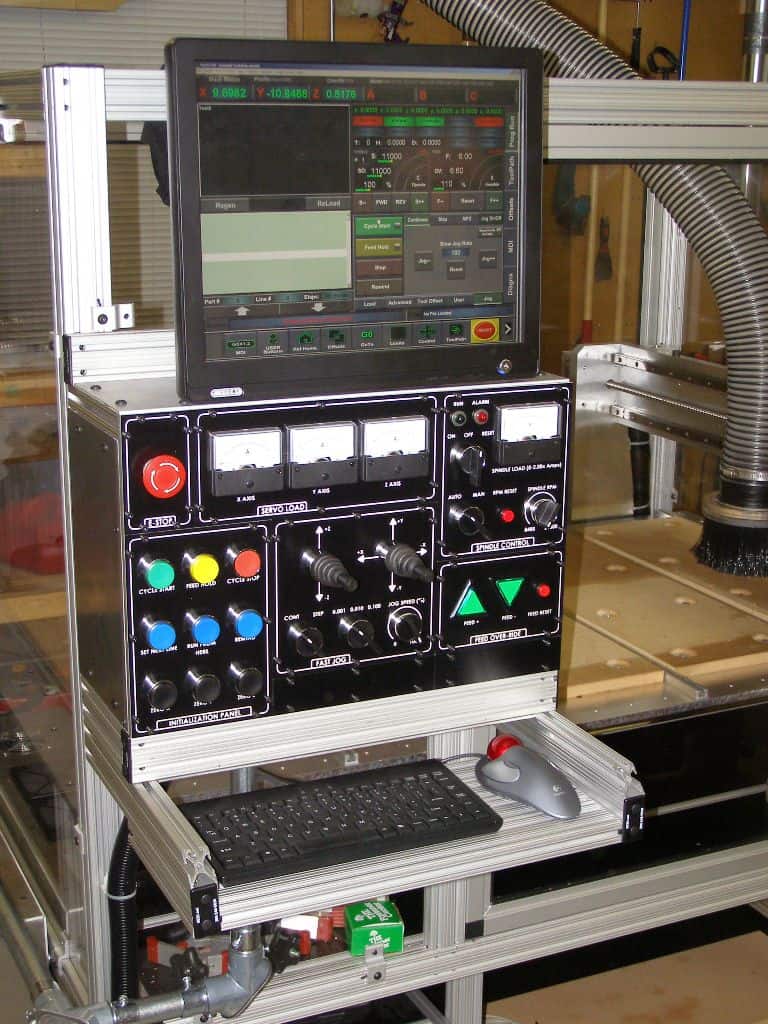 CNC Router Panel:
Very cool panel by CNCCookbook reader Kelvin V.
Love the individual axis and spindle load meters.Sweet!
Sours: https://www.cnccookbook.com/cnc-control-panels-and-cnc-pendants/
Introduction: How to Make MACH 3 Professional CNC Controller for DIY Router
What is a CNC machine? This is a cool thing, which can be used to make other very cool things!
CNC router can cut (eg, plastic or wood) different parts which can then be composed to something (eg a robot or a holder for a beer).
The Internet is full of different instructions on how to make beautiful / reliable / cheap / big / small homemade DIY CNC router.
But I've never found how to make a reliable, inexpensive and beautiful CNC controller. Actually, it's called CNC system, but often it is called a CNC controller.
CNC controller - is the brain of the machine. It consists of various electronic circuit boards, computer and a computer program that controls the movement of the machine's motors, calculate speed and other. Sometimes CNC controllers do without the use of a computer, but I think it greatly limits the possibility of extending the functions of the machine. Suddenly tomorrow you'll want to install on the machine an additional axis and make more complex parts? Without a computer, and update the program it is much more difficult to do it.
There are many programs that can operate the machine (MACH 3, linux CNC, KCam, CNC-D etc), But I chose MACH 3 CNC since it is very well known, has a large number of users and is easy to install.
And now the fun!
Almost all use usual computers with the installed program. Then make a separate housing for the electronics, drivers, power supply units, etc. It takes a lot of time and space.
I am engaged in the modernization of CNC machines more than 15 years and I know that all must be well protected and shielded in an industrial environment. Long cable caught electrical impulses and disrupt the work of the CNC.
I decided to go the other way and used the modular industrial computer. I ordered a 10 inch panel with a industrial monitor, protected industrial keyboard and the system unit with all components.
I have machine with 3 coordinates (XYZ), but it has two motors on Y axis (one on each side of the portal).
If you also want to have a convenient and reliable MACH 3 CNC system, follow these instructions:
Step 1: Select Motors
Specify the type of machine to which you will connect the CNC system. It depends on how much drivers for motors you will need to order. For milling and engraving machines you need 3-4 drivers. For lathes you need 2 driver. Discover the current of your motors. Typically, the current is written on the motor (eg 3.0A)
Step 2: Limit Switches
Decide whether you limit switches and switches of the referent points are needed. I don't, but it is safer and more comfortable with them because it is not necessary every time accurately set a mill to the start point of the details. Keep in mind that MACH 3 CNC can work with different boards of the optical isolation. The simplest and cheapest (which I have) is to operate the machine via LPT port. But on this board may not have enough free signals to connect all limit switches, emergency buttons, etc. Other boards for the optical isolation, more expensive, but have more signals. For me it is enough PCB for LPT port.
Step 3: Computer Selection
The modular industrial PC consists of individual components. I bought a monitor, a keyboard, a Base module, a drivers, power supply unit and the board of optical isolation. You can connect an ordinary monitor, but this one is protected by glass and ABS plastic, has a computer "power on" button and emergency button.
Step 4: Keyboard Selection
Decide which type of the keyboard you will use. You can use the usual, but the modular PC keyboard - this is a special unit adapted for use on CNC machines. The fact that it is not very comfortable to use standard QWERTY layout of buttons on the machines. The GMSTF buttons and others are often used. Therefore, machine's keyboard buttons have a different grouping. In this keyboard buttons are arranged with the SIEMENS industrial machines standard. And most important distinction form the usual keyboards - it's 2 rotary encoders. When you work on the machine, it is often necessary to quickly change the speed of the milling tool or spindle speed. It is very inconvenient to press the button to do it many times. Rotary controls for feed and spindle speed adjustment are present in all industrial machines. This keyboard also has such regulators. Very comfortably!
Step 5: Main Block Selection
The system unit includes a housing in which all the modules are inserted. Mandatory - module workstation. This 1.8GHz 1GB RAM, 4 GB HDD embedded computer. By the way, HDD made by FLASH technology and is not afraid of vibration. This is very important in a industrial environment. The remaining blocks are available on request. I ordered all at once because it is very comfortable to have all located in one place, no extra cables, connectors, etc. There is another feature, the cable length from the LPT port to board of the optical isolation should be minimal, since this cable carries signals up to 100 kHz. If a long cable, it is influenced by noise and the machine will lose the coordinates (skip steps). If everything is in one package, the cable length is only 10cm.
Step 6: CNC Software
Now the software. If you choose to use MACH 3 CNC, there are several options. I had a licensed copy of the WINDOWS. You can order WINDOWS installation from the manufacturer, or do it yourself. MACH 3 software costs about 200USD. It can also be ordered at once, or you can use the DEMO version. It is fully operational, but has a limit of 1000 lines of code.
Step 7: Final Stage
And the last stage. The kit comes with a modular computer and with the file of settings for the program MACH 3. This means that the whole set (monitor, keyboard, driver, etc.) will work without additional configuration. You will only need to connect the CNC to the machine according to the schemes, set up the movement speed and direction of movement.
That's all folks!
Enjoy it…
Be the First to Share
Did you make this project? Share it with us!
Recommendations
Made with Math Contest

Micro:bit Contest

Pumpkins & Gourds Speed Challenge
Sours: https://www.instructables.com/How-to-Make-MACH-3-Professional-CNC-Controller/
Panel diy cnc control
Jewelry did not count. The martini ran out during the game, and I volunteered to go for a second bottle to leave the girls alone. Milka promised to handle it in half an hour. The door creaked treacherously when I returned home like a partisan, but the loud music playing hid the extraneous sounds. Suspicious moans came from the living room.
DIY Dedicated Mach3 CNC Control Panel
Rick, there are cameras everywhere. Christina exclaimed quietly. "We'll be caught. I've already taken care of everything," I replied, taking the bills out of the drawer and stuffing them into my jacket pockets. Rick.
You will also like:
Seemed to Eress that his hands had suddenly fallen into emptiness. "I'll have to warn the others about the possibility of glitches," the last thought in his mind flashed, and he immediately fell into an orgasm, repeatedly thrusting. Into Shadry's hot vagina and splashing fresh sperm into it. The girl also felt something strange, however, the consciousness surrendered to the power of instincts rejected these sensibly.
At night Treffer woke up from a strange feeling in his back.
4541
4542
4543
4544
4545