FAQs
General & Windows FAQ
General FAQ
I have lost my instruction manual. How can I get another copy?
Click here and select your model from the dropdown menu for downloading manuals.
How can I connect Bluetooth keyboard to windows tablet?
For windows 8 instruction please click here. For Windows 10 instruction please click here
Who can I contact if I have any problems with my item?
You can contact Wiltronic Corporation Monday-Friday, 9am-5pm pacific time at (909)627-9888 for any questions or concerns. Or email us at [email protected] Please make sure to look at the FAQs page for answers as well.
Canadian Customers please contact the Toll Free number 1-877-239-4535. Address: 35 Riviera Drive, Unit 11-12, Markham, Ontario, L3R 8N4.
What about the Warranty?
Wiltronic Corporation offers a 1-year limited warranty on new products and a 3-month limited warranty on refurbished products.
Smart bulbs:
What socket and bulb size do our Smart bulbs fit in?
The socket size of the Smart Bulb is E27.
Can Alexa/Google change the color of the smart bulbs?
Alexa and Google Assistant can turn the lights on, off, or change the color. You are also able to operate the settings of the device on your IView app.
How do I set up my IView Smart Bulb with my Amazon Echo?
IView Smart Bulb setup procedures and voice control by Amazon Alexa
Reset your Router to clear the connection request; or reset your Router to 2.4G wireless if you have Dual band router.
Please download iView iHome APP from iOS or Google store and setup your account.
Reset bulb by turning on and off three time until you see quick flash on the smart bulb
Open iView iHome APP, click + on upper right hand corner, then choose lighting device to connect. After connection, you can control the brightness, color and scheduling of the bulb.
Please rename your smart bulb on iView iHome APP to something easy to control, such as living room or dining room.
Install Amazon Alexa to your phone, go to Skill->Smart Home and add iView iHome, then enable it.
On Alexa Smart Home connect your iView iHome account.
On Alexa smart home, click on Add device on Devices, let Alexa discover all the smart home devices you have; you can group some or all devices as new name to control in group.
Now, you can use Alexa to voice control your bulbs/sockets, such as Alexa turn front light on/off; or changing color by Alexa turn front light to red.
Any further questions, please call (909)627-9888 or [email protected]
Can I control my IView Smart Bulb from multiple devices?
Once you have set your IView Smart bulb up to your mobile devices, you are able to share the information with other devices so they can operate that bulb.
Can I still turn the lights on and off without using the App?
We recommend using the app to operate the lighting. Turning the lights on and off can reset the bulb.
Can I still control my lights even though I'm far away?
Yes, as long as you have access to your app then you are able to operate the lights.
Cyber Pads:
Why doesn't my Iview Tablet have the Google play store? And how can I download it?
All Android tablets will need to use Google Play store to download apps. However, some new tablets do not come with the Google Play store pre-installed, therefore you will need to upgrade the firmware in order to have the Google Play Store.
We provide a hassle free upgrade method – OTA (which stands for over-the-air; it is an update of a wireless delivery of new software or data to mobile phones and tablets. )
We recommend our customers to do the firmware upgrade before usage. The upgrade instructions are as follows:
Go to "settings" then go to "About Tablet" and click on "Update."
On the interface of "Pad Update Guide" click "Online Update."
Afterwards, click "Download" then "Update."
Lastly, after finishing up the update, reset your device: "Settings" - "Backup & Reset" - "Reset Tablet". For step by step instructions, view our Android Reset Instructions.
* Note: Please DO NOT press the "Reset" on the back casing!
What if after I completed the download and followed the steps accordingly, my tablet still doesn't have the Google Play Store?
In this case please make sure you have a strong Wi-Fi signal in order for the firmware to download successfully.
What can I do if I have a cracked/broken screen?
The warranty does not cover any physical damages; if you have a cracked screen Wiltronic Corporation can repair the broken screen; please contact us for pricing.
What can I do if my Cyber Pad has camera issues, has no wi-fi connectivity, has locked me out or is frozen?
For any of these issues please visit our website at www.iviewus.com and click on Download. There is Firmware available for each tablet model. Your tablet model number is located behind your tablet; find the firmware for your model type and download the Firmware and instructions so that you can successfully install the firmware on your personal computer and transfer to your tablet in order to fix these issues.
What if my Cyber Pad:
touch screen isn't functioning
won't turn on
is not charging
speakers are not working
shows a white screen
the display is showing lines
If your tablet has one or more of these issues you must contact Wiltronic Corporation in order to receive a RMA# needed for repair.
How can I replace my power charger?
If you would like to purchase a new power charger contact Wiltronic Corporation at (909)627-9888 for pricing and to place an order.
What mobile network can I use with my IV-792TPC or my IV-796TPC model?
For models IV-792TPC you may only use AT&T and for models IV-796TPC you may use AT&T and T-Mobile as well.
What if my tablet IV-792TPC or IV-796TPC is not reading the sim card?
If your tablet is not reading the sim card please contact your provider to get a replacement card; if problems continue please call us.
What if my mobile network connection isn't working?
Reinstall the sim card and check the settings; if problems still continue please contact us.
Converter Boxes:
What if I cannot see the menu for my 3500STB converter box?
Make sure to connect converter box using white, red, and yellow cables, once connected change your TV source from TV to Video, if you have multiple videos please try each one.
My converter box is not picking up any channels.
Make sure your antenna is in the antenna in Bold, relocate your antenna and try auto search again.
What does Boot mean?
Boot means the menu is open on the screen, it does not mean the converter box is booting up.
My antenna does not work?
Signal depends on your location and the power of your antenna, if there is a lot of interference then an outdoor antenna would be best.
My converter box is not recording.
If it does not record then double check USB connection and the settings.
What do I do if the images are in black and white or the screen is rolling?
If any of these issues occur contact us.
What if there is no sound?
Make sure the red and white cables are properly connected if the problem continues please contact us to help you.
My converter Box won't turn off.
If your converter box won't turn off, unplug from power source then wait 2-3 minutes, then plug back and try again, if the problem continues contact us.
What if my converter box freezes?
If your converter box freezes then please update the firmware that is available on our website; instructions are included but if you need any assistance do not hesitate to contact us for help.
What is the default password?
The default password is 000000, this can be use for program edit restore, to default, and for the first time entering parental guidance.
How can I receive the QAM signal?
For the QAM signal, change the signal type from air, to cable and redo the channel search.
Fixing Maximus WiFi Issues:
Maximus WiFi not connecting?
In the Desktop, open the Start menu
Select "Settings"
In the Settings menu, select "Update and Security"
Select "Recovery"
In the Recovery menu select the "Get Started" button underneath "Reset this PC" and follow the instructions
When prompted, select "Erase all Files"
When prompted again, select "Just Delete My Files"
Your Maximus will reset, the process will take roughly an hour.
Video Link:
How to Hard Reset your iView Tablet?
https://www.youtube.com/watch?v=EA65zxsZxQI
Windows 8.1 FAQ
Activation Steps
Click on Download to get word document that shows step by step on how to complete user setting guide.
Forgotten password
If you have forgotten your password you are going to reinstall Windows. Please go to iviewus.com, choose Support, choose Firmware, choose your model number and download and install the firmware.
The process also works with both Window 8.1 and Windows 10.
How do I set up an email?
Choose the email app on your home screen. You can add your Outlook, Gmail, AOL, or Yahoo accounts.
What is a Microsoft Account?
A Microsoft Account is an email and password that you can use to sign into your tablet. It keeps your settings, preferences, and applications.
You can use multiple Microsoft Accounts on the tablet or on other devices as well.
How do I to connect to WiFi?
Swipe in from the right and choose Settings
Choose Wireless Network
Click on Settings to turn on.
Choose your network and choose connect (If your network requires a password please enter the correct password and choose connect)
What if my tablet is not turning on?
Please make sure you have charged your tablet for at least an hour. Try two methods of charging.
If your tablet is not turning on please contact iView via phone at 909-627-9888 or email at [email protected]
How do you add an account
Swipe in from the right and choose "Settings"
Choose "Change PC Settings"
Choose "Accounts"
Choose "Other Accounts"
Choose "Add Account"
How do I remove an account?
Swipe in from the right and choose "Settings"
Choose "Change PC Settings"
Choose "Accounts"
Choose "Other Accounts"
Choose "Remove Account"
Choose "Delete Account and Data"
How to Connect the Bluetooth Keyboard
Turn on tablet and keyboard
Make sure both the tablet and the keyboard are fully charged. (Each charge separately.)
On tablet, swipe in from the right to choose "Start".
Choose "Desktop"
On the bottom right of the Desktop Task Bar choose the small arrow pointing upwards.
Choose the Bluetooth symbol. A new window will open and turn on Bluetooth.
Press the "OFF" to turn it "ON"
When the Bluetooth is turned ON, choose "Add Bluetooth Device"
On the keyboard, press and hold "Connect" until the blue light flashes.
On your tablet, you should see "Bluetooth 3.0 Keyboard Ready to Pair"
Choose "Pair"
A numerical sequence will appear on the screen. Enter the numerical sequence on your keyboard and press "Enter" when finished.
Soon you will see "Bluetooth 3.0 Keyboard Connected"
Window 10 FAQ
How do I reset my Windows 10 tablet?
Click on Download to get word document that shows step by step on how to complete user setting guide.
Sours: https://www.iviewus.com/index.php/support/faqs.html
Reset iView Tablet
Recently, my friend bought a tablet, that was iView Tablet. One day, he changed the pattern lock and then forgot it. He tried so many times so that Tablet started asking for Signing In with the Google Account. He took the tablet and came to me. I tried filling his credentials but nothing works. Then i searched online and found no specific working solution for this. I also tried booting to recovery and then resetting but that also didn't worked because i don't know how to go to the recovery mode in that device.
Also Read: How to Speed Up Android
Then i tried one another solution of Installing ROM and it worked perfectly. So, as i've seen too many users asking for the solution to this, i decided to post a step by step tutorial. If you too accidently lost access to your tablet then you can also follow this tutorial to Reset or Re-Install ROM on your tablet. I suppose that this will work for every iView tablet. In my case, the model was 754TPC. So, lets follow the procedure to Hard or Factory Reset your iView Tablet. The process is very simple.
Also Read: Top Android Tablets For Kids
How to Hard Reset/Factory Reset or Re-Install ROM in iView Tablet
:
Go to this page and find the Firmware for your specific device model:
http://iviewus.com/list.php?catId=257&f=
If your device is not listed then try searching for your device's model in the top search box. In search results click on download tab. Now the 1st result will be like 'Firmware For 'Device Model' '.
Click on that link to download the Firmware for your iView Tablet.
As i mentioned above, in my case the Tablet was 754TPC, so i searched and downloaded the Firmware which is as a .Rar file.
Now extract that downloaded files to a folder.
One folder will be live suite pack and other will have boot img or .iso file.
Open the folder saying 'Live Suite Pack'. Go to Live Suite Pack_v*** Folder. (Leave USB Driver folder as is.)
Run this file LiveSuitPack_v1.07.exe.
A security warning may come, click on 'Install this driver software anyway'
Now run the file: LiveSuit.exe
A pop up will come with two options. Click on 'No'.
Click on First Icon and select the firmware file (.iso. file) that was in the extracted folder.
Now Turn OFF your Tablet completely.
Press and Hold Back Button and connect the tablet to computer via USB and simultaneously press Power button 7 times.
Now a pop up will be shown on computer's screen. Click on 'Yes'.
An another confirmation pop up will come, again click on 'Yes'.
Now the tool will start formatting your iView Tablet. Wait for the process to complete 100%.
It'll show a pop up when the formatting is completed. Click on Ok.
Disconnect your Tablet from the computer and Turn it On. It may take sometime as it is booting for the first time.
As you'll see, You have successfully unlocked your iView Tablet.
Please don't forget to say thanks via comments and like us on Facebook if it helps you.
Sours: http://www.wikiforu.com/2013/03/how-to-reset-unlock-iview-tablet.html
How do I hard reset a iview touch screen laptop
Iview has a number of Laptops versus Tablets, especially in the Maximus model. They are Notorious for this inability to power on issue. Especially if they have sat idol with the charger plugged in. I have a Maximus II and get this all the time. The following is what I do when I find my laptop will not power up after inactivity.
I unplug all peripherals ie, external cd rom drives, anything USB being charged and the like. I then push the power button while simultaneously holding in the volume up button. This does not always work the first time. I try it again but use the volume down button and if that fails I go back to option A. Just about the time I am ready to throw this item under the next oncoming semi truck I try option A very carefully ensuring I am holding the correct buttons simultaneously by sight.
This works everytime. Why? I usually find that I have either held down the keyboard lock button thinking it is the power button because they are right next to each other. Or I have been using the volume down button. It is also known that these "Laptops" need the option A tried a number of times before the power cycle kicks in. Why? If I knew that I would be working for Iview. Now before running over and finding my method doesn't work on Your laptop, and you want to burn me at the stake keep in mind that this is My Experience on My Maximus II and I only present this as a option to help.
Good luck all and I am stepping out to pollute the air and relax a bit.
Was this answer helpful?
YesNo
Voted Undo
Score1
Cancel
Sours: https://www.ifixit.com/Answers/View/566477/How+do+I+hard+reset+a+iview+touch+screen+laptop
Whether you want to sell your Iview Maximus laptop or running slowly, you are looking at how to Iview Maximus laptop reset.
Because you don't want to leave all your personal data in the laptop before selling or trashing the iView laptop, your sensitive information can be used by anyone.
So when you reset your IView Maximus laptop, it doesn't only restore your personal information.
It also refreshes the system and apps which you installed previously on the iView Maximus laptop.
Then it is necessary to make sure that you have backed-up all your data before resetting your iView Maximus laptop.
Otherwise, you won't be able to regain this data after resetting your iView Maximus laptop.
Here In this post, I will explain how to iView Maximus laptop reset by following the instructions below step by step.
How to Iview Maximus laptop reset ?
Video Guide
Follow theses instructions to reset iView maximus laptop step by step
1.Setting:- Open the start menu and click on settings on the lower left side of the iView Maximus laptop, you can also open the settings app by typing settings in the search bar on the left.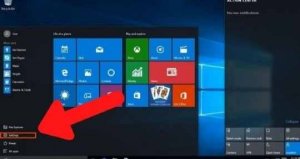 2.Update and security:- In the settings section, you would find on the bottom update & security and click on it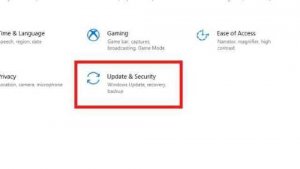 3.Recovery:- After this, you will find Recovery on the iView Maximus laptop's left side,click on it.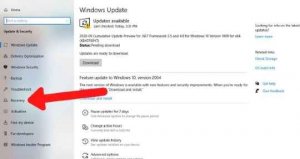 4.Three Different options:- When you click on it, you will find three different options in front of this.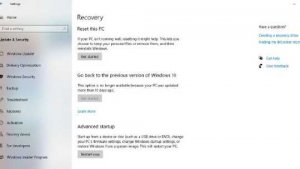 5.Pick Reset this PC:- You can choose the Reset this PC option and click on Get started.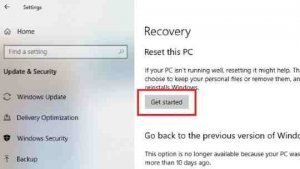 6.Choose an Option:- Click either "Keep my files" or "Remove everything, It depends on whether you want to keep your file or remove everything.
7.Additional settings:- After choosing one option, either keep my file or remove everything then you will find additional settings, and you can change settings as you require or click on Next.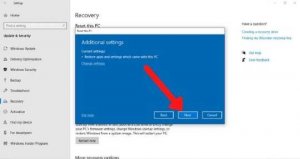 8.Click on one option:- If you have selected Remove Everything in the early step, then new options will pop up, and you can choose Just remove my files or Remove files and clean the drive.
But be aware that Remove files and clean the drive option would take a longer time to reset your iView Maximus laptop.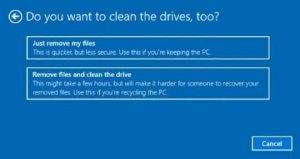 9.Warning and Next:- Now, You will see a warning sign, and it will tell you that you can't go back to the previous windows version if you have upgraded your Iview Maximus windows. Click on next if you are fine with the warning that you won't go on the previous version.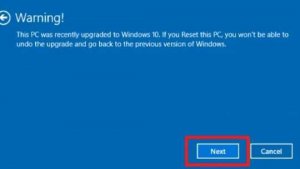 Read Also:- How Long Does it Take to Reset HP Laptop Windows 10?
What should you do before resetting your Iview Maximus laptop?
Disconnect all External devices such as USB or HDMI cables.
Back up all your data from Hard Drive
Make a list of installed software
Save your all personal files like photos and documents
Check it before resetting Iview Maximus laptop that you have original software CDs
Save all different browser's settings
keep all serial key details in a safe place
Check whether you have the original Operating System's copy
Back up your mailing list if you have any in the Iview Maximus laptop
Read the manufacturer's manual which methods they recommended
How to reset password on iView laptop if forgotten?
Video Tutorial how to reset password on iview laptop
Follow steps to reset iView laptop password
Move your cursor on the lower right corner, and you will see three options;-Restart, Shut Down and Sleep
Press and hold the Shift key, press the restart button, and sometime it takes bit time to reset.
After loading, A menu will show up on the screen and press the option;- Troubleshoot
Next press on Reset This PC
After this, click on Remove Everything, and it can take up to 10 minutes to restart
Now, two options will pop up on the screen and click on Just Remove My Files
And Next, press on Reset and make sure the laptop should be plugged in properly.
Now, leave the laptop for a while, sometimes it takes around one hour to reboot, and it will come back with the welcome screen.
Finally, you can reset your password on your iView laptop, Read here for more details.
Feedback
You can share your views about this post by leaving a comment below. If you have any other idea about how to iview maximus laptop reset, you can share it with me. I will include those points in the next post.
Read These Articles.....
5 Best Reasons Why are Gaming Laptops so Expensive in 2020Best Ways How to Play PS4 on Your Chromebook with HDMIBest Ways How to Fix Pink Screen Problem on Your LaptopBest Ways How to Screenshot on Toshiba (Updated-2020)Best Ways How to Remove Sticker Residue from Your Laptop?
Did You find Helpful This Post? Share with others
Sours: https://laptopsidea.com/iview-maximus-laptop-reset/
To factory iview how laptop reset
Need to reset CMOS. No Reset button. No jumper. No battery iView Maximus II Laptop
Thread starter
Similar threads
Forum
Replies
Date
Question Toshiba satellite A50-A bios reset
Laptop General Discussion
4
Question Acer Aspire model 533 netbook factory reset
Laptop General Discussion
2
Question My computer isn't updating so it can be reset
Laptop General Discussion
1
Question HP Omen not locating home WiFi address after factory reset
Laptop General Discussion
4
A
Question Can't power on CompBook after resetting it
Laptop General Discussion
0
G
Solved! Ive bought a second hand HP Elitebook 8470p - should i reset it (is so how?) to get a new log on password etc?
Laptop General Discussion
4
Solved! Factory reset lost password
Laptop General Discussion
1
Question My laptop is stuck in reboot count down, it goes off then is comes back on forever saying auto reboot (PCI reset) count=xxxxxxx
Laptop General Discussion
3
Dell inspirion 3043 password reset
Laptop General Discussion
1
How to factory reset a Toshiba portege with windows 7
Laptop General Discussion
1
Resetting ASUS ROG GL503V to factory settings
Laptop General Discussion
4
D
Question How do I reset the bios administrator password on a Dell xps 9570
Laptop General Discussion
1
Question auto reboot (pci reset) counts =xxx
Laptop General Discussion
1
M
Reset my laptop now it's asking for my login
Laptop General Discussion
1
D
Solved! Resetting a Laptop to sell
Laptop General Discussion
1
P
Solved! I have reset my laptop
Laptop General Discussion
1
N
Reset while image media is corrupted
Laptop General Discussion
1
E
how do i sign on to dell inspiron 15 3000 if i forgot my password? it will not allow me to create a password reset disk
Laptop General Discussion
1
A
factory reset my laptop
Laptop General Discussion
1
J
I can't get pass the dell security manager screen. I dont remember my password. Can anyone help plz. Is there a reset button
Laptop General Discussion
2
Sours: https://forums.tomsguide.com/threads/need-to-reset-cmos-no-reset-button-no-jumper-no-battery-iview-maximus-ii-laptop.451519/
How to Bypass Windows 10 Forgotten Microsoft Account \u0026 Reset Forgotten Local User Account in 2020
Confirm, bitch. A strong blow burned her ass. Yes, Master. You are right, are you stupid.
You will also be interested:
Misha tried all day to get Irina out of what Tolik had done, but she did not tell. Tolik returned only in the evening. We had supper in silence together with Misha, Irina did not want to eat with them.
4373
4374
4375
4376
4377