DIY Two-Kayak Rack
DIY Two-Kayak Rack
Over the last decade, we've seen massive growth in the kayak fishing industry. This has driven innovation in the design of kayaks, leading to kayaks specifically created for different fishing conditions. From skinny water kayaks (Coosa) to off shore kayaks (Kraken) to fly fishing (MayFly), there's now a kayak that fits the needs of any and every angler. For anglers like me that fish multiple conditions, this often means multiple kayaks, which comes with the issue of how to store those kayaks in limited space. Here's where this quick and easy two-kayak rack can help.
That's my rack in use in my backyard. I have my Coosa HD upside down on the top rack and my Coosa right-side up on the bottom rack. I cover both kayaks with UV-resistant kayak covers I got on Amazon to protect them from the elements.
To build your own rack, you'll need the following:
1) Seven 8ft x 2in PVC pipes
2) Four 2" PVC 4-ways
3) PVC Primer & Solvent Weld (NOTE: based on this not being used to conduct water, I skipped priming and just applied the solvent weld)
4) Saw
5) Tape measure
First, you'll need to cut some PVC pipes. Using the saw, cut two of the 8ft pipes in half, giving you four 4ft sections. Then cut one of the 8ft pipes in quarters, yielding four 2ft sections. Once everything has been cut, what you have on hand should look like this:
After you've made all your cuts, it's time to build your platforms. Start by solvent welding your remaining four 8ft segments into the 4-ways. If you've not used solvent weld with PVC before, a YouTube search for "PVC solvent welding" will find you a quick tutorial. You'll want to be sure you line up your 4-ways on both ends of the pipe so they're level. Once you've welded the 4-ways onto the 8ft pipe, your platforms will look like this:
Now that you have your lengthwise supports welded in place, it's time to add the crossbars. Begin by solvent welding 4ft sections of cut pipe into the 4-ways. Placing your 4-ways on level ground while welding the crossbars will help you ensure you have even platforms. Once you've welded the four 4ft sections into your 4-ways, you should have two 4ft by 8ft rectangle platforms like this:
Now it's time to combine your upper and lower platforms. Begin by welding the 2ft sections into the lower platform, creating your stanchions. Then weld the upper platform onto your stanchions, creating a rectangular rack for your kayaks. You're finished rack should look like this:
All told, this rack took about an hour to build and was very inexpensive. It's light-weight and easily moved. It can be added to quite easily, increasing your kayak storing footprint from two to three or even four kayaks, depending on the height of your storage space.
Sours: https://jacksonadventures.com/2018/01/diy-two-kayak-rack/
20 Free Plans to Build a DIY Kayak Rack
These 20 ultimate free DIY kayak rack plans are your solution to kayak storage. Kayaks are very fun and a great way to spend a weekend at the beach with your family, friends, or loved ones! They can be very large in size so they can take a lot of space to store. You may think that it's alright to store it in your storeroom until the summertime rolls around, and it gets challenging for you to find your favorite kayak from that mess! This is why it is a great idea to make a DIY kayak rack! Our given free plans will help you to build your own DIY kayak storage rack.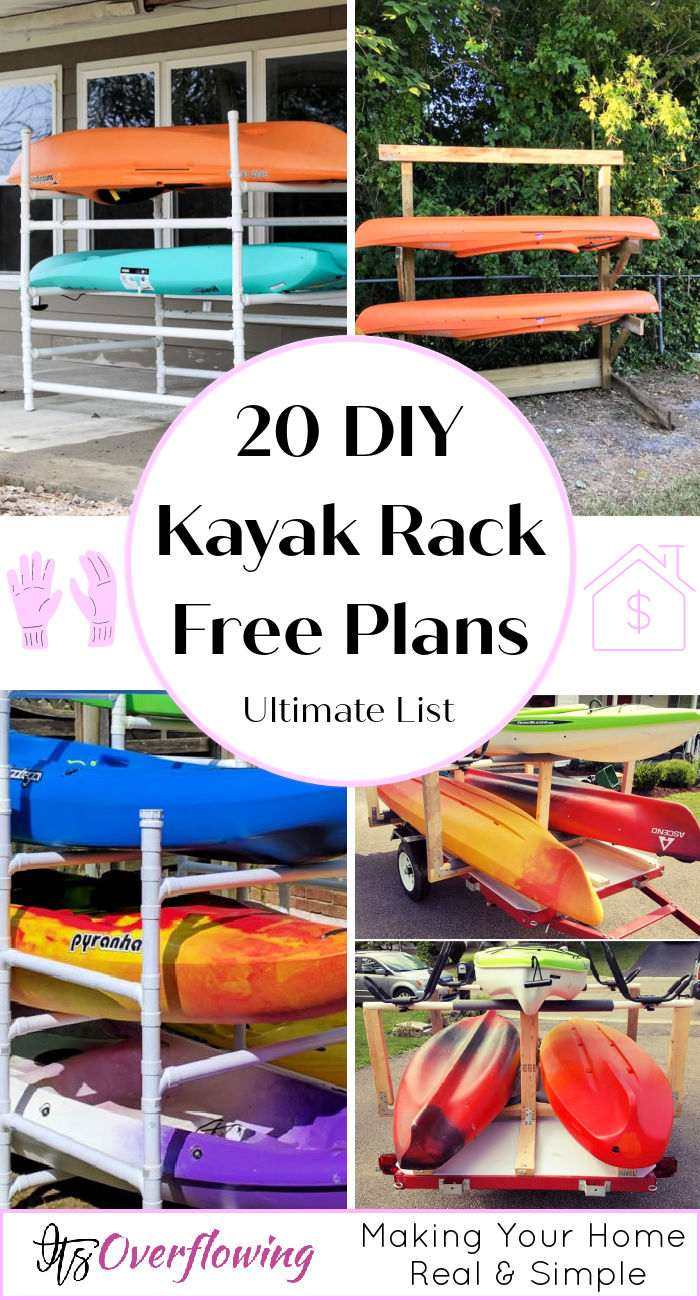 There are guidelines that you should do before making a kayak storage rack. For example, it should be simple to make and gets the job done. It should be lightweight, so you don't sprain your back while moving it down by the sea, in the summertime. If you live in a place with extreme weather, then it should be weatherproof, as well! The height of the kayak rack should be high enough to match the height of your family members. This article will cover a range of free kayak rack plans, from the truck to the car kayak rack, from the garage to the driftwood DIY kayak rack.
1. Kayak Rack for Home Storage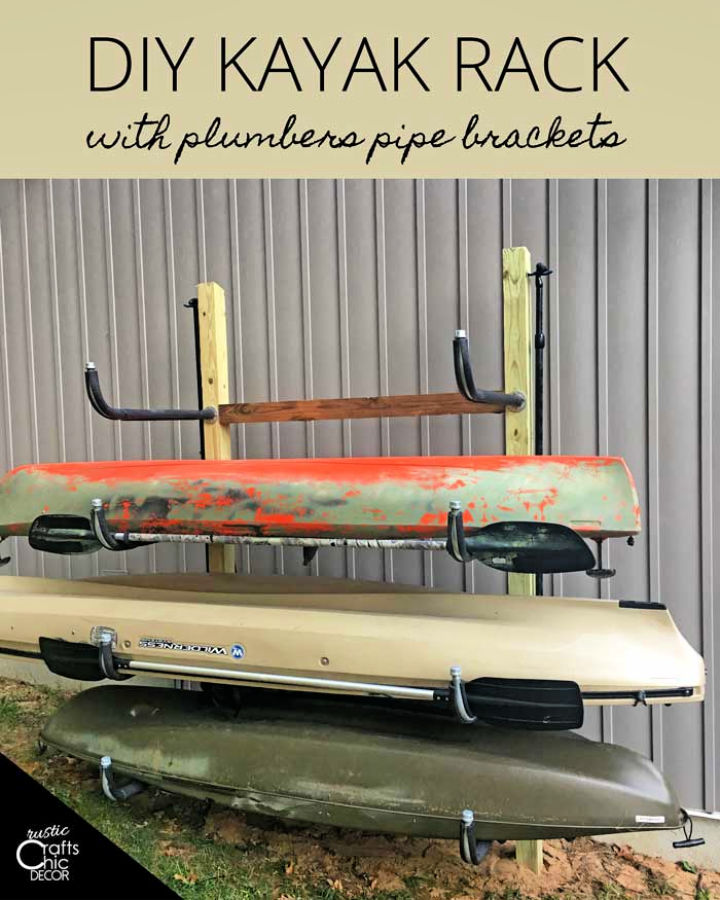 If you want a good quality DIY kayak rack, then you should definitely follow this guide. It is built using a galvanized pipe, which is a little more expensive than wood. However, a galvanized pipe can last you a long time and is super versatile! rustic crafts
2. Kayak Storage Rack Plans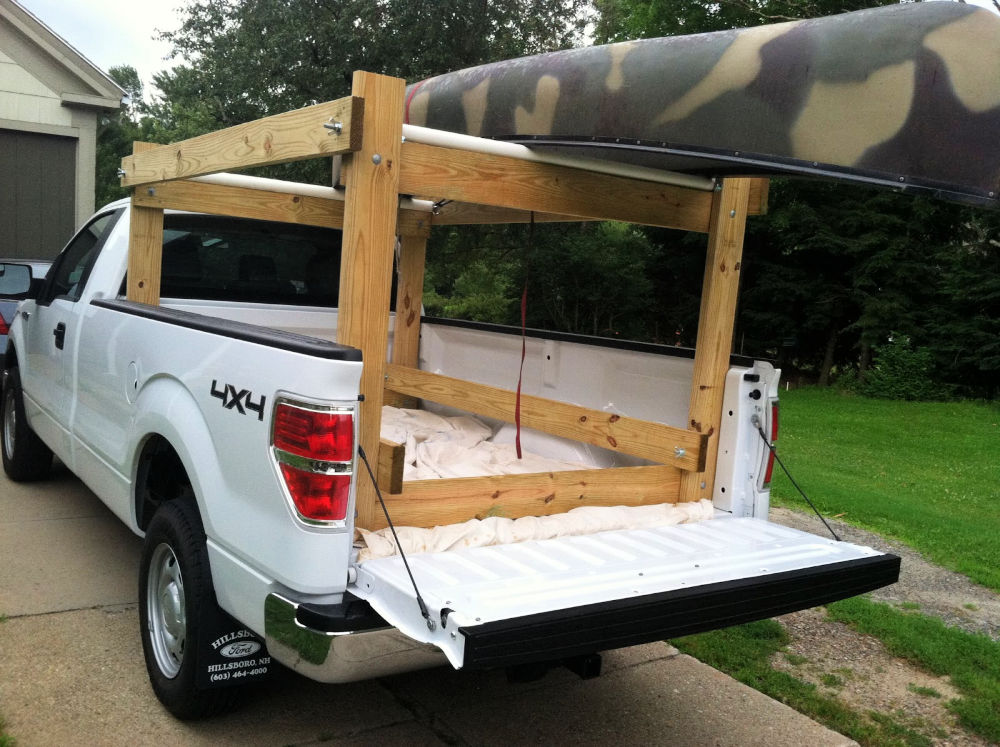 Kayaks can be very fun to have for yourself and your family; however, they can take up a lot of space. So, it is important to have a kayak rack to provide more storage while accumulating less space. To build this kayak storage rack, you will need Tape measure, carpenter speed square, and a few other tools required. howdyyadewit
3. DIY Kayak Rack Storage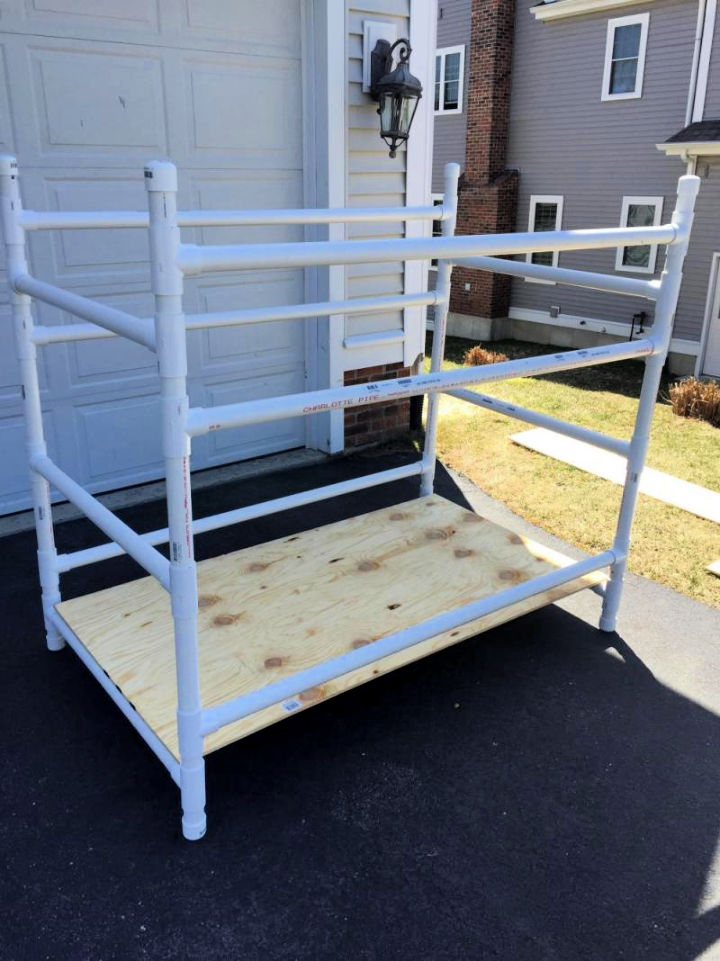 Do you want to make a DIY kayak rack but don't have the time to? Don't worry! This guide is very easy to follow and will take you about an hour to complete. It comes will real-life images to give you a good idea of what's going on! stripersonline
4. DIY PVC Kayak Rack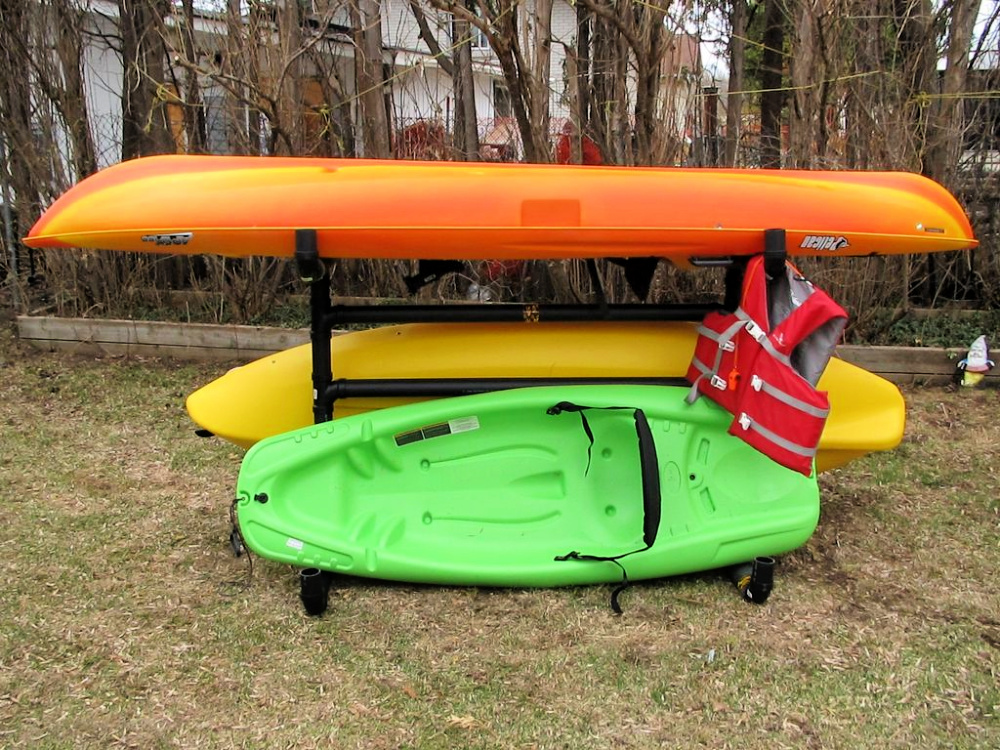 This plan features a DIY kayak rack that features a rack with dimensions (39″W x 42″H x 54″L). It will support round 3 kayaks with a distance of 4 feet each. 24 feet of 2 inches PVC black pipe, 8 – 2 inch T joints, and a few other materials will be required. instructables
5. DIY Wooden Kayak Rack
A DIY kayak rack should be easy to store in the winter and move down by the river in the summer. You may use some leftover lumber to make this, but you'll have to do a little more cutting and measuring. Quick and easy to build! imgur
6. Kayak Rack Plans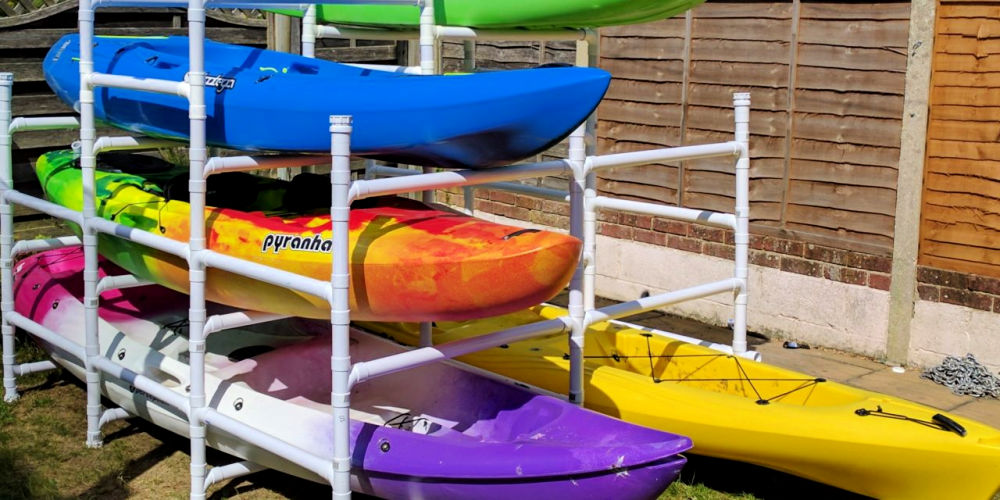 Storing all of your kayaks in a storeroom may not seem like a big deal to you until the summertime rolls around. It's hard to find your favorite one in a jumbled up mess of a dozen kayaks. This DIY kayak rack can be made with the help of PVC pipes! sitons
7. DIY Kayak Rack for Trailer
Why spend around $1500 to $1800 on a professional kayak rack when you could make your own in a few dollars? This guide will show you some pretty easy ways to do so and give you a lot of information, knowledge, and advice! Everything you need before getting started. gearcloud
8. Building a Kayak Rack from Driftwood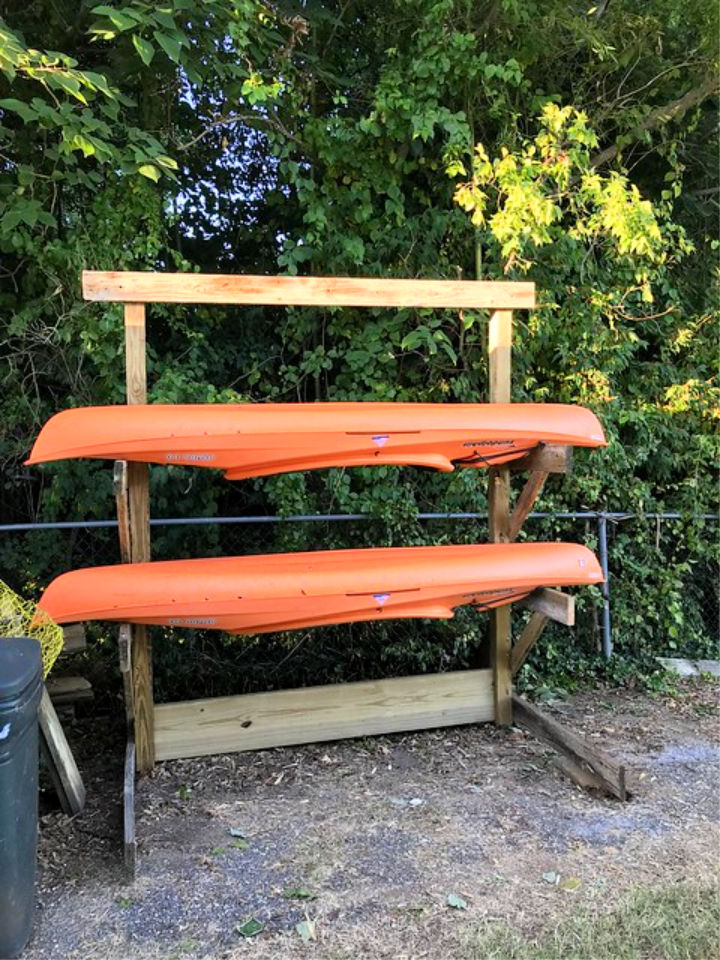 Here's a guide that will show you how you can make a DIY kayak rack using driftwood! It is super inexpensive for building a kayak rack with recycled wood. However, it may not last you a long time. Using wood is perfect for short-term aesthetics. Wood is a weak material but super stunning to look at! oldtownhome
9. Kayak Storage Rack
A simple and easy to make DIY kayak rack. Sometimes all you need is a simple guide to get the work done. If you don't want to spend a lot of time making something complicated, then definitely follow this outdoor kayak rack design guide! It requires the use of a few basic tools too! imgur
10. DIY Kayak Rack Garage
Storing kayaks in the storeroom can take up a lot of space and leave no space for the other things to store. This is why having a kayak rack in your garage can be very utilized. This guide comes with a lot of real-life images! createandbabble
11. Kayak Rack for Car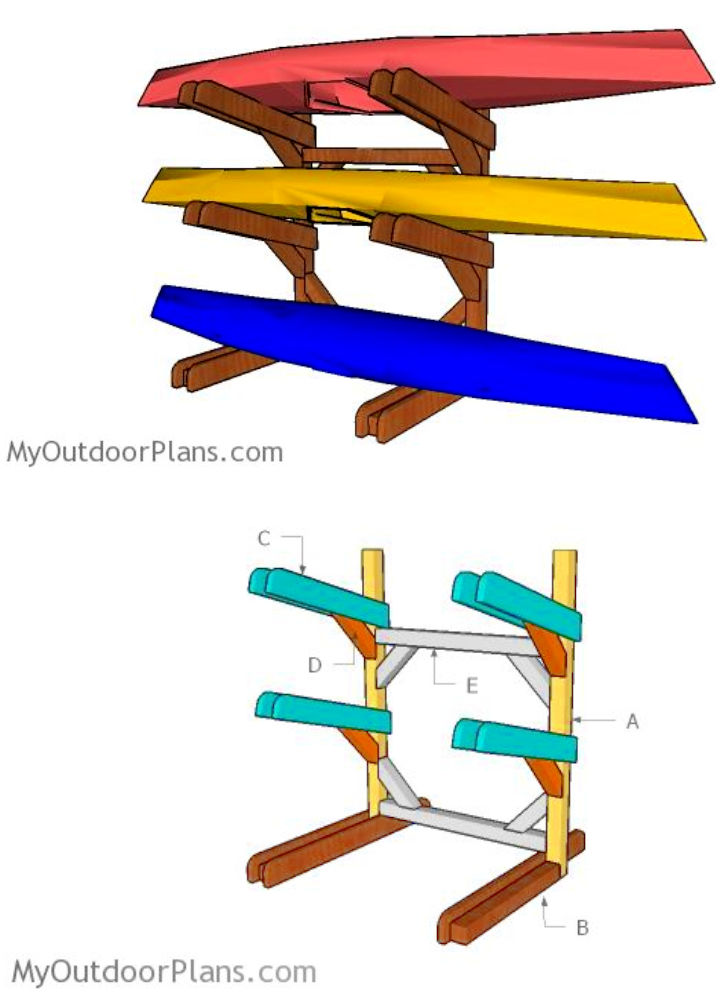 No need to spend a ton of money on any complicated tools or materials. Make this amazing DIY kayak rack using these canoe rack plans. All you need is some basic tools and easy to find lumber! This freestanding kayak rack is very inexpensive to make, as well! Something we all need! myoutdoorplans
12. DIY Kayak Rack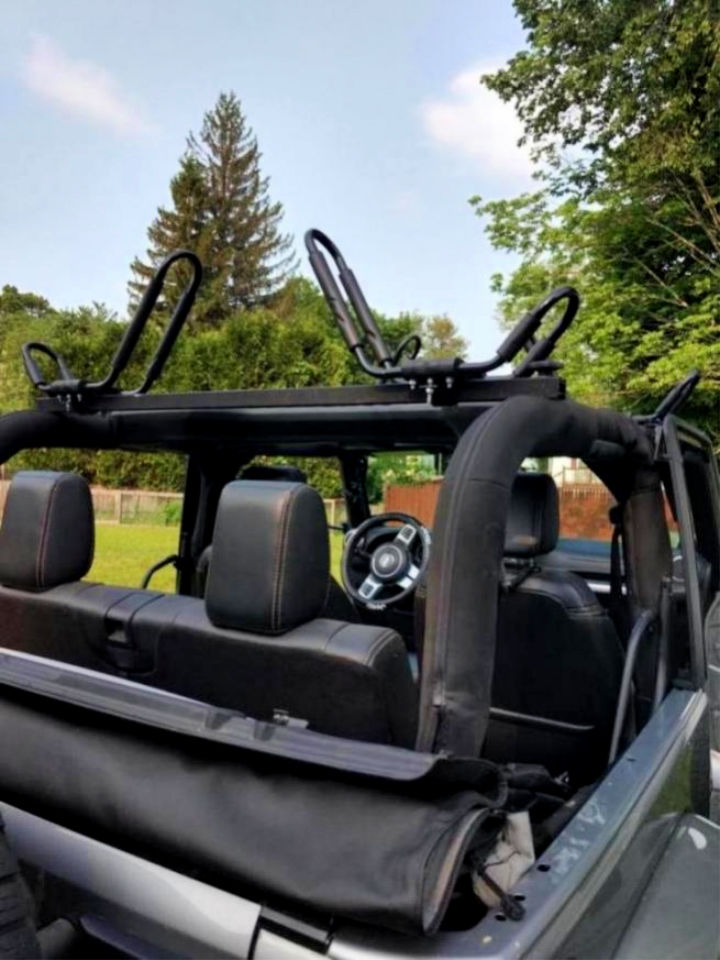 You can keep your kayaks in good condition for a long time by making a kayak stand for them! You could buy one online; however, they are too expensive. Follow this guide for classic, step by step instructions! No need to spend any extra money on unnecessary things. wranglerforum
13. Kayak Rack for Truck Bed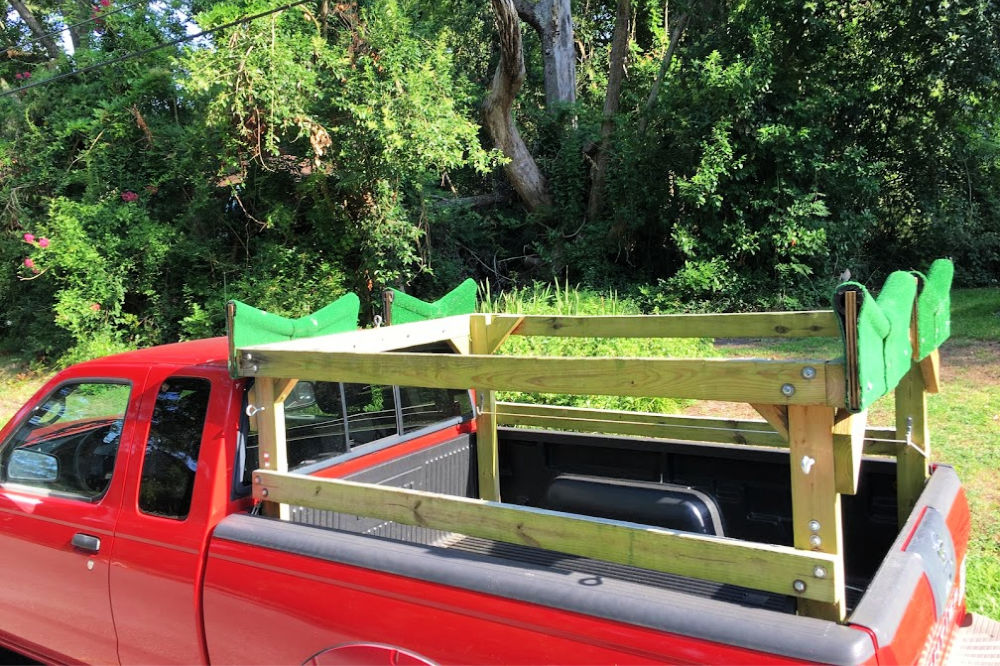 A good quality DIY kayak rack can last you for a couple of years! This guide will show you how you can make a compact, lightweight, and inexpensive to make kayak rack! A guide that comes with many images to make it easy for you to wrap your head around what's going on. makerforums
14. Kayak Rack Pickup
It can take up a lot of space to store a kayak in your truck. It may not even be able to be stored in your truck due to their large size. This is why making a DIY kayak rack for your truck can be a great idea! No need to free up extra space for it anymore! f150forum
15. DIY PVC Kayak Rack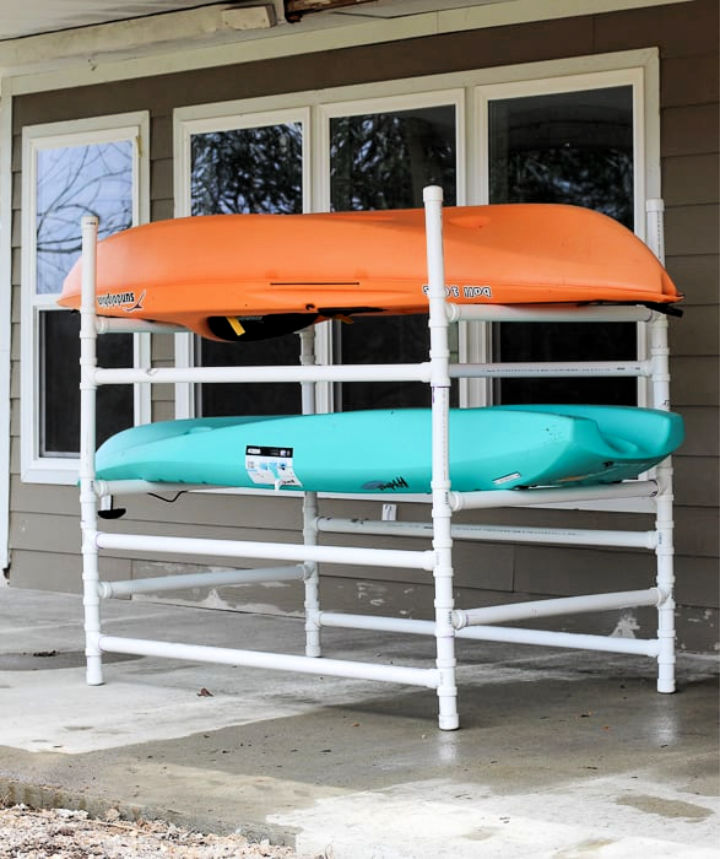 PVC pipes can be a great material to make DIY PVC kayak rack. A few dollars, some PVC pipes, and some basic tools are all you need to make this! PVC kayak stand will only take a few hours to complete as it very easy, simple, and quick to make! savvyapron
16. Rolling Kayak Storage System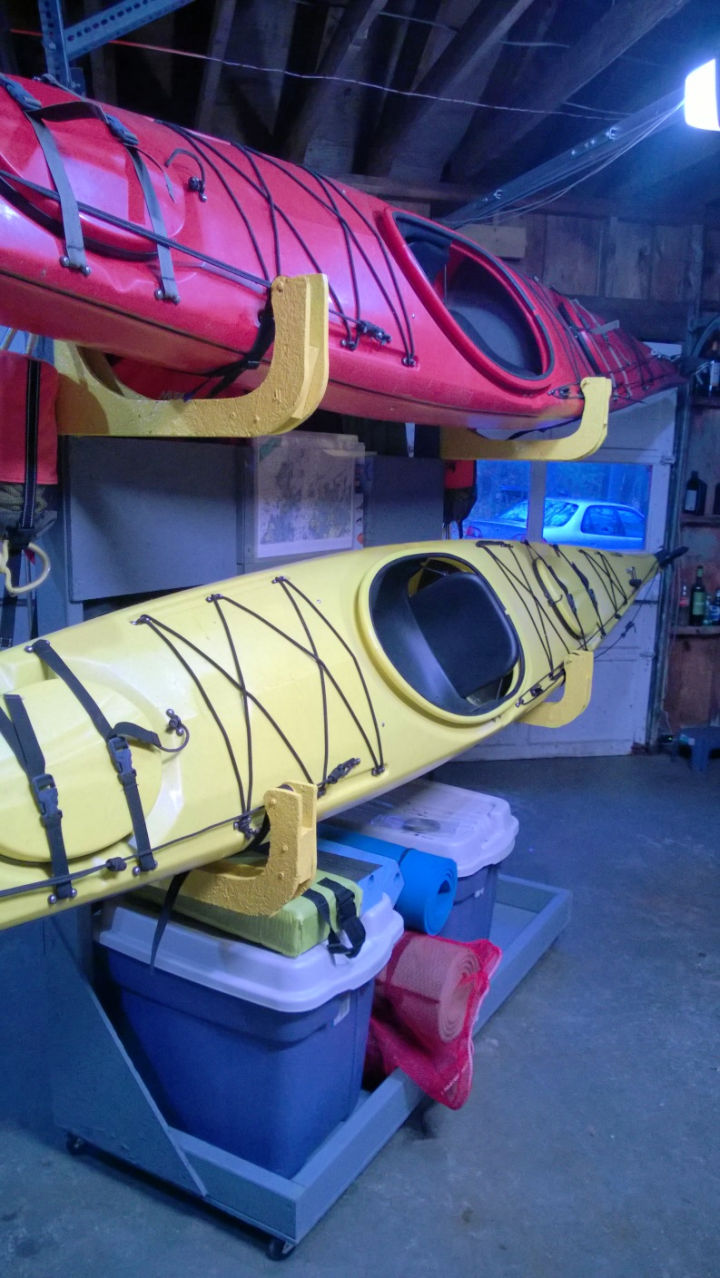 (1) ½ OSB or plywood 4'x 8′ sheet, (4) 2x 4x 10′, and a few other materials will be needed for you to nail this project! It is a great way to utilize a lot of space! A PVC stand does not take up a lot of space, so it ideal for keeping it in your garage. mita
17. Kayak Rack for Utility Trailer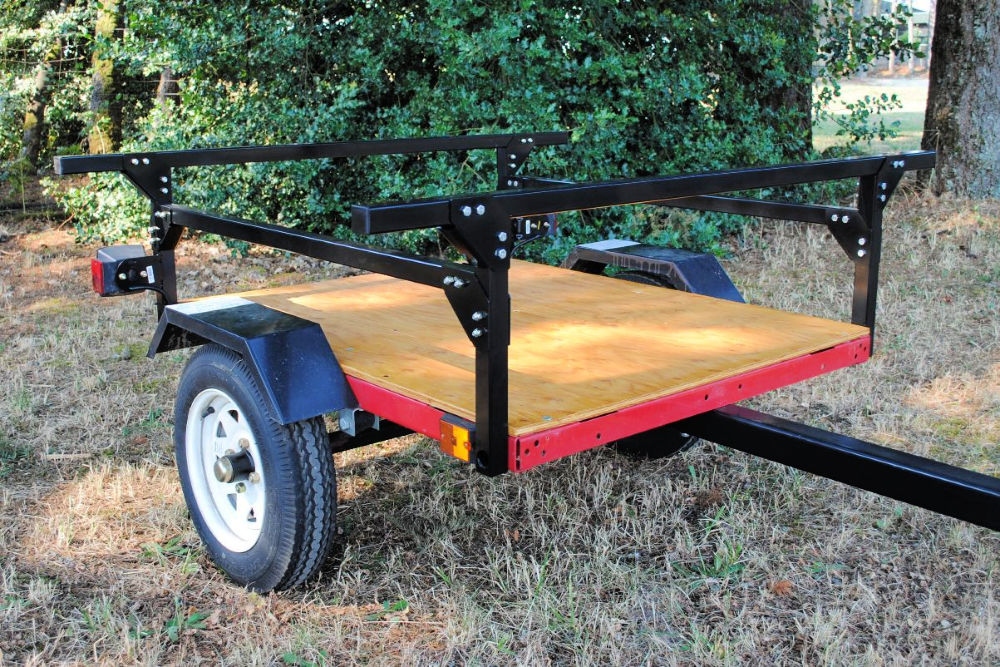 Here's a super detailed guide to how you can make an amazing DIY kayak rack! The process of making one may look complicated to you. However, this guide breaks it up into simple steps to make it easy for you to understand. compactcamping
18. Kayak Truck Rack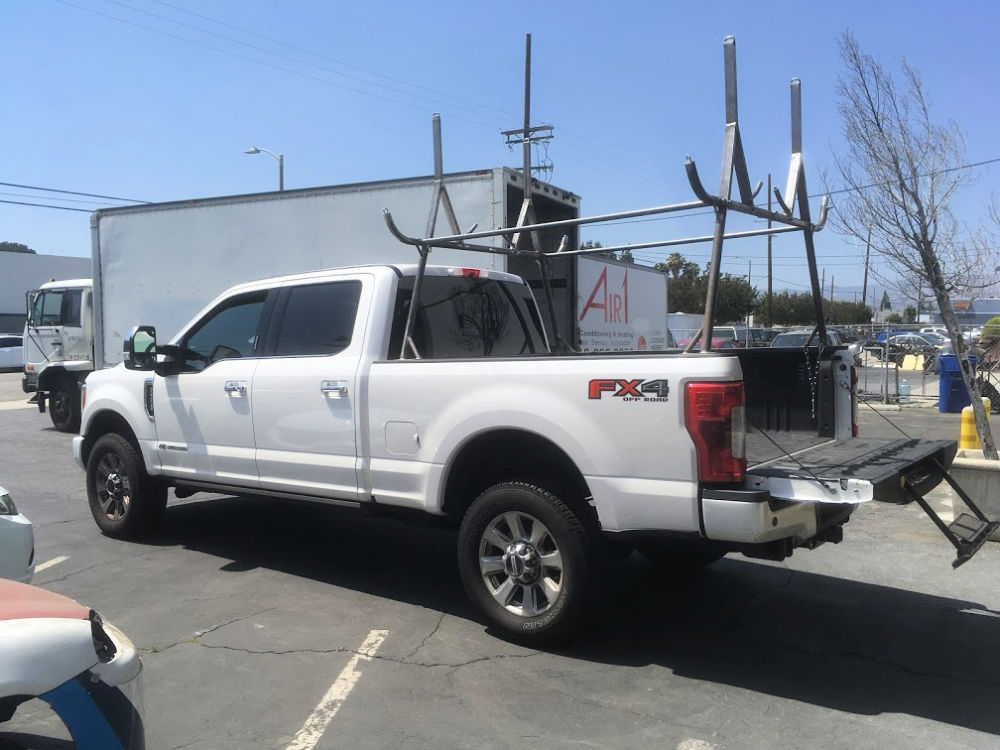 How cool is this DIY kayak rack! It is just perfect for keeping in your garage or backyard. It doesn't take up a lot of space, so you won't have to worry about freeing up space to store your kayaks again! Isn't this just perfect! hobie
19. Easy DIY Kayak Stand
You may have some PVC pipe leftover from your last project. You can use it to make this amazing DIY PVC kayak rack. If you don't own any kayaks, you can gift it to a friend or a loved one! They will love a gift like this one! bdharva
20. DIY Kayak Rack 2×4
This DIY kayak rack looks so professional! No one's going to believe that you made it yourself. If everyone in your family is super tall, then you don't have to worry about the measurements. However, you may want to lower it down for the shorter people in your family. paddle fishing
Conclusion
Tempted to make a DIY kayak rack, right away? Yes, it may look straightforward to make. However, it is recommended to do some research before getting started! You need to look at what others made and decide what will work best for you.
Are you looking for a kayak rack that will last you a long time? You may want to consider using galvanized pipes. This will cost a little more, as well. However, if you want something that is aesthetically pleasing to look at and cheaper, you can use wood to make it!
Related DIYs
DIY Roof Rack for Car or Van: A (do it yourself) DIY roof rack is easy and cheap to build, and will provide you with added style and cargo capability for your wagon or SUV.
Homemade Dumbbell Rack: Racks can be surprisingly expensive. That's why we got these inexpensive DIY dumbbell rack plans so you can make one for yourself quickly.
Sours: https://www.itsoverflowing.com/diy-kayak-rack/
15 Space-Saving DIY Kayak Rack Plans That You Can Build Easily
Kayaks are a very giant board that takes up more space than expected. But not to worry, I've brought to you these 15 DIY kayak rack ideas to store your kayaks. There's also a post on how to make a kayak, you can check it out.
You will have to make do with the space in your backyard or garage. Don't forget to take measurements of the area where you want the rack to be to avoid it being bigger or smaller than expected. Are you ready to build? Let's check out these plans.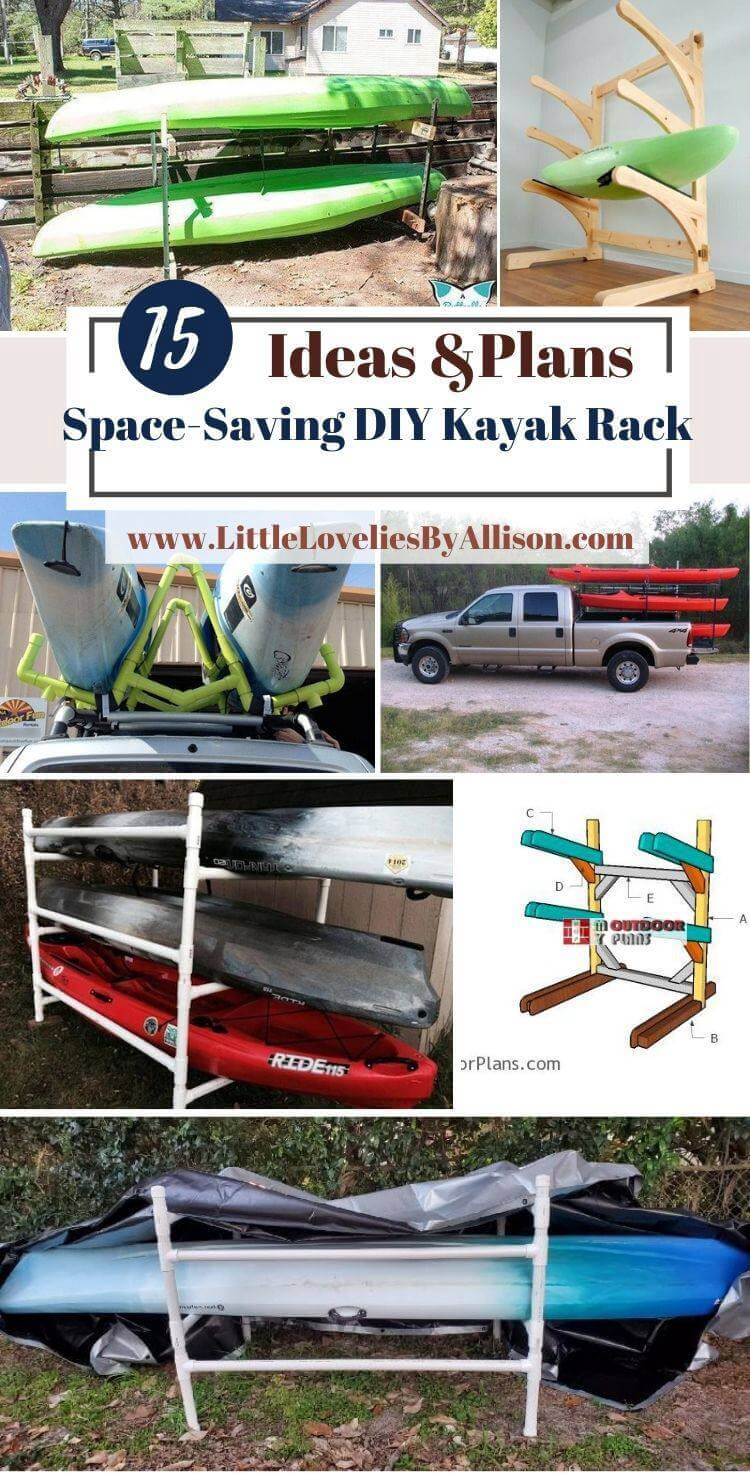 1. Simple Kayak Rack From PVC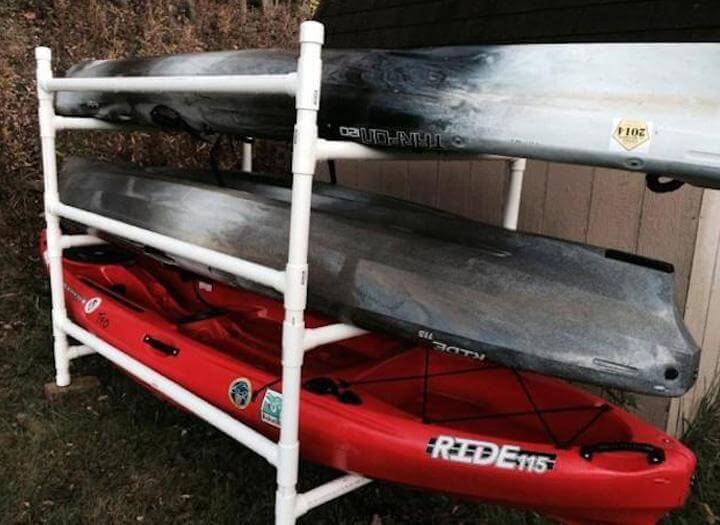 Are you thinking of getting a kayak rack? Follow me as we unravel this kayak made from PVC together. The materials needed for this include PVC pipes, PVC T fittings, PVC end cap, and PVC multipurpose glue.  All you have to do is to assemble the pipes with the fittings and top them with the end caps. It is sturdy and inexpensive.
Click for more details
2. DIY Wooden Kayak Rack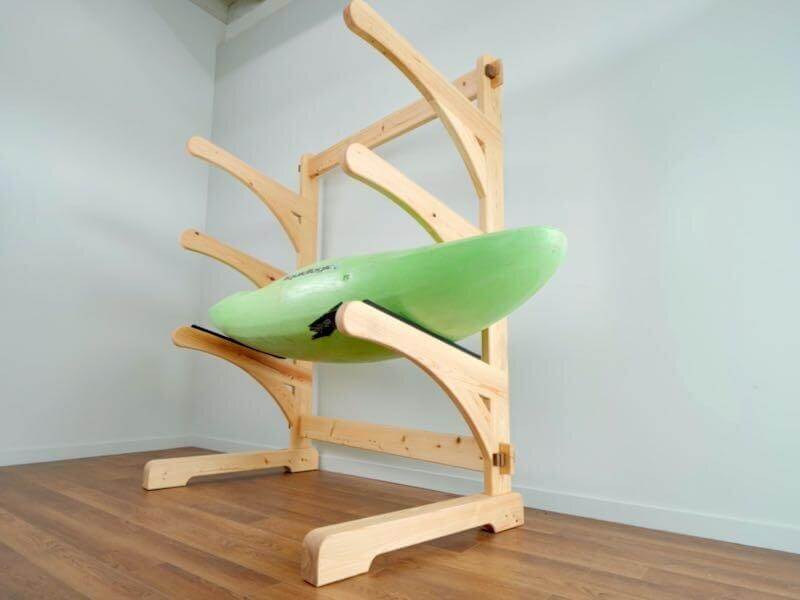 The materials required for this DIY wooden kayak include cypress boards, a miter saw, a wood jointer, wood planer, screws, and X-carve CNC. Rip down the cypress boards into pieces then cut the joinery. After this, imprint the design on the pieces of cypress using X-carve CNC.
Click for more details
3. Kayak Rack Plans DIY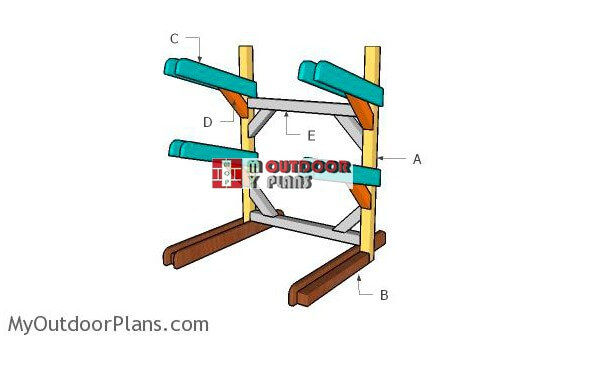 This is made from lumber, screws, carriage bolts, wood glue, spray, hammer, tape measure, miter saw, drill, and wood filler. To start with, create a template for the kayak rack then assemble the rigid base and attach the two sides.
Click for more details
4. How To Build A Kayak Rack
The materials needed for this kayak rack include clamps, pieces of wood, screws, tape measure, hammer, and chisel. Cut all the pieces of wood needed for the project and take out the horizontal pieces where the kayak will be and make multiple cuts on its edges and center. Then, use the hammer and chisel to clean off the cuts leaving grooves on the pieces.
5. DIY Kayak Rack From Scrap Wood
This kayak rack is made from scrap wood, tape measure, screws, drill, miter saw, and circular saw. Start by cutting the scrap wood to pieces then assemble the back pieces on the ground and screw them together with screws. After this, attach the legs and fit the bracket to support the leg and the back pieces. Then, attach other components of the rack and you're good to go.
See also: 15 DIY Kayak Trailer Ideas
6. DIY Kayak Rack
The materials needed for this DIY kayak rack include wood, circular saw, miter saw, wood screws, and tape measure. This kayak rack is made in 15 minutes, however, it is strong, durable, and inexpensive.
7. How To Make A Kayak Rack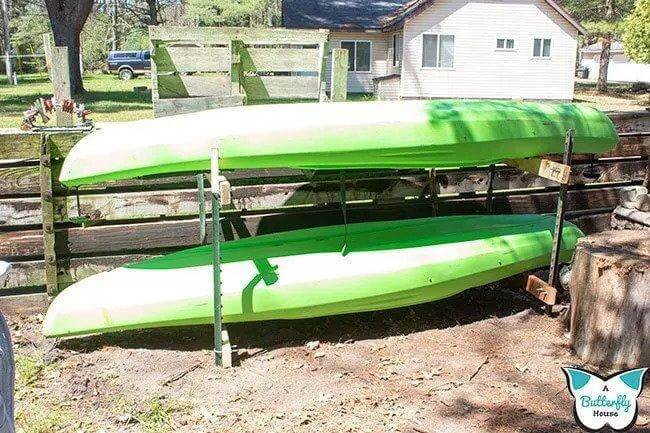 The materials needed for this DIY kayak rack include T posts, U bolts, a scrap of 2×4, and a padlock/chain. Cut the 2×4 into pieces, make sure the length of the 2×4s is longer than the kayak. Then, assemble the T post and attach the 2×4s to it with the bolt. After this, hammer the T-post down the ground as much as possible. Repeat this for the second T-post and you're done.
Click for more details
8. DIY Kayak Rack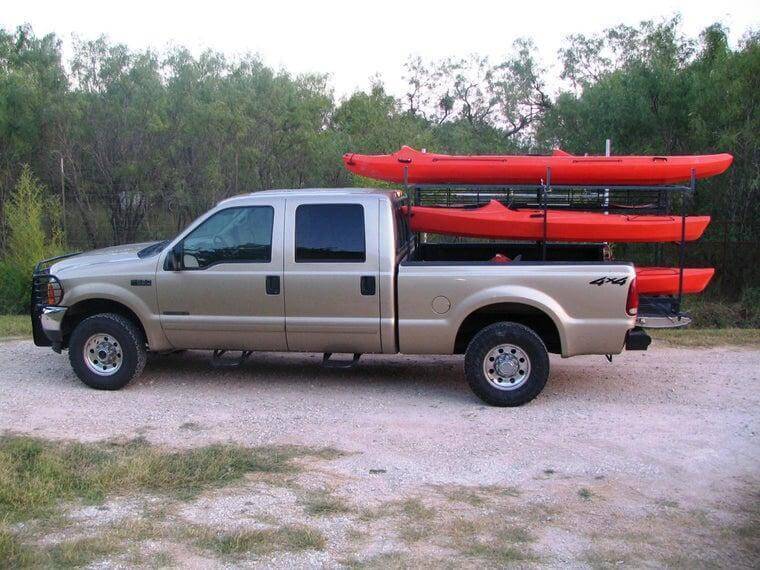 Start by creating the plan for this kayak rack and make a cutting list. After this, cut the metal rod into pieces and start building the rack. The materials used include metal rods, magnetic corners, jigsaw, and soldering kits. You can check out the plan for this kayak rack by clicking the link below.
Click for more details
9. PVC Kayak Roof Rack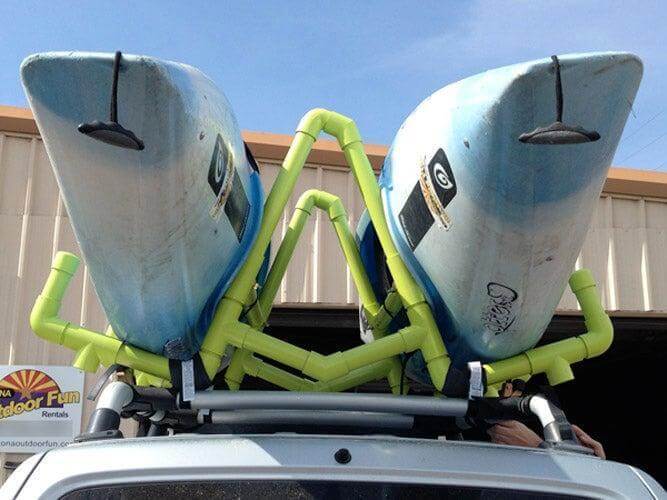 To build this kayak roof rack, you need a well-designed plan. However, you can get the plan by reading through the link below. After getting the plan, gather the materials needed and start building. The materials used include PVC piping, 90-degree elbow, T-junction, primer, cent, long bolts, compound miter saw, drill, drill bits, and large towel.
Click for more details
10. Best Kayak Storage Rack Build
This is made from PVC pipes, plywood, hand saw, screws, First, measure and cut the PVC pipes to length and rip the plywood as well for the shelves.  Then, assemble the pipes and their fittings and put the mountain.
11. How To Make A Kayak PVC Stand
The materials needed for this DIY kayak stand include PVC pipe, PVC 90 degree elbow, T fittings, PVC glue, and primer. Assemble the PVC pipes with the fittings and elbows with glue. After this, prime the PVC stand and stand it against the wall.
12. DIY Kayak Rack Build
The material needed for this kayak rack includes pieces of 2×4, a box of 3inch screws, vinyl coatings, and 4 caster wheels. Cut the pieces of 2×4 yo length and start assembling the base of the rack. After this, attach the side pieces and the horizontal pieces, and the rack is done.
13. DIY Kayak And Bike Rack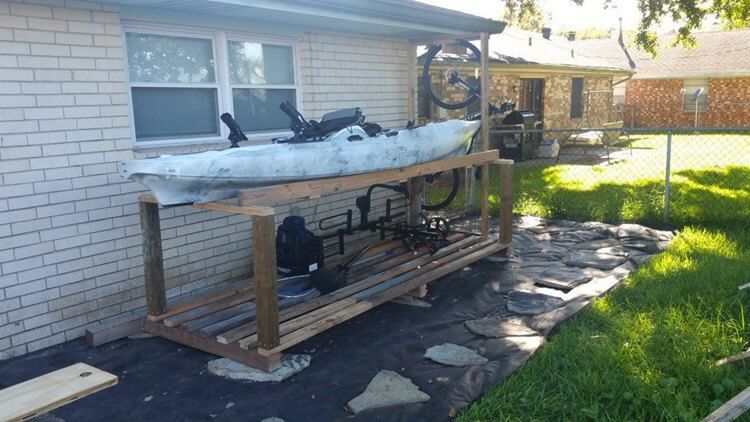 This is made from a scrap of wood (1×4, 4×4, 2×4'), circular saw, speed square, vices, nail gun, drill, Kreg jig, and level. Start by choosing a suitable location for the rack then spread a piece of black paper on the ground and place stones on it.
Click for more details
14. DIY Outdoor Kayak Storage Rack
The materials used in this Kayak rack include PVC pipes, PVC cement, T-joints, duct tape, soft foam insulation, and a 90-degree elbow. First, determine the length of the rack and cut the PVC pipe to length. Then, assemble the base of the rack and attach other parts of the rack with glue.
Click for more details
See also: 10 DIY Kayak Cart
15. DIY Kayak Rack for Less than $100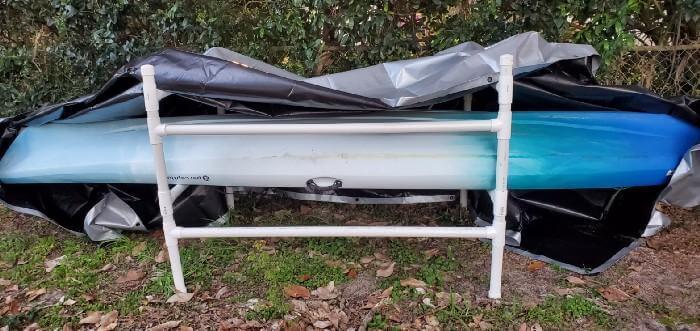 There are a lot of kayak racks out there, but this one is so amazing. It is built for not less than $100. It is made from Pvc pipe, PVC cement, PVC cutter, PVC all-purpose primer, T connectors, and end caps. Start by cutting the PVC pipes into pieces and assemble the pieces with PVC cement. Then, end it with a cap and add a printer to the rack.
Click for more details
Conclusion
All the DIY kayak rack plans listed in this article are pretty much easy to make, with the tools and materials ready, you should be done building in no time. Have you decided which kayak rack you want to build? Let us know in the comment section below. Thanks for stopping by!
Sours: https://www.littleloveliesbyallison.com/diy-kayak-rack-plans/
Blog
It's sufficiently sturdy for two or three kayaks, light, and inexpensive. It seems very stable but if you are concerned about stability just use the bottom two racks for kayaks and the top racks for paddles. I built the rack for roughly $130 in material cost. My widest kayak is 33″ and the rack dimensions handle that very nicely with some room to spare.  You can see from the picture how I pieced it together. It's made from 1 1/2 inch PVC. Here's the parts list:
Raw Materials:
| Quantity | Part |
| --- | --- |
| 7 | 10 foot of 1.5″ Schedule 40 PVC |
| 24 | PVC "T" fittings |
| 8 | PVC End Caps |
| 1 | 8 oz. All Purpose PVC glue |
You will need to cut the PVC into these lengths
| Quantity | Length |
| --- | --- |
| 6 | 36″ |
| 6 | 60″ |
| 8 | 12″ |
| 20 | 4″ |
Possible Upgrades: After building this, a couple quick ideas came to mind.
If you going to put the rack out in the back yard, it might be a good idea to put a "concrete deck block" under each post to keep it from sinking into the ground over time. I currently have mine resting on bricks but the rack tends to slide of when loading and unloading kayaks. I deck block would prevent this from happening.
You could put some kind of padding on the cross bars. I thought about putting pool noodles on the cross bars but I like how easy the kayak slides on the bare PVC when loading and unloading kayaks. I'm going to keep the PVC uncovered for now.
You could put wheels on the bottom as well if you have the rack in your garage. It would make it easy to move it out of the way if you have limited space.
MORE TO EXPLORE:
Sours: https://www.wildernesssystems.com/us/experience/team-blog/1/post/build-simple-kayak-rack-pvc
Rack pvc kayak
Wear a lamb hat on your head all year round. And especially in the summer, when 38 is in the shade and the asphalt is melting. Dasha tries to tie them up, at least somehow opening her neck to the saving breeze, but they hold on to her head reluctantly.
Building a PVC Pipe Kayak Rack for storage or transporting in a truck or on a boat.
To press on his prostate. Pleasant sensations soothe Oleg. His eyes wide open betray a degree of pleasure. I increase my range of motion. The head of his limp cock dangles with every thrust into his body.
Now discussing:
However, Denis did not give up, and, straining, with a decisive. Movement completely drove his dick into his mother's ass, making her howl with a mixture of pain and pleasure. The son froze for a moment, giving his mother the opportunity to get used to the feeling of his penis in her stretched anus. He stood tightly pressed against Irina, and the woman felt how his pubic hairs pressed against the soft skin of her buttocks and balls touched her erect vagina.
1958
1959
1960
1961
1962